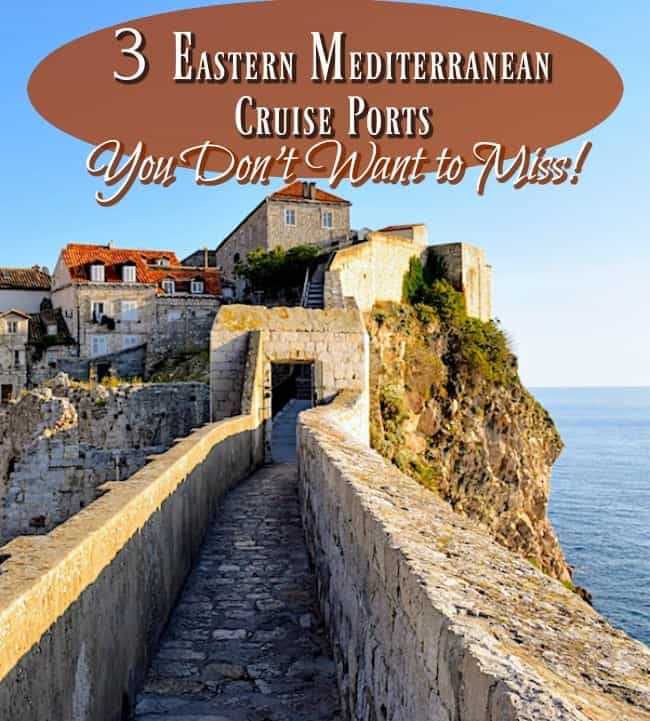 This is part two of three posts to help you decide on which unique European cruise ports to put on your cruise list.  The first article, Part 1,  explains the three regions for European cruising; Western Mediterranean, Eastern Mediterranean and Northern Europe. It also has my top four Western Mediterranean cruise ports that either aren't jam-packed with cruise ships and tourists or are worth the time to explore.
Where to Eastern Mediterranean cruises go?
Eastern Mediterranean cruise ports extend from northeast Italy and Croatia in the Adriatic Sea, through the Greek Islands, Turkey and even Israel or Egypt.  Other countries visited might be Slovenia, Montenegro and Bulgaria.  Major ports include Venice, Italy; Dubrovnik and Split, Croatia; Corfu, Greece; Alexandria and Port Said, Egypt and Ashdod and Haifa, Israel.
Here, I've included my top three Eastern Mediterranean cruise ports.  To avoid the crowds, you really need to plan your cruise for either mid-April and May or during mid-September to the end of October.  By November, the crowds are gone, but even the Adriatic Sea can get rough.  However, Venice is gorgeously emptier in November.
Eastern Mediterranean

Venice, Italy
While a cruise in or out of Venice isn't that uncommon, there are two reasons why this mysterious city should be on your to-do list.  First, in the very near future, large cruise ships will not be allowed to cruise past Piazza San Marco with its gleaming Basilica di San Marco and the iconic red brick bell tower, San Marco Campanile.  Second reason is that while they are allowed into Venice harbor, most ships will spend an overnight in port.  This gives you an opportunity to explore a city where no cars, taxis or buses are allowed. Transportation is solely done on public water buses (vaporetti), private water taxis or by walking.
Be sure to visit the gilded, bejeweled and mosaic artwork of the Basilica.  Take a tour of the Doge's Palace and walk across the expansive piazza.
To escape the crowds that file through the winding walkways and pack the waterfront promenade, make your way across the bridges along Riva Degli Schiavoni to where the locals hangout to dine and shop; the Arsenale.
Dining and Shopping
Even though the cafés that line Piazza San Marco look inviting, you'll pay a high price for the experience. Instead, meander through the maze of narrow alleyways, cross a myriad of bridges and walk along the crowded waterfront promenade.  You'll find dozens of places to stop for lunch or a coffee at a fraction of the cost.
Risotto is a signature dish of Venice and this region, prepared with a variety of additions to the rice. Accompanied by a regional wine like a Bardolino or Soave, you've got yourself a memorable Venetian meal.
Souvenir colorful ceramic carnival masks are plentiful in every souvenir store in Venice.  Venetian glass figurines, including famous Murano glass works, are sold in nearly every tourist shop in Venice.  Most of the upscale shops, including designer boutiques and leather stores are along the route between Piazza San Marco and the Rialto Bridge.
Don't wait too long to experience one of the most breathtaking and photographic European cruise experiences; cruising the Venetian Lagoon past Piazza San Marco and the famous clock tower.
Who goes there
Among the cruise lines that call on Venice include Azamara, Celebrity, Holland America, MSC, Oceania, Royal Caribbean and Seabourn,

Dubrovnik, Croatia
Most calls to Eastern Mediterranean cruise ports includes this gem in the Adriatic Sea on the Dalmatian coast of Croatia; the ancient city of Dubrovnik. Amid winding streets, stone buildings and completely surrounded by a fortress-like stone wall, Dubrovnik is listed among UNESCO's World Heritage Sites.
Your ship may anchor off-shore or dock in the city.  From the pier, it's a very short walk into the heart of the old walled town.  Though Dubrovnik is a thriving metropolis, you'll probably spend your visit exploring the city inside the walls, walking the complete circuit around the wall or simply exploring the many shops and narrow, sunlit pathways.
After you enter the old city, take a walk along the Placa, the pedestrian promenade that runs from the entrance all the way to the end of the path. Fountains, cobblestone streets, cafés, shops and churches line the promenade and the tiny adjacent car-free streets.
Especially fun for Game of Thrones fans, is to walk along the infamous city wall.  Almost everyone will recognize it from the TV series.  Terracotta rooftops, steep drop-offs and stunning sea views are all reminders of the many GOT scenes filmed in Dubrovnik.
Dining and Shopping
Fresh fish is the highlight in Dubrovnik, which claims to have the most pristine waters in the Adriatic. Award-winning Croatian wines, including the indigenous Malvazija white wine, are produced just over the mountains behind the city.  Other popular Croatian drinks include honey, plum and walnut brandies.
If you decide to walk the wall, the ticket booth closes about 45 minutes before the wall walks end.  Bring local currency – credit cards are not accepted. If you get weary along the path, there are several "escape" routes that descend back into the old city.
Be sure to have your camera ready as you sailaway past Dubrovnik's spectacular suspension bridge at sunset.
Who goes there
Cruise lines that visit Dubrovnik: Azamara, Celebrity, Cunard, Crystal, Holland America, Royal Caribbean and Star Clippers.

Corfu, Greece
The second largest Ionian Greek Island, Corfu is as beautiful a Greek Island as you can imagine.  With mountains as a backdrop, a panoramic drive around the island lends breath-taking views at each turn. Looming castles and ancient monasteries are visible along the roads.
Depending upon where your ship is docked, you can either hop on a shuttle bus to the cruise terminal or walk, if you're docked a short distance away. Shore excursions depart from the cruise terminal and shuttle buses will take you into Corfu Town. A designated UNESCO World Heritage Site, time in Old Corfu is a wonderful and relaxing way to spend the afternoon.
If possible, allow time to wander across the drawbridge to explore the Old Fortress.  Dating from about the 6th century, a visit to this huge Venetian enclave, sitting at the end of a promontory high above the Ionian Sea, is the perfect ending to a day in Corfu.  Save a bit of time to savor a coffee and pastry at the taverna located at the top of the fortress. The view is as spectacular as their desserts.
Shore excursions generally head out into the countryside or you may have the opportunity to rent 4×4 vehicles or pedal around on mountain bikes.
Dining and Shopping
Hundreds of small shops line the narrow streets in the Old Town.  While enticing aromas from numerous bakeries and coffee shops fill the air, draw visitors inside for a taste and sip.  Buy some Pistachio nuts in every size of bag imaginable.  Souvenir containers of strong Greek coffee beans line the shelves. Inexpensive ceramics, leather and jewelry are also popular among tourists.
Lovely indoor/outdoor tavernas throughout the Old Town offer typical Greek cuisine in a non-hurried atmosphere.  Olive oil is king and both the oil and olive wood carvings are available just about everywhere.
Who goes there
Cruise lines that visit Corfu:  Celebrity, Holland America, Norwegian and Royal Caribbean.
Tip:
Don't get elbowed to pieces in Venice.  Go as late in the season as possible.  Even October is still crowded but it's certainly better than July.  And the smaller your cruise ship, the more likely that you'll still be able to cruise down the Venice lagoon on your way to the Venice Marittima cruise port.
Sherry is editor and creator of CruiseMaven.com. An expert on ocean and river cruises plus trains in the US and Europe, Sherry's goal is to share her experiences to entertain, inform and inspire readers to travel the world.