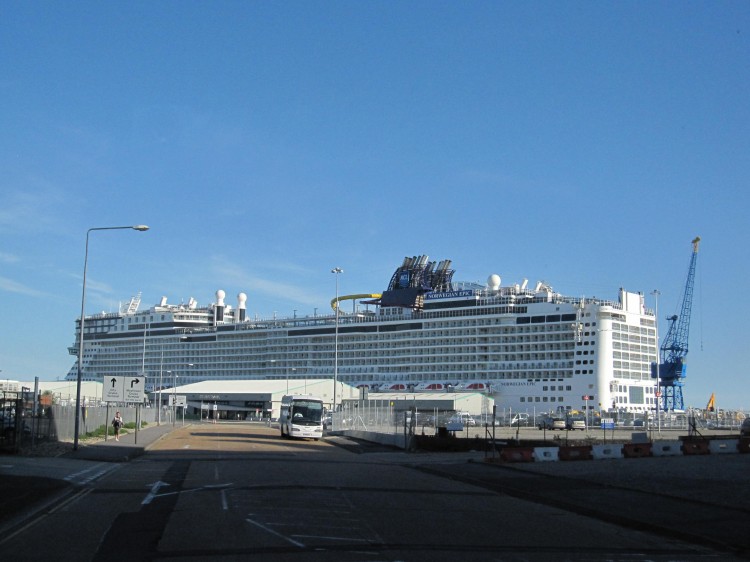 The phrase "maiden voyage" isn't nick-named a "shakedown cruise" for nothing. When I realized my need for another "ocean bus" to get home from my two month European adventure, the maiden transatlantic voyage of the NCL (now rebranded "Norwegian") Epic offered the perfect timing.
Leaving behind twenty-four amazing days on the Danube River aboard Uniworld Cruises River Duchess and River Empress, seven pampered nights in the private Yacht Club on MSC Splendida and fifteen nights crossing the Atlantic on MSC Poesia, the anticipation of the Epic's westbound transatlantic was still exciting.
The Epic's maiden voyage was preceded by a 2,500 passenger inaugural two-night cruise to nowhere from Southampton for travel agents and UK Press. I managed to get a spot on that sailing and would stay aboard with only a cabin change required after the event.
On a ship that will hold 4,100 guests, sailing for two nights with a mere 2,500 mostly first-time cruisers would be a cinch. Right?
Of the 2,500 invited passengers, 600 were workers from St. Nazaire shipyards where just a few days earlier, the NCL Epic was delivered to Rotterdam, Netherlands. Apparently there were still a few areas under construction; the Courtyard Villas were not completed, non-hazardous electrical problems and audio/visual situations that needed to be addressed. This would be the beginning of nine days with the 600 very-focused workers accompanying the transatlantic passengers to New York.
While in Rotterdam, the Epic faced her first challenge: a propulsion problem which required an eight hour delay in her arrival at Southampton, where a broken part would be replaced. The PR firm handling the United Kingdom event did their absolute best to notify all of us of that even though the ship was in port, instead of a noon boarding time, it would now be closer to 8pm. Most of us could not change our port arrival time so we were given the option to hunker down in the unused, brand new Ocean Terminal. We were greeted with non-alcoholic beverages, a huge assortment of cold, pre-packaged sandwiches and various crunchy, salty snacks and cookies. Directions and maps were handed out if anyone wanted to walk into town. Buses were headed that way too, but not for a return to the port. A map would be necessary.
At 6:30pm it was announced that boarding would begin. By 8:30pm, I was finally onboard, in my cabin and ready to explore the ship. Dinner would be in the buffet instead of the dining room as originally planned. With an open bar policy immediately in effect, I think many guests opted for a liquid dinner at that point. We anticpated a sunset sailaway. It never happened.
Sailaway didn't take place until nearly noon the next day. Luckily, the weather held out for another day and with a few onlookers cheering and waving, the newest mega-ship sailed out of Southampton harbor.
Everything seemed to go well, even with last-minute rescheduling of the onboard inaugural events. As with all two-night inaugurals, before you know it, you are back in port, wheeling your overstuffed overnight case down the gangway. I was lucky to be able to stay onboard for the afternoon along with a small handful of revenue passengers who had booked their passage from Rotterdam to America and six hundred not-very-happy-to-be-onboard French, American and English workmen. They had their jobs to complete.
Back to my reference of a "shake-down" cruise. We were sailing with 3,648 or so passengers including the fix-it folks. A travel agent friend emailed me that she had been notified by NCL that her Courtyard Villa group sailing was canceled and rebooked as the villas were still under construction. A strong chemical "new carpet" smell had permeated the passenger areas of the ship and was so severe in my room that I needed to change cabins after the first night. Carpet fibers seemed to settle on everything; I had to close up my computer each night or the keyboard was covered in fibers. What were we inhaling?
I wasn't the only paying passenger without a working television, radio or phone. A transatlantic is a very interesting experience and without any ports of call, you are really relying on your self-contained environment to keep you occupied. The weather was not favorable; twelve foot swells (they were tolerable) but the cold, rain and intense fog caused the colorful, eye-popping Aqua Park to remain closed all but the very last day. No water slides on this trip. No library either. When it was announced that there would be a book lending event, 90 percent of the books were taken within 15 minutes. Luckily I had recorded my favorite TV shows on my iPod. By the end of the trip, I could run dialogue with the actors.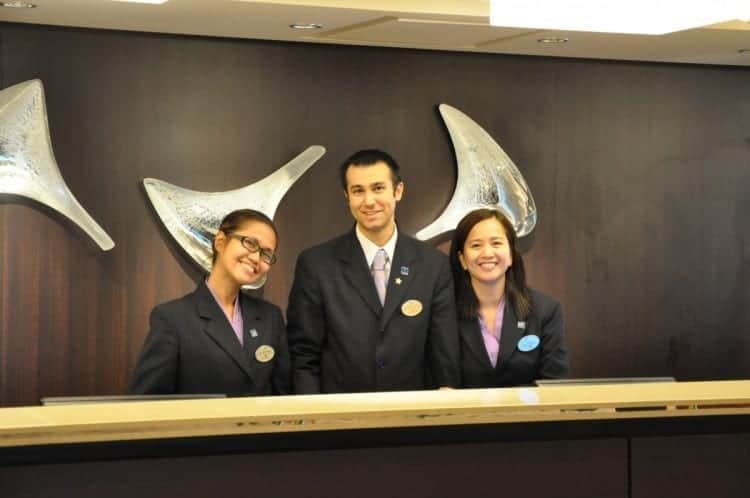 The front desk staff, extremely cheery and helpful on the two-night cruise, seemed more stressed over the next few days. None were curt, most smiled and they seemed to be in a state of constant buzzing behind their desk as a swarm of bees in and out of their hives, in perpetual motion. Perhaps it was towards the end of the cruise that put them over the top, as nearly all of the British passengers queued up to have their automatic gratuities removed from their onboard accounts.
It wasn't all gloom and doom. Here is a list of what I consider to be the better points of the maiden voyage:
1. The Epic performed beautifully at sea despite the obvious top-heavy silhouette. If there was any pitch or sway, I didn't detect it even in the gym on deck 14.
2. The Manhattan Supper Club dining room was a wonderful place for a   "free" dinner; good selection of entrees, and an ample amount of waitstaff  who were efficient and well-trained.
3. O'Sheehan's Bar and Grill, for people-watching while you eat. You can enjoy a heavy country-style breakfast, lunch or dinner in a pub-like atmosphere. Watch a movie or sports event on the gigantic video screen on the deck below by simply taking your seat at the counter railing. Gawk at the passersby or take part in being a bowling alley spectator while enjoying cold beer and burger. Ask for a cooked-to-order basket of French fries…they are delicious and right out of the fryer.
4. To avoid the thousands people streaming into the buffet for breakfast, you should enter the Garden Café at 7:50am and proceed to the back of the ship"s buffet. Then look for the stairs leading down to La Cucina. This is the evening Italian specialty restaurant ($10) but is open for breakfast with a very European buffet selection; cheeses, yogurts, croissants, brioches and of course, cereal for the Americans. By 9am it is packed down there, too, so arrive at 8am when it first opens.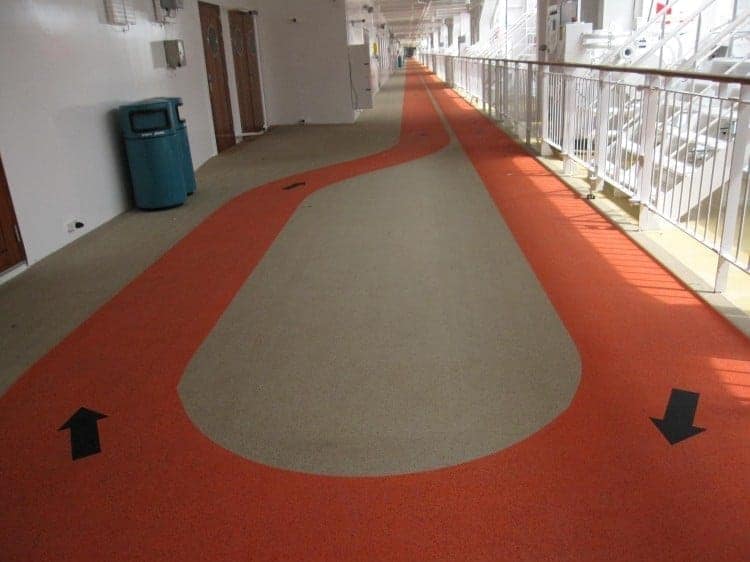 5. Unlike traditional ships, there isn't a wrap-around (or even half wrap-around) outdoor promenade. Instead, the walking/running track occupies the port side of deck 7 and the shuffleboard courts are opposite on the starboard side. The best and only close-to-the-water viewing area is on deck 7, mid-ship. There is a small unobstructed viewing area cut in-between the Jetson's futuristic-inspired lifeboats. Aside from the cushioned track never being crowded (it had better not be considering it is a two-direction loop only eight feet wide) the viewing area was pretty much undiscovered. Even when we approached the Statue of Liberty, the twenty-foot stretch of the viewing area had plenty of elbow room.
6. Queues for the Spiegel Tent dinner show and Blue Man group were out of control. People pushed, shoved and even arrived one hour ahead of time to get a good place in line. The Spiegel Tent dinner show has $15 and $20 seating categories. The seating is done as you queue so arriving early may get you a better table. My seat totally faced backwards to the performing area, making the eating process very precarious. I hope that the staff figures out a better system for making your show reservations as well as queuing up for same. The Blue Man Group is a free show performed in a six-hundred seat theater where you would expect the usual 2,000 seat main theater to be on a traditional ship. Reservations to nearly all of the shows were taken by the third day at sea. [ Note: Since my first experience, Spiegel Tent dinner show reservations are much more organized.]
The day of arrival in New York soon caught up with us, despite setting our watches back one hour every night. Thus the beauty of a westbound crossing; no jet lag and 25-hour days to enjoy the voyage.
No matter how fabulous the cruise, the last experience a passenger remembers is debarkation. When things go awry at debarkation time, whether the fault of the cruise line or Immigration itself, anxious passengers always blame the cruise line. So was the case when we arrived in New York city and finally alongside at 11am. I still don't know for certain whose fault it was (the cruise line always blames Immigration and vice-versa) but speaking as a self-assisted early walk-off, it wasn't pretty. I didn't disembark until nearly 2pm.
While the weather played a major role in dampening everyone's spirits (except for the satellite broadcast of World Cup Football) all said it was a fairly uneventful maiden voyage. Sure, having a functioning television, telephone and radio would have been nice. Elevators out of service just meant a longer wait time or stairs. The hammering and construction going on in the Courtyard Villas was barely audible. However, audio crew constantly knocking on doors and going in and out of cabins did become a bit annoying. They had a deadline to keep. Hundreds of televisions still were not working nor was the state-of-the-art onscreen reservation system operational when we docked. It was a good thing that NCL planned a few non-paying-passenger sailings for the next few days. Maybe by the time the Norwegian Epic reached Miami in another week to board "real" passengers, almost everything would be in working order as planned.
Just as Royal Caribbean's Oasis and Allure of the Seas are floating resorts, the Epic, though a bit smaller by nearly two thousand passengers, fits right into the same category. One can remain onboard and be thoroughly entertained while other passengers head ashore when the ship docks at the same overly-visited Caribbean islands. The take-away: be aware when you book a maiden voyage as was this Norwegian Epic transatlantic crossing, while most times everything is runs like a Swiss clock, there could be a few unexpected hiccups. But then you might just get the bragging rights to a true shake-down cruise.
Bon voyage!
I'm the editor and creator of CruiseMaven.com, a solo traveler cruising the world on waves and wheels, collecting recipes along the way.  I hope my articles and photos entertain, advise and inspire you to travel the world without flying.  Take a breath…stop for a local meal and a glass of wine along the way.