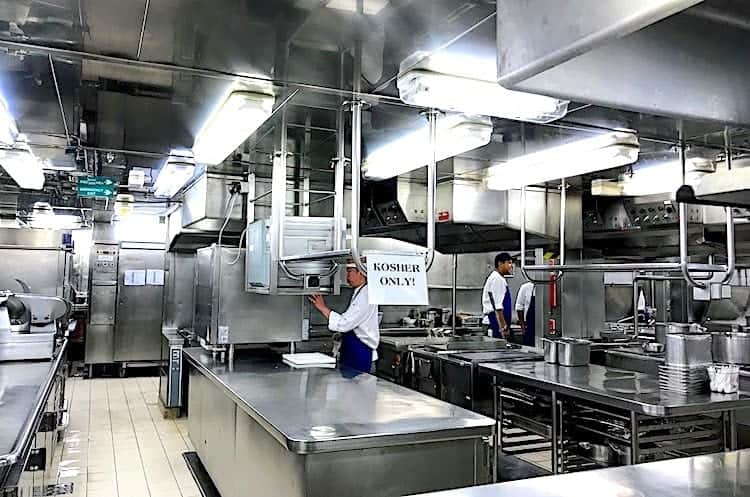 For those who keep kosher at home, dining on a cruise is a challenge when it comes to kosher food. Crystal Cruises seems to be one of the very few cruise lines to offer kosher cuisine. Crystal Cruises Kosher-style Dining Program offers a wide range of kosher selections "prepared according to custom" according to Crystal's explanation.
In addition to vegetarian and fish entrées, the cruise line offers kosher meats, poultry and prepared dishes that fulfill the kosher observance of kosher guests. Technically, Crystal Cruises' two ships, Crystal Serenity and Crystal Symphony, do not have a separate kosher kitchen. However, all Crystal chefs, kitchen and dining room staff have been trained in kosher food preparation, handling and service. Crystal uses only kosher pots, pans and utensils and all plates, silverware and glassware are separately washed.
See next: My Review of Crystal Serenity on a Panama Canal Cruise
How to arrange your kosher cruise
Crystal Cruises suggests that guests who would like to dine kosher-style and order kosher food (fresh or packaged) send advance notice at least 90 days prior to their cruise. Your travel agent can do this for you or you may directly contact the cruise line.
Once onboard, special requests may be given to the Maître d' or Headwaiter. Some special kosher requests outside of the standards may incur charges. If you would like to arrange for a Mashgiach to travel with you, there will be a $25 per person, per day charge.
Don't wait too long to choose your cruise. Crystal's kosher-style program can only accommodate 20 guests per cruise. Kosher-style is available on both ships and on all itineraries around the world.
To clarify, "kosher-style" refers to Crystal Cruises' implementation of standard kosher food guidelines.

Kosher items available to be prepared kosher-style
| | |
| --- | --- |
| Beef Burger | Dover Sole |
| Halibut | Lamb Rack |
| Lamb Rib Chop | Ox Tongue |
| Ribeye Steak | Salmon |
| Soups | Veal Liver |
| Veal Rack | Veal Rib Chop |
| Veal Schnitzel | Veal Shoulder |
| Vegetarian Burger | Whole Roast Chicken |
| Whole Roast Duckling | Whole Roast Turkey |
Crystal Cruises also has the option for you to order pre-packaged, certified kosher meals. However, be aware that not all pre-packaged selections are available on every cruise. Crystal may substitute a meal with a similar selection.
In addition to the entrée, every pre-packaged meal includes a vegetable and a starch. A variety of desserts are always available. Plus, there are red and white kosher wines, too.

| | |
| --- | --- |
| Baked Filet of Salmon | Beef Burger |
| Beef Bourguignon | Beef Wellington |
| Grilled Halibut | Grilled Lamb Chop |
| Grilled Salmon | Herb Roasted Chicken Breast |
| Lamb Shoulder Chop | Lamb Stew |
| Marinated Grilled Chicken | Red Snapper |
| Roast Chicken | Salisbury Steak |
| Sliced Lamb | Sliced Turkey |
| Stuffed Cabbage | Veal Goulash |
| Veal Roulade | |
On a recent Crystal Serenity cruise, one couple at my table had pre-arranged well in advance for their kosher-style meal. At the end of each dinner, the head waiter would come over and hand them a menu to select the next night's dinner. On the evenings when they ordered the whole roast chicken, there was plenty to share at our table. And it was delicious.
It isn't easy to find a cruise line that goes to such extreme for a scheduled cruise. There are chartered kosher cruises but then you have to go when the group blocks their cruise. On Crystal Cruises, you have the luxury of choosing your itinerary and ship.