Cunard announced today that they have cancelled their entire Alaska cruise season. In addition, they have extended the temporary suspension of other cruise departures up to and including July 31, 2020.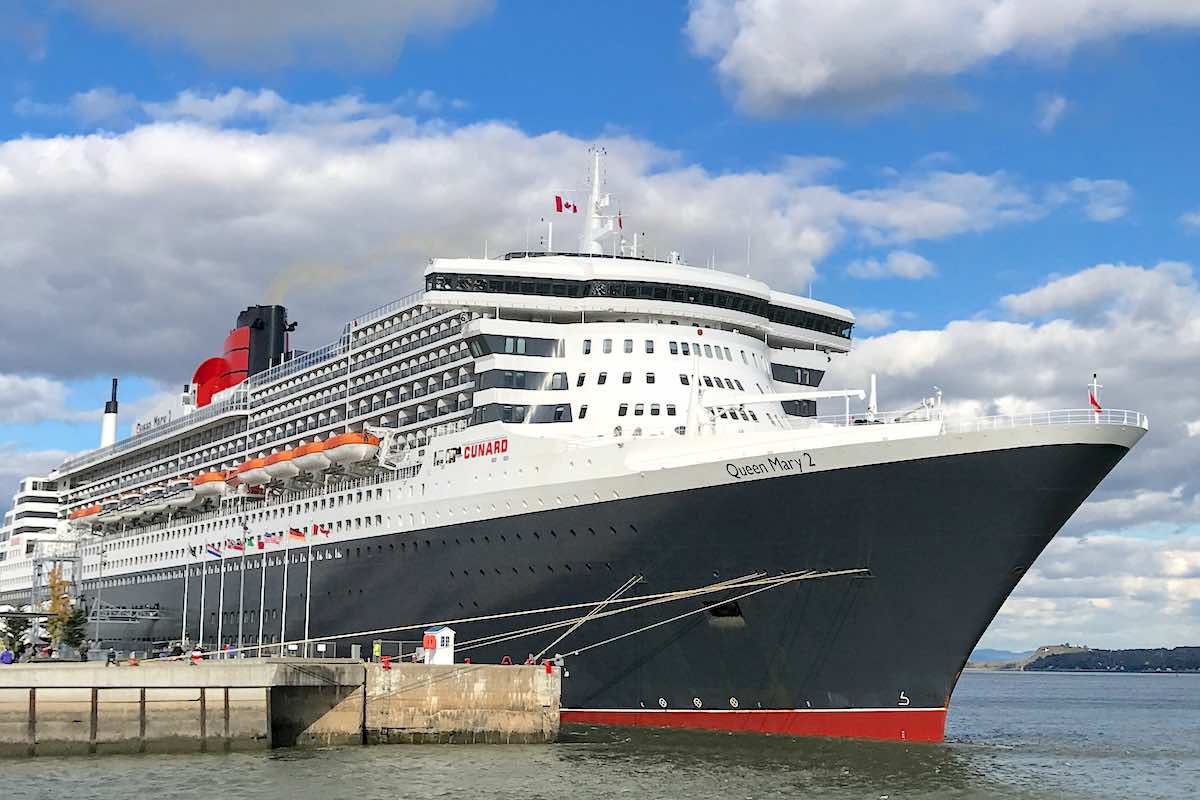 Cunard Alaska Cruise Season Cancelled
With ports closed and the CDC's No Sail Order extending into July, Cunard decided that even if the order is lifted, to do a shortened Alaska cruise season would not be feasible. Cunard's Queen Elizabeth was scheduled for a full Alaska cruise season, from June through early September with departures from Vancouver, Canada.
Included in Queen Elizabeth's Alaska cruise ports in Southeast Alaska and the Inside Passage were Juneau, Skagway, Sitka, Glacier Bay and Ketchikan.
After checking various cruise booking sites, the next cruise for Queen Elizabeth is September 28, when the ship will set out for a nine-night round-trip cruise from Yokohama, Japan.
Queen Mary 2 and Queen Victoria cancelled cruises
Cunard has cancelled all sailings that were scheduled to depart up to and including July 31, 2020.
"These are extraordinary times and this global outbreak continues to challenge Cunard and the travel industry as a whole," said Simon Palethorpe, President, Cunard. "We would love nothing more than to bring our fleet back in to service, and give our guests the holidays they deserve and long for, but with the lockdowns and travel restrictions in place around the world, this is simply not possible at this time." "We have been sailing for 180 years and we look forward to many more," he added. "We will get through these tough times together and look forward to welcoming our guests back on board again when the time is right."
What to do if your Cunard Alaska cruise or other Cunard cruises are cancelled
Cunard will be communicating with all guests who are booked on affected voyages. If you booked your cruise with a travel agent, Cunard is in the process of of contacting them as well but stated that the cruise line will directly contact those who have a cancelled cruise.
If you were booked on the cancelled voyages, you will automatically receive a 125% Future Cruise Credit. You will also have the option to receive a full refund. If you choose the Future Cruise Credit, it may be applied to any sailing that departs before the end of March 2022. The new booking with the FCC, must be made by December 31, 2021.
Other ways to use your Cunard Future Cruise Credit
If you have friends or family that would like to cruise with you, the Future Cruise Credit can be applied towards a second cabin to bring friends or family. It can also be applied to upgrade an existing booking. Full details of the changes to operations and options available to guests due to travel on cancelled voyages, can be found at Cunard.com.
Simply stated, any FCC created because of COVID-19 cancellation can be used:
By guests on a future new booking (as standard).
By the guest to upgrade an existing booking to a higher meta or upgraded fare type.
Split across multiple future bookings.
Used towards a cruise booking where the guest already has a live booking and wishes to book another stateroom for a friend or family member.
Cunard Extends Final Payment Dates with new Cancellation Penalty
If you are scheduled to depart on Queen Mary 2 or Queen Victoria following the latest posted suspension, Cunard has updated their final payment due date. Final payment has been reduced from 120 days to 60 days prior to sailing. This change only applies to new and existing bookings on cruises that were booked in North America.
New Cancellation Fee schedule change:
The new fees apply to all voyages between 120 and 200 days out, or up to end of September 2020.
59 to 31 Days to departure: 50% of net fare (was 31 to 60 days out and the same 50% penalty, only 1 day difference)
30 to 15 Days to departure: 75% of net fare (no change in current policy)
14 to 00 Days to departure: 100% of net fare (no change in current policy)
Cunard is closely monitoring the situation and will notify guests to tell them all of the possible options.
Related articles from Cruise Maven
I'm the editor and creator of CruiseMaven.com, a solo traveler cruising the world on waves and wheels, collecting recipes along the way.  I hope my articles and photos entertain, advise and inspire you to travel the world without flying.  Take a breath…stop for a local meal and a glass of wine along the way.