The wait for Black Friday cruise deals is over. And this year seems to have more cruise lines jumping in on Black Friday deals and Cyber Monday sales than last year.
While cruise lines have some mediocre sales and even some really good offers throughout the year, if you can plan your cruise over Black Friday and Cyber Monday sale days, there are some great deals brewing.
Black Friday Cruise Deals
Some cruise lines are offering a reduced deposit and onboard perks while other lines are adding value with complimentary add-ons like WiFi, beverage packages, category upgrades and/or gratuities. A couple offer free airfare, too.
Most cruise lines have already published their special deals but some are still trickling in as I'm writing this article. Please check back in a few days to see what new cruise lines are here.
Alaskan Dream Cruises
Based in Sitka, Alaska and owned by Alaskans, Alaskan Dream Cruises has come up with an offer that's really too good to pass.

If your dream is to explore Alaska's ruggedly beautiful Inside Passage up-close aboard a small ship with almost everything included, this is it. They're offering a huge $1,750 discount per cabin and it applies to ALL cabins aboard the Chichagof Dream for 2020 cruises. You must book during November. Mention Promo Code THANKS2019 when making your reservation. See all Alaskan Dream Cruises specials.
READ NEXT:  Review – My Week Aboard Chichagof Dream
AmaWaterways
AmaWaterways is offering a deal on some of their most popular river cruise itineraries for 2020. Select departures will receive free economy airfare but you must mention promo code FLYFREE at the time of booking. Free airfare is from select US and Canada gateways. Solo travelers have a reduced single supplement of 25% on select balconies and suites with promo code SOLO-25.
Take a look at my Christmas Markets' photo tour with AmaWaterways.
American Queen Steamboat Company
If you're looking for a river cruise in the USA, American Queen Steamboat Company (AQSC) is offering a 50% savings on select 2019 voyages on the American Queen (12/1, 12/15) and American Duchess (12/8, 12/15). Greatly reduced flat rates on specific cabin categories on these 2019 sailings, too. For 2020, flat rates begin at only $999 per person based on select cabin categories. You must reserve between November 25 to Friday for river cruises from select sailings December 2019 – April 2020, December 6. Mention Offer Code 2019BlackFriday.
Azamara
Their offer gives you the opportunity to book a Veranda stateroom (V3) at an Interior stateroom price, a Veranda Plus stateroom at an Oceanview stateroom price, or a Club Continent Suite at a Veranda stateroom price. Simply put, you're getting a double-upgrade. Offer applies to bookings created through December 6, 2019. Offer applies to select sailings departing on or after April 5, 2020. Plus, you'll receive a $500 onboard credit or if you add one of Azamara's unique land programs, you can deduct $1,000 off the cost of the cruise. Use Promo Code OBCBONUS for $500 onboard credit.
Carnival
Pretty basic but a savings on your deposit. They're offering up to 30% off cruise prices, 2-for-1 deposits (doesn't help single passengers) and up to $50 onboard credit. For  $5, you can get a room upgrade. This doesn't mean to go from an inside to oceanview or oceanview to balcony. It's for an upgrade within the category.
Celebrity Cruises
Celebrity Cruises has a reduced cruise reservation deposit of $25, and you can choose from free drink packages, free Wifi or free gratuities. To take advantage of their Black Friday deal, you have to travel between December 20, 2019 and March 31, 2020.
Find the best rate for a Celebrity Cruise.
Cunard
Save up to 50% off Launch Fares and you only a $100 deposit for bookings made under the Black Friday Sale. Offer is non-refundable, non-transferable, and is required within three days of reservation.You must book by December 1, 2019.
Emerald Waterways
Emerald Waterways Black Friday deal offers free flights to Europe, free premium drink packages, an extra $500 saving per couple on Horizon Deck suites. Offer is available from November 25 – December 2, 2019 only.
Holland America
Holland America's Black Friday and Cyber Monday is combined for this $25 deposit promotion. Book a Verandah or Suite and receive free gratuities. Offer good from Nov. 27 – December 3, 2019.
Check lowest Holland America cruise rates.
READ NEXT:  New! Review of Holland America Massdam
Hurtigruten
For their Black Friday sale, Hurtigruten – a leader in Arctic, Antarctic and Norwegian coastal cruises, is offering 50% off Antarctica, South America and Alaska cruises. There's also 35% off Greenland, Iceland, North America, Norway voyages. Offer must be booked from November 27 through December 4, 2019.
MSC Cruises
MSC Cruises Black Friday deals say you'll receive a total savings of $764 per stateroom on a seven-night Caribbean cruise if you book their special offer. The Black Friday Cyber Monday deals are for MSC Seaside, MSC Meraviglia, MSC Divina and MSC Armonia.
The details for this offer are:  the Easy Drink Package (up to $6 per drink cost), free WiFi (standard internet package for 2 devices and 3GB) and free gratuities for first and second passengers. Both the Easy Drink package and WiFi Standard package can be upgraded for a fee.
Norwegian
Just in! Norwegian Cruise Lines' Black Friday Sale offers three different options. You must book between November 25 and December 1, 2019:
– 30% OFF ALL CRUISES + Free at Sea
– Norwegian Hawai'i cruises – Free or Reduced Airfare + 30% OFF ALL CRUISES + Free at Sea
– Latitudes Black Friday Sale for Past Guests get 20% off select cruises + Receive one additional point / night + 30% OFF ALL CRUISES + Free at Sea
Norwegian's Fine Print:  30% off all cruises – fleetwide. Plus, balconies and above receive All 5 Free Offers —FREE Open Bar, FREE Specialty Dining, FREE Excursions, FREE WiFi, and FREE Kids (on select cruises). Oceanviews receive 2 Free offers and Inside and Studios receive 1 Free offer.
Check here and compare the best prices for a Norwegian Cruise Line cruise.
Princess Cruises
Princess Cruise Line Black Friday – Cyber Monday cruise deals begin with $1 deposits for one day only on Tuesday, November 26. Also included in the event
FREE Wi-Fi – applies to all guests in a stateroom for up to four devices

SAIL SOON – On cruises that depart between February 2020 and May 2020, there's up to a 40 percent discount on all itineraries in all stateroom categories.
SAIL LATER – If you plan to "sail later" on cruises departing from Summer 2020 through Spring 2021, you'll receive:

Onboard Spending Money – up to

$800

per stateroom based on stateroom category booked and length of cruise.
Room Location Upgrade – Choose a preferred stateroom location for the lowest fare in the category.
Wine & Dine – receive two complimentary bottles of wine per stateroom and specialty dining for everyone in the stateroom.

Plus, Sail Later bookings receive airfare credit of up to

$200

on select sailings, including

Alaska

cruise and cruisetours

($100)

, summer

Caribbean

cruises

($100)

and

Europe

and

Japan

cruises

($200)

.
Sail Soon bookings done after

Nov. 26

require a 10 percent deposit. Sail Later guests are extended deposits of

$100

per guest.
Quark Expeditions
This leading polar expeditions cruise line is offering up to 50% off their 2019-20 Antarctic expedition cruises.
The sale runs from November 18 to December 3, 2019 with discounts on voyages that depart between December 2019 and March 2020. This also includes 50% off their Fly/Cruise Expeditions. Rates begin at $6,695 per person.
Riviera River Cruises
Book your Europe cruise with this river cruise line and receive up to $1,500 per cabin. You must reserve by December 31, 2019.
Royal Caribbean
The folks at Royal Caribbean are holding their cards close to their chest with their Black Friday deals and Cyber Monday specials. If you want to be among the first to know what the promotions will be, you can sign up with your email on their website.
Scenic River Cruises
This luxury river cruise line is providing free Premium Economy flights on select 2020 European River Cruises. Itineraries include their Gems of the Danube, Jewels of Europe and Rhine Highlights. You must book your cruise between Nov. 27 and Dec. 2. Early payment discounts are available as well as some solo discounts. See Scenic for more details.
Silversea Cruises
For Silversea, if you purchase one suite, you can purchase a second suite for 50% off if it's of equal or lesser value.
Viking Ocean Cruises
Luxury cruise line, Viking Ocean, has Black Friday cruise deals that offer special cruise fares plus free air from select gateways plus reduced deposits.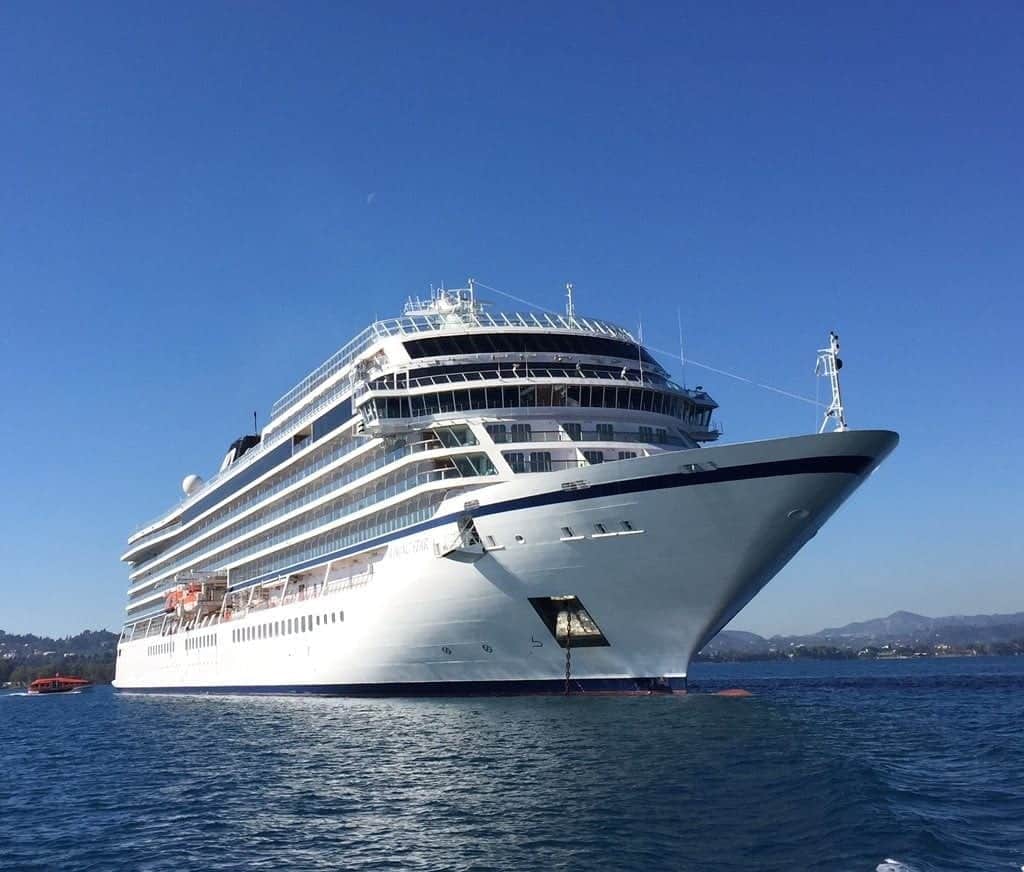 Valid on their 2020 & 2021 Caribbean and Panama Canal cruises. Air does not have to be purchased to get cruise\tour offer. 2-for-1 deposit ($250 per person) valid on 2020-2021 ocean itineraries. Must book by November 30, 2019.
READ MORE:  My Viking Star Balcony Stateroom Review
Viking River Cruises
Book a Viking River cruise by November 30, 2019 and receive special cruise fares plus free air from select gateway cities. Black Friday sale is available through 2019-2021 on departures of their Grand European Tour, European Sojourn, France's Finest (2019), Waterways of the Tsars. Air does not have to be purchased to get cruise/tour offer. Reduced two-for-one ($250 per person) valid on 2020-2021 river itineraries.

I'm the editor and creator of CruiseMaven.com, a solo traveler cruising the world on waves and wheels, collecting recipes along the way.  I hope my articles and photos entertain, advise and inspire you to travel the world without flying.  Take a breath…stop for a local meal and a glass of wine along the way.