At three o'clock the Amtrak conductor shouted, "All aboard!" The doors clanked shut and the Southwest Chief rolled out of beautiful Union Station in Chicago en route to Los Angeles. The weather report didn't look good. Ice, sleet and snow were forecast for much of the lower midwest.
Aboard Amtrak Southwest Chief from Chicago to Los Angeles.
The entire route takes about 40 hours. For us, the journey involved an ice storm in Kansas along with 2,250 miles of American history, incredible landscapes, good food and new friends.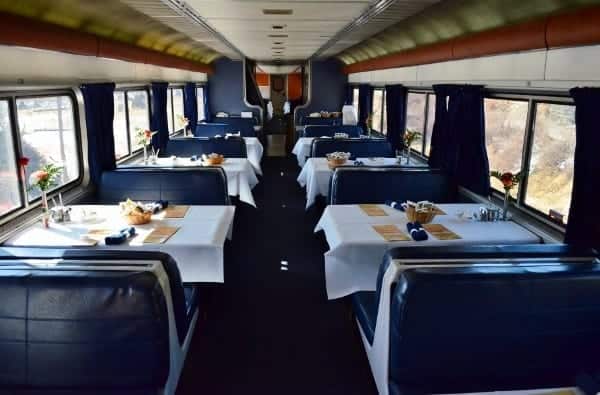 Right out of the station, dinner reservations were offered. Being tired and hungry, I chose an early dinner time. It's community seating and a great way to meet new people.
Over the next five meals, I met several people who, like me, realized they could take the train to or from a cruise on either coast and no need to fly!
After dinner, I settled into my bedroom aboard Amtrak's Southwest Chief knowing that this train could forge ahead despite the awful weather. Wintry weather is much more tolerable at "see-level" than 30,000 ft.
By the time we reached southwestern Illinois, the snow had created nearly a white-out condition, but we were running on time. During the night, Kansas City, Missouri greeted us with an ice storm.
Covered in ice, we awoke to blue skies in La Junta, Colorado. Slowly, it began to melt but not before many of us took a few photos.
The Southwest Chief follows the weathered but still visible, rutted wagon path of the old Santa Fe Trail. This former "highway to the West" begins in Independence, Missouri and jig-zags all the way to Santa Fe, New Mexico.
I had no idea who Dick Wootten was, but it's a pretty cool trail-marker.
For decades, Native American vendors have set up colorful tables to sell jewelry, pottery and clothing alongside the train for the station stop.
Our conductor pointed out interesting and historical facts through New Mexico. Throughout this area, residents still find artifacts and clothing from the Civil War.
Open to all passengers, the Observation Car is the best seat in the house for the extreme vistas and rocky cliffs so close you can almost touch them.
Amazing how these homes seem to disappear into the background. Traditional domed adobe ovens for bread baking are located in many backyards.
We arrived into Los Angeles ahead of schedule, giving those traveling on, a few extra minutes to marvel at the beautifully restored art deco Union Station.
This is the third time I've been on this route. My first experience, it was (train buffs will remember) the Santa Fe Super Chief. In this quick, 40-hour trip you can relax, read, eat way too much and simply enjoy the journey of a nostalgic train travel experience.
Read more: Advice for Amtrak Sleeping Car Passengers

I'm the editor and creator of CruiseMaven.com, a solo traveler cruising the world on waves and wheels, collecting recipes along the way.  I hope my articles and photos entertain, advise and inspire you to travel the world without flying.  Take a breath…stop for a local meal and a glass of wine along the way.