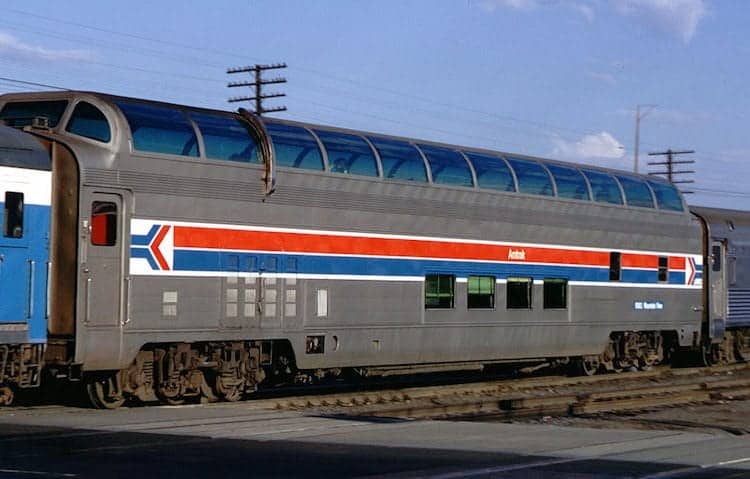 Nostalgic Great Dome Car returns
Encore please! Against a background of brilliant fall foliage, Amtrak's Great Dome car will once again return to its Downeaster route. A big hit in past late summer and early fall visits to the Northeast, the Great Dome Car heads to Maine this year and begins a one-month run starting Saturday August 19. The Downeaster route travels between Brunswick, ME,  Portland, ME and Boston, MA.
The vintage Dome features an upper level with panoramic windows on all sides and overhead. Seats in the upper level of the Dome Car are unreserved and on a first-come, first-served bases. But don't be a chair-hog. Passengers are encouraged to rotate in and out of the car so all aboard can enjoy the experience of the Great Dome Car.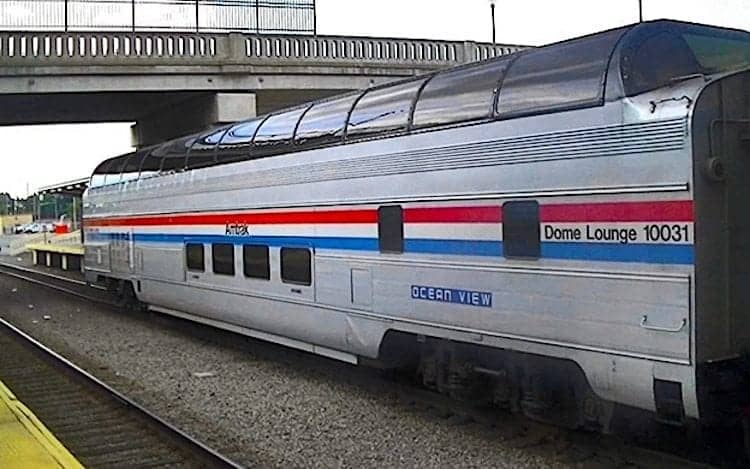 Great Dome Car history
Built in 1955 by the Budd Company for the Great Northern, it was named "Ocean View" car number 1391. This Great Dome Car was originally was used on the Chicago-Seattle Empire Builder Route. Conveyed to Amtrak in 1971, renovated in 1985 and re-numbered car 9300, it was in daily use on the Auto Train between Washington, D.C., and Orlando, Fla. In 1999 it was once more refurbished, given the number 10031 and is now in service on various Amtrak routes including charters and special excursions.
The Great Dome car will operate on the following Downeaster trains between Aug. 19 and Sept. 24:
Monday-Friday: Southbound, Train 682 and Train 688; northbound, Train 683 and Train 689.
Saturday: Southbound, Train 692 and Train 696; northbound, Train 693 and Train 697.
Sunday: Southbound, Train 690 and Train 698; northbound, Train 691 and Train 699.
Sheldon Cooper would love this!
Photos: Amtrak
I'm the editor and creator of CruiseMaven.com, a solo traveler cruising the world on waves and wheels, collecting recipes along the way.  I hope my articles and photos entertain, advise and inspire you to travel the world without flying.  Take a breath…stop for a local meal and a glass of wine along the way.