American Cruise Lines, known for their small ships that cruise the rivers and waterways in the U.S., has added a series of Culinary Cruise Collection voyages to their current itineraries. These special cruises will emphasize the trademark cuisine of specific cruising regions, including Alaska, New England, the Chesapeake Bay, the Mississippi River and the Pacific Northwest.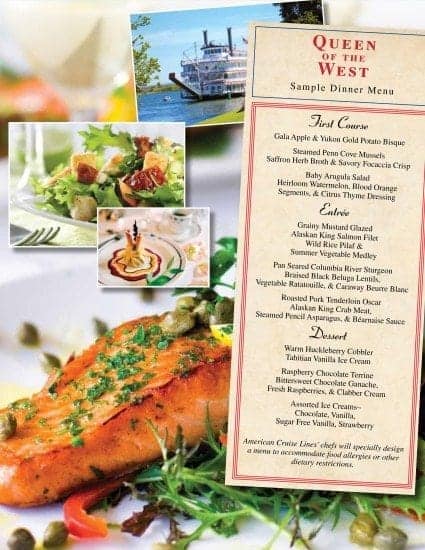 Culinary travel offers a unique sensory dimension to the usual cruise vacation experience. American Cruise Lines recognizes the importance of onboard enrichment and unique shoreside cruise experiences and combines these two elements for their new culinary cruise offerings. There is even a combined culinary and wine cruise on the Columbia & Snake Rivers aboard the newly refurbished Queen of the West.
Beginning as soon as June 30, 2012, there is the Crabfest Cruise, plying the waterways of the Chesapeake Bay. An array of tantalizing cruises continue through July 27, 2013 culminating with an authentic Alaskan King Crab extravaganza in where else but…the pristine, secluded inland waters of Alaska, sailing round-trip from Juneau.
"Theme cruises are extremely popular as they add an extra element of connectivity among our already like-minded guests," said Timothy Beebe, Vice President of American Cruise Lines. "This particular collection pays tribute to the culinary delicacies for which several of our cruising regions are so well known. If there's one thing that brings people together, it's food."
Want to know more? Tie on your plastic lobster bib, loosen your belt a notch and read on:
Alaskan King Crab Cruise: Guests will indulge in "all you can eat" Alaskan King Crab, sampling a variety of different recipes and preparation styles during this brand new theme cruise, available this summer on select seven-night roundtrip cruises from Juneau. While enjoying this highly sought after delicacy, they will discover Alaskan culture and heritage, and breathtaking sights such as electric blue glaciers and a diversity of wildlife. Featured Dates: Aug. 18, 2012; July 27, 2013.
Lobster Festival Cruise: An American Cruise Lines specialty theme offered on both the Maine Coast & Harbors and New England Islands itineraries, guests enjoy a traditional lobsterbake in Rockland, ME or Newport, RI, an entirely catered event with complimentary beverage service. They will also have the option of going aboard a lobster boat one afternoon for a hands-on demonstration of the catching process. During the seven-night cruise lobstermen and local experts come aboard to tell the evolutionary tale of this American delicacy. Featured Dates: Aug. 25, 2012; July 20, 2013.
Crabfest Cruise: Offered on the Chesapeake Bay, one of America's most captivating waterways, guests will enjoy tantalizing feasts prepared by highly skilled chefs, with specialty dishes featuring fresh Maryland crab from the Chesapeake Bay. Historians and local watermen are invited onboard to detail the region's maritime heritage. Featured Dates: June 30, 2012; June 15, 2013
Culinary & Wine Themed Cruise: Culinary masters aboard the Queen of the West on the Columbia & Snake Rivers create a delectable all-American menu, tailored with ingredients for which the Pacific Northwest is known, such as salmon and succulent tenderloin. Each day the selection of offerings uses only the finest and freshest foods, many of which are sourced from local markets. A wine connoisseur joins guests aboard for basic lessons on wine making, tasting and food pairing. In port, various different wineries are visited in both Oregon and Washington. Featured Dates: Oct. 20, 2012; May 4, 2013.
Savories of the South Cruise: Available on select Mississippi River itineraries, this mouthwatering theme cruise sheds light on the many tempting dishes of the South, and will give guests a whole new appreciation for true southern comfort food from Cajun to Creole and barbeque. Local historians, culinary experts and featured chefs will educate passengers on the rich history of some of the South's most vibrant cities, such as New Orleans, and their famous cuisines. While in port, guests will be privy to exclusive cooking demonstrations and tastings. Featured Dates: Dec. 15, 2012; March 2, 2013.
I'm the editor and creator of CruiseMaven.com, a solo traveler cruising the world on waves and wheels, collecting recipes along the way.  I hope my articles and photos entertain, advise and inspire you to travel the world without flying.  Take a breath…stop for a local meal and a glass of wine along the way.