Holland America Line's Nieuw Amsterdam attracts passengers of all ages
This is my third and longest cruise aboard Holland America Line's  Nieuw Amsterdam.  Built in July 2010 with a modern look and feel, the entire decor features a New York City theme, and thus the ship's namesake.  Everywhere you turn, there's another tribute to the Big Apple with original artwork from Andy Warhol, Richard Estes and one gorgeous, huge  cartoon-esque Roy Lichtenstein original lithograph plus dozens more. It's a subtle move by Holland America towards a younger demographic.  And it's working quite well.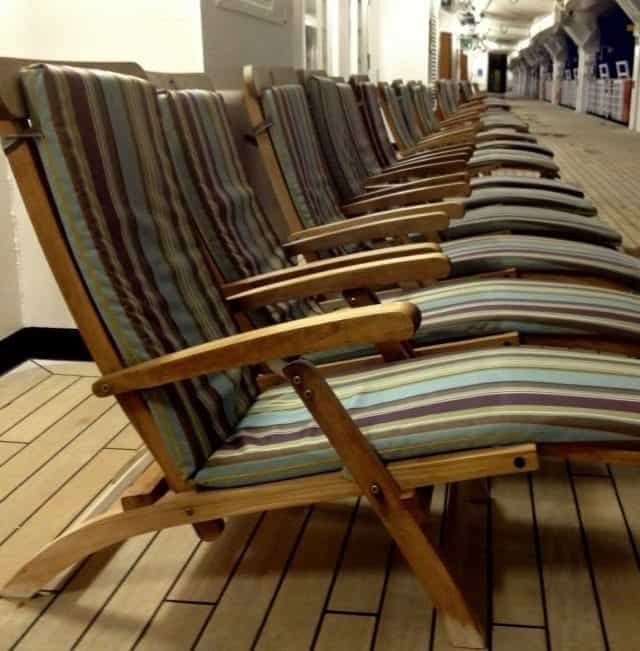 Classic cushioned teak deck chairs line the Promenade Deck.
Not to offend Holland America's loyal past passengers, many traditional features will always remain. The old-fashioned reclining, cushioned teak deck chairs are still there and probably always will be a fixture. Aside from the usual shuffleboard, there's the lengthy wrap-around promenade deck (3.1 times around is 1 mile), the newly-reinstated Pub Crawl (4 bars, 4 drinks, $20pp) and plenty of shore excursions geared more towards an adventurous rather than the sedate day ashore.
The Nieuw Amsterdam carries 2,106 passengers, based on double occupancy and weighs in at a mere 86,000 tons.  A lightweight when compared with other 2010 debut ships.
Colorful two-story Manhattan Main Dining Room

The main dining room is two stories, Decks 2 and 3, at the aft of the ship. Two seating times remain the norm with the addition of As You Wish dining times, the show-up-when-you-want-to-eat-dinner time, on Deck 2.  Reservations are recommended, however.  On several occasions when I arrived at the busiest time, around 7pm, I only had to wait ten-fifteen minutes at most to get a table by myself.
Compared to other cruise lines in this realm, the staterooms aboard the Nieuw Amsterdam are a bit more spacious, have lots of innocuous storage cubbies and there's plenty of closet space.  Some staterooms can accommodate up to four passengers. From November through about April, the Nieuw Amsterdam sails the Caribbean. The rest of the year the ship is cruising around Europe.
Standard Verandah Suite
For this cruise, I decided to go with a verandah suite. Though not really a "suite" it is Holland America's name for a balcony stateroom.  It's a little more roomy and bright than an inside cabin, important to me on a 14 day voyage. I've done inside staterooms on long voyages, too, and they are fine. Sure beats not going at all.
One very nice touch is that the verandah cabins all have bathtub/shower combinations, instead of just a shower stall.  Handrails are plentiful as you will have to step over the tub edge to enter the shower.
Dressing table/desk with magnifying mirror, two 110v outlets andDVD player underneath the TV.
Another nice touch (were these cabins designed by a woman?) is the lighted magnifying mirror on the desk/dressing table. You can "rent" DVDs at the front desk from a selection of 200+ titles. The DVD player is either built-in to the television or a separate little DVD player.
Accessible staterooms
The Nieuw Amsterdam has thirty wheel-chair accessible cabins. These sell out early and may require a medical note stating necessity. See three photos below for accessible cabin, balcony and bathroom.
Accessible balcony cabin 8025
Accessible bathroom with shower seat.
Accessible balcony.  Note the door ramp.
Here's my inside cabin from another cruise:
Typical inside stateroom
There are three configurations for inside cabins, some of which have more square footage than their counterparts (smallest offer 170 square feet) and give a more spacious feel an inside cabin. You will need to closely look at the Holland America deck plan, either in the brochure or online.  Look for a "sideways" or "L" shaped cabin which has a bit more square footage than the direct entry inside stateroom. It'll make sense once see it in print. Inside cabins have showers only, no bathtubs.
Oceanview cabins make up slightly less than half of the cabins and feature nice-sized picture windows. Note: oceanview cabins on the Upper Promenade Deck have views that range from partial to fully-obstructed by life boats. The bathrooms are outfitted with a tub and shower combination.
Spa suites, which are becoming de rigeur on many mass-market and premium cruise ships, include room amenities geared towards a more health-conscious vacation, and have access to the thermal suite (need to double check this one) and a concierge to make their spa reservations.
Neptune Lounge for Upper Level Suite guests
The Deluxe, Superior and Penthouse Suites offer guests use of the private Neptune Lounge, hosted by the Concierge. If suite guests don't want to enjoy their private breakfast in the Pinnacle Grill dining room, an ample-sized continental breakfast is at their disposal in the Neptune Lounge. Open 24 hours, this lounge also serves mid-day snacks, cocktails and hors d'oeuvres every evening. Suites range in various sizes starting at 300 square feet and top out with the two Penthouse Suites at over 1,000 square feet.  Believe it or not, the Penthouse Suites sell out months in advance.
Dining
At first glance, it seems as though there isn't too much to offer in the way of dining options. That thought is quickly dismissed once you look at your daily planner. The two-level Manhattan Dining Room offers breakfast, lunch and dinner at no additional charge. Recently introduced as an industry first is a 22-item separate vegetarian menu. In addition to that menu, there are over a dozen vegetarian options on the main menu. Dinners can be pre-ordered to have no- or low-sodium. Let your waiter know if you prefer to control the salt in your food and you'll be given the next night's menu to pre-order your meal to your specific needs.
There are several complimentary restaurants on the Nieuw Amsterdam, aside from the beautiful two-level Manhattan Dining Room,  There's Canaletto (Italian and needs a reservation), Lido Restaurant, the Pool Grill for lunch only, an International buffet open on the pool deck for lunch to late afternoon and room service.
Three restaurants charge a service fee: The Pinnacle Grill ($25 per person) featuring aged beef, seafood and fish. Asian-influenced Tamarind ($15 per person), a one-night only event – An Evening at Le Cirque themed-dinner ($39 per person) – in cooperation of New York's famed Le Cirque restaurant and the $89 per person Master Chef's Table.
Don't miss trying the Pinnacle Grill for dinner or even lunch. Found on all of the Holland America ships, it is a welcome departure from the more crowded main dining room.  The relaxing ambiance of a small dining room and very personalized service make it a memorable dining experience, well worth the cost.
Once a week, the Pinnacle Grill undergoes a mini-transformation and becomes An Evening at Le Cirque. It's a tad more expensive than the standard Pinnacle Grill dinner, but a real treat and top-notch cuisine. Reserve early as this is a sell-out.  The Chef's Master Table highlights the talents of Rudi Sodamin, who plans/designs the meals and oversees the training of the ships' chefs.  This culinary event is offered from one to three times per sailing. With special entrees complete with wine pairings and only a dozen guests permitted to sign up, it is the ultimate in shipboard dining.
Cheerful service in the Lido Restaurant on Deck 9
Of course there's the Lido Restaurant, open for breakfast, lunch and dinner. Queues form early so either get there before the doors open or wait a little while until the line subsides. There's always the outdoor Grill to stop by and grab a plate of French Fries while you are waiting in line for lunch at the Lido!
Dinners at the Lido Restaurant have a good selection of entrees, including a carvery.  Many of the same items that are served in the Manhattan Dining Room are at the Lido Buffet. Waiters are available to assist with trays and bartenders stop by the tables to take your beverage order.
Canaletto is the Italian restaurant and while it is complimentary, Holland America could easily make this a $15 per person venue – it's that good and very popular.
Dim Sum for lunch at Tamarind Restaurant
For Asian cuisine, Tamarind excels. Open for a complimentary lunch (dim sum) and dinner ($15 pp), it's extremely popular. Though bright with sunlight during the day, there's a subdued ambiance in the evening. Before dinner, be sure to stop for a cocktail at the adjacent Silk Den lounge. With its plush, purple velvet banquettes and tent-like draperies, it's a very intimate and secluded lounge and worth a few giggles. I ate here three times for dinner and twice for lunch on my 13-night transatlantic crossing.
Families and Kids
While certainly not as extensive as the highly-advertised mass-market cruise lines, Holland America has plenty of activities for children ranging in age from toddlers in their Club HAL program and a small, colorfully decorated splash pool for the wee set. Teens have their own meeting areas, including outdoor recreation space. There's the standard video arcade with air-hockey and foos-ball tables. In-room babysitting is not available nor will childcare workers be responsible for diaper changes.
Ship summary
The Nieuw Amsterdam is a lovely, mid-sized ship, with good passenger flow, a variety of nightly entertainment, live music venues, a sing-along piano bar and caters to mature passengers as well as families with toddlers to teens. Personalized, non-rushed service in the main dining room is a welcome treat for those who choose not to try the excellent specialty dining options.
Don't miss the 11pm talent show performed by the Indonesian or Filipino crew.
Cruise Maven suggestions and ship highlights: 
• If you're booking an oceanview stateroom on the Upper Promenade, make sure you are OK with a life boat right outside of your window.
• Make your dining reservations for Pinnacle Grill as soon as you board or even better, book your dining online before your cruise.
• Participate in the On Deck for the Cure 5K walk. It benefits the Susan G. Komen fund for breast cancer research, you'll make new shipboard friends and go home with a commemorative t-shirt and pink wristband.
• Crew talent show – don't miss these hilarious and cultural performances.
• DVD players in every room with free DVD rentals at front desk.
• Suite guests have access to the private Neptune Lounge.
• Gorgeous fresh flower arrangements on display throughout the ship, designed by the Floral Manager.
• Culinary Arts Center for cooking demonstrations by various chefs
• Hands-on cooking classes; limited to about 16 so reserve early ($)
• Dedicated cinema shows recent movies and serves little bags of fresh-popped popcorn.
• Self-guided art tours provided by the use of the ship's iPods programmed to guide you from one art work to the next throughout the entire ship. Check out the iPod at the library.
And of course, no cruise aboard any Holland America Line ship would be complete without a dish of their legendary bread pudding with vanilla sauce, served every day at lunch! While Holland America is known for going the extra mile for their elderly and wheelchair-bound guests, the same courtesies and warmth are conveyed to all guests, regardless of age or mobility.
I'm the editor and creator of CruiseMaven.com, a solo traveler cruising the world on waves and wheels, collecting recipes along the way.  I hope my articles and photos entertain, advise and inspire you to travel the world without flying.  Take a breath…stop for a local meal and a glass of wine along the way.