Uniworld Boutique River Cruises has set up their first blog on Tumblr, the wildly popular, five-year old multimedia blogging and social networking platform. Uniworld's goal is to connect and engage with past guests, potential new guests and knowledgeable people in the travel industry. Another reason for setting up a blog is to offer a way for people to share their Uniworld cruise stories, provide expert advice or answer readers' questions as well as to share recipes and photos.
"The goal of Tumblr is to provide insider stories about Uniworld," states Maria Grimardi, Uniworld's Vice President of Marketing. "Our upcoming blog posts will feature first-hand experiences from Uniworld past guests and recipes from Uniworld's Culinary Director, Global Master Chef, Bernhard Zorn."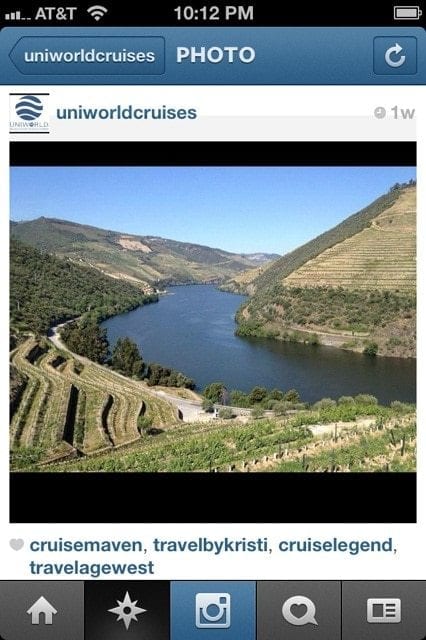 But Uniworld didn't simply stop at Tumblr. They've also set up a presence on Instagram, a photo-sharing platform only for iPhone and Android device users. With Instagram, Uniworld will be able to post live-time photos directly from their ships, enticing their followers with river cruising "eye-candy." Former cruisers can relive their own experiences and future Uniworld cruisers can get a taste for what to expect when their ship sails, by simply looking through the photos that are posted. Viewers can also like, follow, leave a comment or even forward a photo to a friend.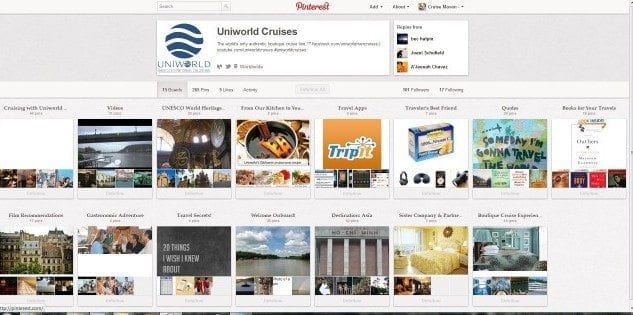 So that everyone has an opportunity to get involved in photo-sharing activities, Uniworld has joined yet another trendy site, Pinterest, a virtual pin-board where users "pin" and "re-pin" others' photos based on categories, onto their own boards. Uniworld has so far set up fifteen boards ranging from Destination:Asia to Travel Books to UNESCO World Heritage Sites. Many of their photos were taken directly from aboard Uniworld cruise ships as well as repinning photos from other community boards and followers.
Uniworld's company social network also includes Twitter and recently Uniworld's President and CEO, Guy Young, joined in on the Twitter circuit last May. Young contributes to Twitter on a daily basis and not just hype about his cruise line but on topics that include the Olympics, articles from Smart Money magazine and famous quotes. Along with the president of this cruise line, other key figures aboard the Uniworld ships are also now on Twitter, posting photos, daily quips and keeping in touch with past passengers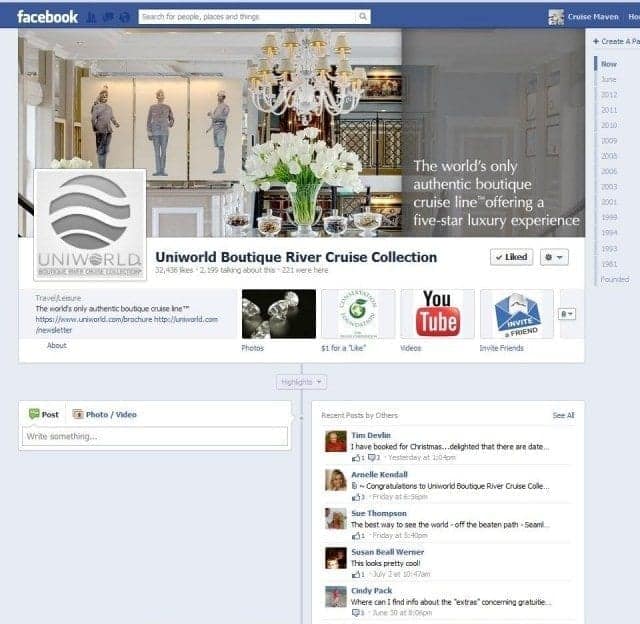 Being "social" is good, but being "socially philanthropic" is even better. Uniworld has created a charity campaign on their Facebook Fan Page called "$1 for a Like." For every "Like" Uniworld receives on their Facebook Fan Page, the company will donate one dollar to The Travel Corporation Conservation Foundation, a non-profit organization founded and supported by the companies that make up The Travel Corporation and whose main initiative is focused on identifying and supporting projects that encourage sustainable tourism. To date, the company has reached over $5,000 with all funds going towards the efforts of protecting and restoring our environment.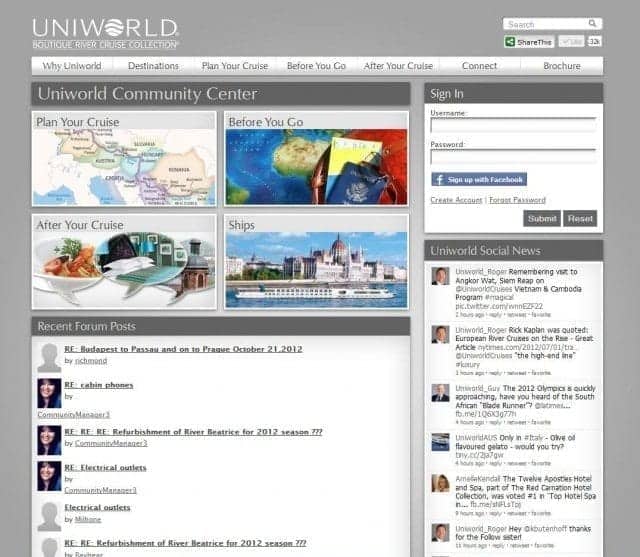 And last but not least is the Community Center. Built into the Uniworld website and accessed through the link "Connect" on the navigation bar, the Community Center provides a way for past, present and future cruise guests to communicate between each other as well as the Uniworld Community Manager, who will answer questions that are posted from registered visitors. Similar to the way people connect with other cruisers on various non-cruise line social community forums, future Uniworld passengers can post their sailing date and communicate with others who will also be on their cruise.
I'm the editor and creator of CruiseMaven.com, a solo traveler cruising the world on waves and wheels, collecting recipes along the way.  I hope my articles and photos entertain, advise and inspire you to travel the world without flying.  Take a breath…stop for a local meal and a glass of wine along the way.