If you've ever cruised in Europe, whether on an ocean or river  ship, most likely you would have experienced one of the many onboard lectures. Cruise lines hire professional speakers to inform and entertain guests about the destinations that they  visit.
Many times, the speakers are professors, military historians, political commentators and other experts in a multitude of related fields. While they are informative and interesting presenters, most if not all do not live in the country that is the topic of their lecture. Crystal Cruises is changing the lecture circuit scene and starting this year, will feature carefully selected curators, officials and mavens to share their insider's perspective on destinations in Europe, the Baltic and Mediterranean.
The exclusive program, called "Local Insights," brings aboard local experts to share their unique, niche knowledge about the destination's art, politics, archaeology or history. Guests of all nationalities and interests can enjoy live, intimate talk show-style interviews, complimentary of course, when Crystal Symphony and Crystal Serenity call on more than two dozen towns along the Mediterranean and Northern European coasts this year. Programs will be rebroadcast on in-stateroom televisions during each luxury cruise.
Examples include:
Barcelona : Gaudi Centre architect Toshiaki Tange
St. Petersburg : Ex-Mayor of St. Petersburg, Vladimir Khodyrev, or Managing Director of the Hermitage, Olga Arkhipova
Belfast: Titanic expert Joe O'Neill
Copenhagen : Managing Director of Tivoli Gardens, Lars Liebst or the Mayor of Culture and Leisure Activities, Pia Allerslev
Bodrum: Archaeological diver and Director of the Bodrum Museum of Underwater Archaeology, Yasar Yildiz
Venice : Chairman of the 16-church-wide Chorus Association, Father Don Aldo Marangoni or Venetian Port Manager Roberto Perocchio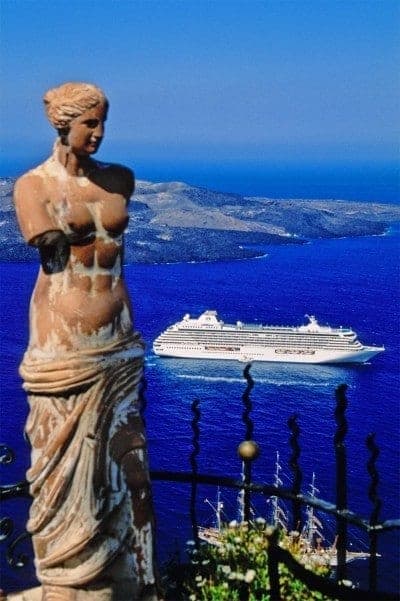 Additional ports where the program will be offered
These ports include  Dublin, Piraeus/Athens, Mykonos, Santorini, Reykjavik, Odessa, Kotor, Ashdod, Livorno, Malaga, Cadiz, Valencia, Sorrento, Dubrovnik, and Bilbao, with some itineraries offering experts at up to three different calls during the cruise.
"Our guests seek – and expect – profound travel experiences that allow them to explore the heart of destinations and see them in new ways," says Bret Bullock, Crystal's vice president of entertainment. "This Crystal Visions Enrichment Program addition offers easy access to first-hand knowledge of cultures and regions using those who know these nuances best: the locals…and the most distinguished locals at that."
There's something of value in an enrichment program when the audience instantly senses a personal connection from the lecturer to his or her subject matter. It must have been a challenge for Crystal Cruises to seek out and enlist the high caliber of the local scholars, government officials, scientists and historians who truly represent the diverse cities and cultural icons for this new program. With these particular cruises running now through the early winter, there is still time to plan your cruise and partake in this new and exciting enrichment program.
I need more!
If you are still craving more learning experiences and have individual interests, Crystal Cruises offers (all complimentary) Yahama keyboard instruction, Berlitz language classes, computer learning opportunities on 27″ Apple Macintosh computers, health and wellness seminars and even tai chi classes.
I'm the editor and creator of CruiseMaven.com, a solo traveler cruising the world on waves and wheels, collecting recipes along the way.  I hope my articles and photos entertain, advise and inspire you to travel the world without flying.  Take a breath…stop for a local meal and a glass of wine along the way.