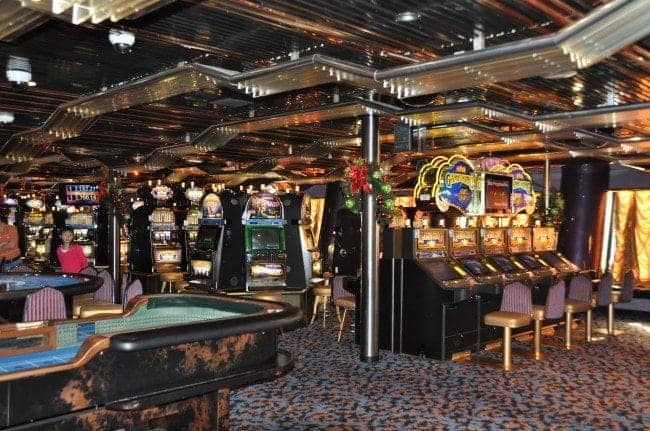 Every time I'm on a cruise, I get wrapped up in trying to rush here and there on sea days.  With yellow highlighter pen in hand, I routinely mark sea day events that I want to see, taste or do, according to the daily schedule.  But there are a few things that never seem to make it onto my daily to-do list.  They're right under my nose but I'm too busy with scheduled events.  I forget to backpedal and end up missing experiences onboard that I can't easily access on land.
While at-sea possibilities are seemingly endless, don't overlook these three options for passing time when traveling on a cruise during sea days.
Gamble in the Casino
Almost all cruise ships (except Viking Ocean for example) have a casino on board.  As soon as your ship leaves port and reaches the boundary to international waters, gambling is legal.  And since you're on a sea day, gambling day is every day. Typically you'll find that a cruise ship casino has various slot machine games as well as table games.  Not sure how to play?  Go during quieter times and ask the croupier or dealer to explain how to play.  They're only too happy to help.
Remember space is a bit limited, so their offerings won't be like a large land based casino. However, the games provided can be a great way to pass time while cruising the ocean. Most cruise ship casinos are for low stakes.
Experience an Adventure
More and more cruise lines have been adding adventurous activities for their adrenaline-seeking guests. For instance, Royal Caribbean ships have the Wave Rider, which is a surfing simulator. There's no fee to try your skill on a boogie board or larger surf board.  Other lines like Carnival and Norwegian offer activities such as ropes courses, rock climbing and zip lining. Try sky diving on RipCordSM by iFLY® skydiving simulator aboard Royal Caribbean  is another activity for adventuresome cruisers to enjoy. This version of sky diving is done in an enclosed area, much like a tube where wind is being blown up from the floor. These activities do not require additional fees. They are included in the fare for the cruise. Don't be surprised if the cruise line does have you sign a waiver in the event you are injured.
Get Pampered
Take a breath.  Don't be so busy as to forget to relax. Relaxation is one top goal for many as they go on holiday, and often forgotten. Cruise lines will offer extensive menus of spa services. Some of them can be quite extensive with various forms of massage. Some ships provide beauticians that are capable of giving manis and pedis or even updating your hair style. Some spas will have saunas that provide floor to ceiling views of the ocean.
No matter how you choose to spend your time at sea, try to deviate from the dozens of scheduled activities and explore what's available on your ship.
I'm the editor and creator of CruiseMaven.com, a solo traveler cruising the world on waves and wheels.  I hope my articles and photos entertain, advise and inspire you to travel the world without flying.  Take a breath… stop for a meal and a glass of wine along the way.