It's been decades and hundreds of cruises since I packed for my first cruise. Never one to leave anything behind, you'd think I packed for an around-the-world voyage rather than a seven-night Caribbean cruise.
Back then, I didn't have a cruise packing list or even a checklist to help me pack for my cruise. That's why I finally put together a cruise packing list for a Caribbean cruise. Or a cruise to just about anywhere!
If you're wondering what to pack for your cruise, here's my complete guide to packing for a cruise.
Plus at the end, there's a printable packing checklist to get you organized and on your way.
What Things to Pack for a Cruise
This post contains affiliate links. I will only link to products and services that I would highly recommend, personally use and trust. There is no additional cost to you if you purchase something through one of these links. Thank you for supporting Cruise Maven!
Over the years, I've fine-tuned what I should pack for a cruise. I try to pack light so I can always maneuver my way through any concourse, corridor or cobblestone street.
My goal is to pack everything I need into a 25" spinner suitcase plus a carry-on bag like a backpack or duffle. I check my larger suitcase with the port baggage handler, along with a $5 tip!
Lately, for my iPad, laptop, camera and accessories, I use my Delsey small computer spinner suitcase, too. I've dragged both pieces of luggage with me on a two dozen transatlantic crossings, 40+ river cruises and hundreds of Caribbean and other cruises.
Here's my favorite Delsey 25″ spinner that I use. I bought the dark red Delsey set in 2015 (in photo above) and it's still rolling!
And the expandable 19″ computer case.
Four Basic Rules for Packing for a Cruise
The first seems obvious but frequently overlooked; know the weather where you'll cruise.
Second, essential items you'll need no matter where the destination.
Third, take half of what you've pulled out of your closet and drawers.
Fourth, certain items must always stay with you.
What to Pack in Your Carry-On Bag or Backpack
Important paperwork – tickets and travel insurance info
List of emergency phone numbers back home
Travel ID documents – passport, visas
Wallet with cash, credit cards (2 credit cards if possible or 1 debit and 1 credit card), driver's license
Cruise line luggage tags to attach at destination (if you are flying)
All medications in original prescription container
Tip money for porters – $1 and $5 dollar bills in US currency
Jewelry (leave the good stuff at home)
Touch-up makeup and toiletries
Spare glasses and/or contact lenses
Compact camera – in addition to my iPhone camera.
Phone and equipment chargers
Change of clothes to wear until your luggage is delivered
Laptop, iPad, Kindle Paperwhite e-reader
Even Teddy loves Packing Cubes. I wouldn't travel without them. I usually roll my clothes into each packing cube.
When I unpack in my stateroom, the cube is unzipped and placed into drawers or on shelves. So easy.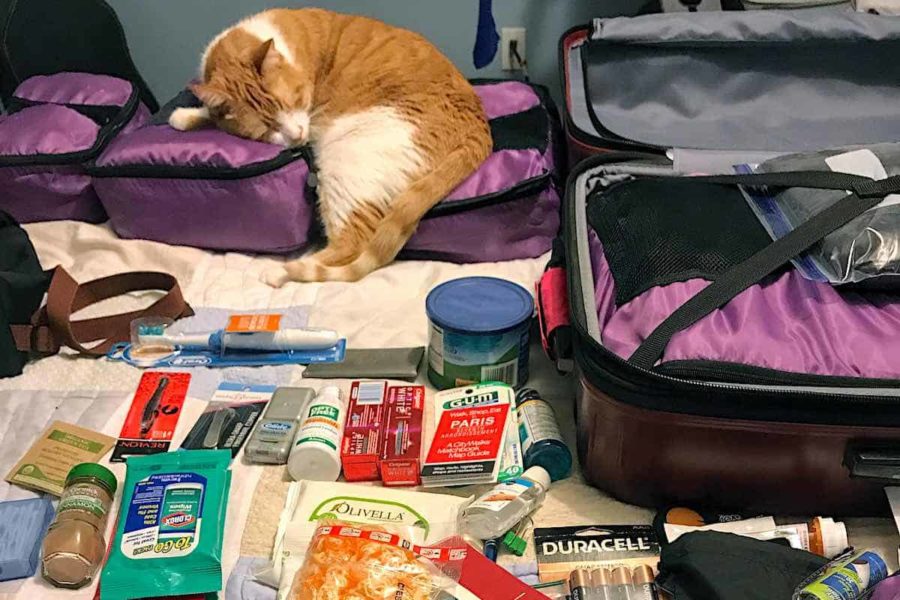 Clothes to Pack for a Cruise
Underwear
Dress socks/stockings, athletic socks
Sleepwear
Swimsuits: 1 or 2 and cut-offs are not allowed in the pool
1 beach and pool coverup
1 or 2 sets of workout clothes/yoga pants/sports top
2 or 3 pairs of women's shorts or capris
1-2 casual pants/skirts
1 to 3 casual sundresses
2 or 3 pairs of men's shorts/casual pants/khakis
4 or 5 T-shirts/blouses/tops for women
5-6 T-shirts/polo shirts/casual shirts for men during the day and casual nights
Jeans are acceptable – not torn or ratty looking – and not at dinner in the main dining room.
More Cruise Packing Tips: What to Pack for an Alaska Cruise
What to Wear on Formal Night
Much of your decision on what to pack for formal night should be based on the cruise line you choose. Many passengers on luxury lines like Silversea, Regent and Cunard tend to dress up on formal nights.
Women: One or two dressy outfits – dressy pants and blouse, cocktail dress. Some women still wear long formal dresses but not as often.
Men: One sport coat or dark jacket, 2 ties, 1 or 2 collared shirts.
Shoes and Wearable Accessories
3-5 pairs: Sandals, sneakers, dress shoes, comfortable walking shoe. Optional – sturdy closed-toe shoes for horseback riding or hiking, flip-flops for pool, beach and inside your stateroom.
Lightweight sweater, cardigan or pashmina for air conditioned public rooms.
Crushable sun hat/cap/visor
Belt
Packable poncho (disposable) or folding umbrella
Bring "layer-able" clothes and a jacket if cooler weather is predicted, say for a winter cruise that includes the Bahamas.
Cruise Maven Packing Tip
Seems obvious but easy to overlook. Choose one major color and mix 'n' match your wardrobe around it. Bring 1 or 2 lightweight scarves to dress up or change the appearance of the same outfit.
Toiletries
Your cruise ship will provide the basics: shampoo, conditioner, body lotion. Sometimes their shampoo doubles as body wash. Ick. Unless you're going on a luxury cruise, you may want to bring your own.
Shampoo and conditioner
Poo-Pouri
Hair spray or styling spray/gel
Bar soap/body wash
Body lotion
Sunscreen
Emery board and nail clipper
Deodorant
Toothbrush – toothpaste – floss
Travel size mouthwash
Contact lens solution (spare lenses go in your carry-on)
Eye makeup remover
Insect repellent
Lip balm with an SPF and for the dry air in the stateroom
After-sun lotion with aloe
Flat or curling iron
Folding hair dryer. Ask the cruise line – Some older ships still have wall-mounted, short cord, low-watt dryers.
Styling brushes and comb
Makeup and Skin Care
If you tend to use a full array of makeup every day, try to bring only the bare necessities.
Mascara
Liner
Eye shadow base
Foundation
Blusher
Makeup brushes
Concealer – If you plan to tan, bring concealer one shade darker, too
Eyebrow pencil and/or powder filler
Day treatment products
Night treatment products
Hand/body lotion
What to pack for a 7-night cruise also works for a 14-night cruise. On a weekend getaway cruise to the Bahamas, obviously you won't need as much clothing but you'll still pack the same items in your carry-on bag.
Cruise Packing Tip for Cosmetics
I've stopped using those pretty makeup bags. Instead, I use clear plastic zip-top freezer bags in various sizes. I put all makeup brushes into one bag. Then eye makeup and face products (blush, concealer, foundation) into another.
Hair brushes and combs (yes I travel with two hair brushes, one wide-tooth comb and a rat-tail comb) go into a large freezer bag.
Hair products (travel size hair spray, mousse and conditioner) in yet another freezer bag. I can see where every item is without having to rummage around to find the right item.
Finally, when I unpack I put ALL my eye pencils, mascara, and brushes into one or two of the bathroom glasses. Easy to find, use and put away.
Another advantage of using little bags – I can roll them up and stuff each one inside my shoes and save a ton of space.
Medications & Hygiene
All daily meds must go into your carry-on bag. Bring the original containers.
Get your prescriptions refilled at home so you don't run out.
Sanitary items for women, bathroom wipes, Clorox wipes for stateroom surfaces, handiwipes for shore excursions
Ask your physician about a "care" package – cough meds, antibiotics, Imodium, Benadryl-type antihistamine – anti-itch med, anti-nausea etc.
First aid supplies – assorted bandages, antibiotic ointment, alcohol wipes, aspirin or whatever you take for pain relief, kid scissors
Seasick pills like Bonine (doesn't make you drowsy) or Dramamine (makes you drowsy) or naturopathic remedies like candied ginger and ginger chewables. Check with your doctor first. I'm not a physician.
Cruise Maven Travel Tip
If you are bringing kids, check with their pediatrician for any other necessary items or suggestions on what you should pack for your cruise with kids.
Convenient Cruise Items
Night light for your stateroom
Travel-size flashlight
Travel alarm clock
Foam ear plugs
Magnet hooks to hang up clothes, important notes and such – most walls are metal.
Clothes pins to use for hanging hand washables on the shower clothes line
Highlighter pens to use for your daily cruise planner
Dirty clothes bag
Lightweight beach bag or tote bag that folds into itself for packing
Extra zip top freezer bags
A few sheets of bubble wrap for souvenirs
Electronics
Mobile phone
Phone charger including plug and cord (bring a spare if you have one)
Laptop or iPad/Kindle (goes in your carry-on) and chargers
Camera, lenses and filters (see above – in your carry-on)
Camera battery charger and camera case
Underwater camera
iPhone Tripod Selfie Stick with remote
Any instruction books that you might need to brush up on devices' features
Travel size bluetooth speaker and charger
External hard drive (I have this one) or flash drive to download your wonderful photos each night
Extra memory cards – so you don't have to buy a weird, non-name brand card in port
Lightweight binoculars – especially if you don't have a telephoto camera lens
ALWAYS download all your podcasts, music, movies and TV shows before you leave home.
Unless you buy an unlimited streaming internet package, don't waste your expensive onboard internet minutes trying to download anything…it's nearly impossible anyway.
Cruise Maven Packing Tip
Spread out all of your electronics on your bed before you pack them. Pair each device with its charger and accessories.
Then pack each device with its own gear. It will be a lot easier to find everything later.
How Do I Bring Alcohol on My Cruise
Each cruise line has its own and varying policy for BYOB.
You may be able to hand-carry one or two bottles of wine onboard your ship.
Check your cruise line's website for its alcohol policy details or ask your travel agent
Read my list of every cruise lines' policy for bringing wine on your cruise ship.
I hope my cruise packing list helps you to know what to pack for your cruise. I still use my printable packing checklist every time I get ready to leave. Have a wonderful cruise!
Please Pin and Share to Your Favorite Boards!

I'm the editor and creator of CruiseMaven.com, a solo traveler cruising the world on waves and wheels, collecting recipes along the way.  I hope my articles and photos entertain, advise and inspire you to travel the world without flying.  Take a breath…stop for a local meal and a glass of wine along the way.