It pays to read your daily cruise planner. I nearly missed one of the best river cruise shore excursions ever; a day at the Naschmarkt in Vienna.
It happened on my recent Danube river cruise with Viking River Cruises. I was standing near the reception desk after dinner when I overheard someone ask the Cruise Manager about the next day's culinary tour.
Don't miss a trip to centuries-old Naschmarkt in Vienna.
I didn't know there was a culinary tour in Vienna. I had planned a simple day in Vienna. My usual lunch at Restaurant Levant off Stephansplatz and an ice cream from Eis-Greissler on Rotenturmstraße and walk back to the river ship.
As soon as the couple retreated, I stepped up and asked what it was that they had signed up to do. "It's the Chef's tour in Vienna. They're going to the outdoor Naschmarkt," said Lee, the Cruise Manager aboard the Viking Lif. "But," he added, "there's already a waiting list for other couples."
"I'm not a 'couple,' I quickly replied. "It's only me. And I don't take up much room. Pleeeeze." There was no way that I would miss this chance. Even if I had to tag along in the shadows!
"Just sign your name," Lee politely instructed. "We have room for a solo. Your ticket will be delivered in the morning."
Yay!
Off we go.
Chef du Cuisine Marius and Eve de Nies, the Hotel Manager lead the way. With only 25 guests permitted (I was the odd number of course!) it wasn't a matter of herding cats. Their scarlet Viking River jackets were easy for us to follow.
Aboard the U-Bahn, Chef Marius begins a rundown of what we can expect on our culinary tour at the Naschmarkt.
In case I got lost, I thought it would be a good idea to take a photo of the U-Bahn station entrance. Ketten Brücken Gasse. It's the stop you use for the Naschmarkt in Vienna.
Everyone accounted for, Chef Marius shares a bit of Naschmarkt history and culture. The area dates back to the 1500s when the first vendor stands opened for business.
As we walked through the wide paths between the stalls, the aromas of cured meats, very ripe cheese and bins of olives filled the air.
Cheese land! Kase land. The tasting was only minutes away.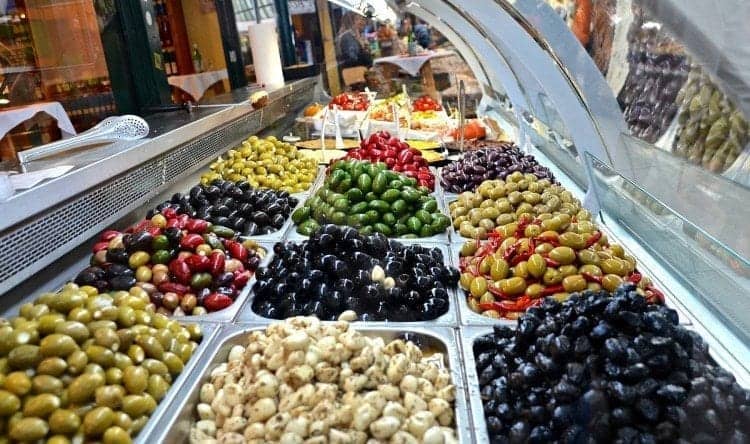 Those aren't white olives in the front…it's garlic. Lots of garlic.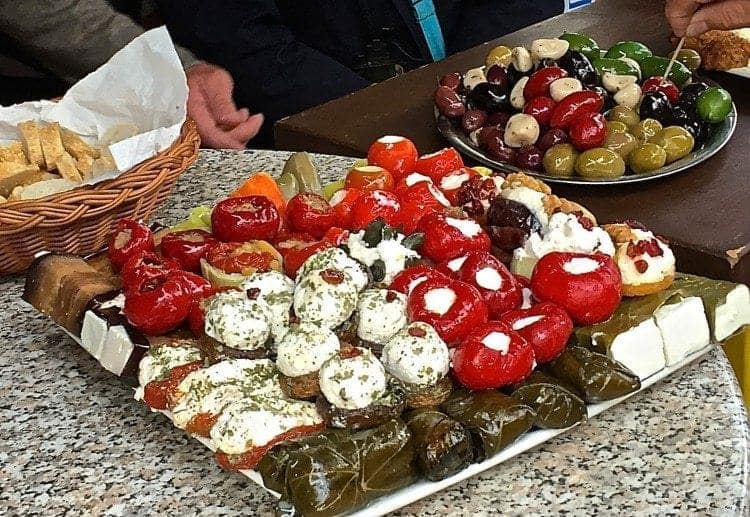 One of several platters of Nasch a.k.a. nosh. Cheese everywhere. And olives.
That's a tri-colored platter of hummus with freshly fried falafel. Regular hummus with garlic, curry hummus and beet. All were superb. And more olives.
Stuffed to the gills, we slowly made our way back through the Naschmarkt, though everyone was still eyeing the goods. Saturday brings the flea market vendors, musicians and buskers. The ambiance is altered and a younger crowd takes over.
One last chance for a quick coffee or glass of wine before we exit to the U-Bahn station.
Tickets in hand, the empty corridors to the subway seemed deserted for rush hour. Not a speck of litter or dirt anywhere.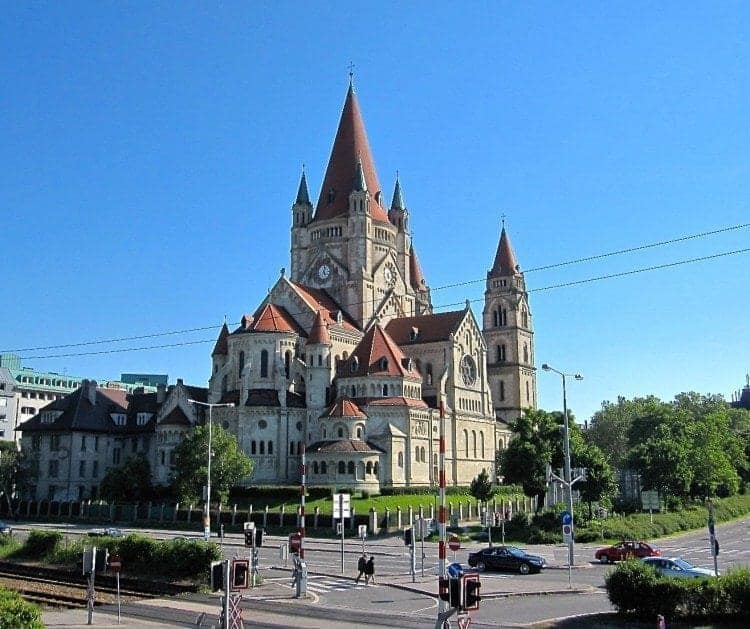 The St. Francis of Assisi Church is the perfect landmark to look for on your walk from town to the river. Photo taken on the pedestrian pathway on the Reichsbrücke bridge at the Danube.
There's so much to see and do (and eat!) in Vienna that one day hardly is sufficient. The good thing about this culinary tour (and others as well) is that they are planned for only a half-day. In Vienna, for example, there were complimentary guided tours in the morning that had guests back on board for lunch. After all, I'd think the chef would have to be on the ship at meal time. Then he can take the afternoon to lead wide-eyed, meandering tourists through the underground transit system in a strange city.
If you're interested in any chef-led culinary walking tour, be sure to sign up as soon as possible. It's nearly impossible not to love a culinary tour, no matter where in the world you experience it. And even better when it's part of a river cruise. It was only sheer luck that there was one space available for me. Yet another reason why I love to travel solo!
Disclosure: Although I was a guest aboard the Viking Lif, all opinions are my own. Viking River Cruises did not require that I write this article, nor did they request it. I was not compensated for the cost of the Naschmarkt in Vienna tour.
PIN THIS FOR LATER!


I'm the editor and creator of CruiseMaven.com, a solo traveler cruising the world on waves and wheels, collecting recipes along the way.  I hope my articles and photos entertain, advise and inspire you to travel the world without flying.  Take a breath…stop for a local meal and a glass of wine along the way.