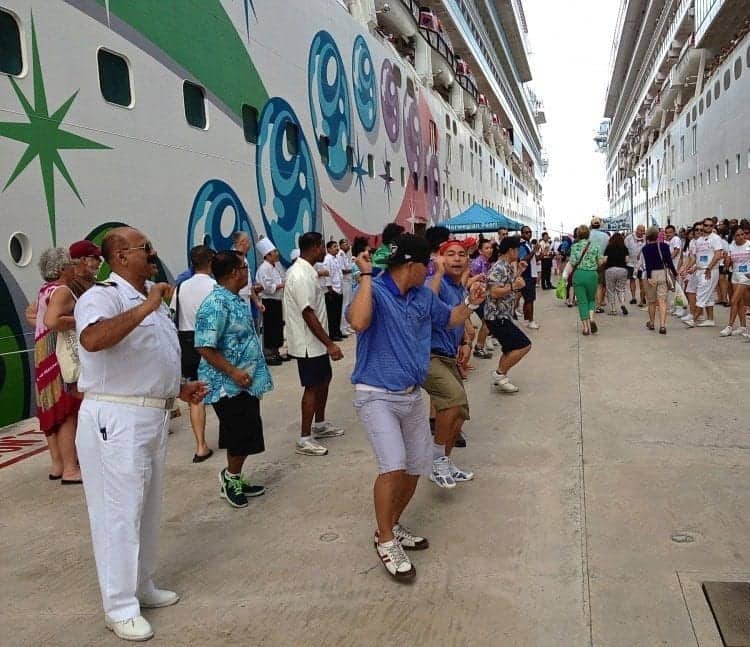 Jump in to the welcome back aboard line dance on Norwegian Cruise Line.
Instead of endless pounding on a treadmill, try these easier ways to stay in shape on a cruise.
It's never been easier to stay in shape on a cruise. More choices — on board and off — allow passengers to stay in shape on a cruise while enjoying all the experiences and delicious food a cruise vacation has to offer.
Those massive midnight buffets are ancient history. Fitness facilities are so popular and well outfitted that it can be difficult to get a machine during peak hours.
More dining choices.
Even menus have changed over the years to include heart-healthy, vegetarian and even gluten-free options. Sure, you can gorge yourself on 24-hour pizza, self-serve ice cream or a pile of lobster tails on formal night, but it's just as easy to stay active while at sea, and maybe even lose a pound or two. And avoid the fitness center, too!
Exercise outside
There's nothing better than fresh sea air, so get outside and move! Depending on the size of your ship, there's probably an outdoor track and maybe a wrap-around promenade to walk off that molten lava cake you indulged in at dinner last night. If the fresh air alone isn't enough of an incentive, see if your ship is offering a charity walk during your sailing.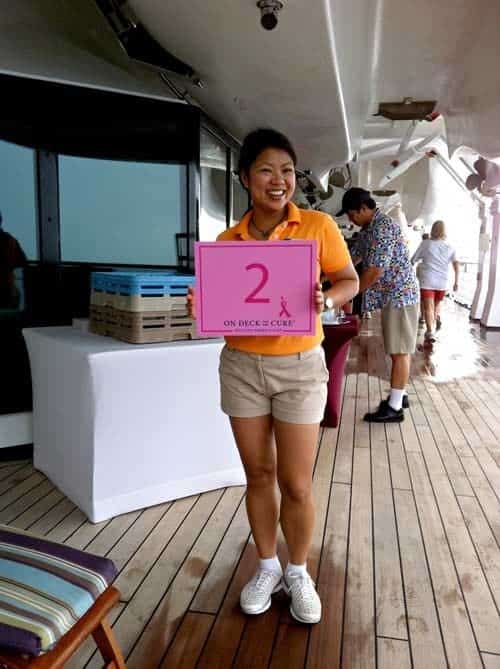 Walk for a cause and get yourself in shape, too.
Several lines, including Princess Cruises, Holland America Line and Royal Caribbean International, offer fundraising walks on select sailings. For a small donation, participants get a wristband, a T-shirt and the chance to contribute to a good cause for just a few laps around the deck. Princess and Holland America donate to the Susan G. Komen Foundation, while Royal Caribbean raises money for Make-A-Wish.
Get moving indoors
There really are no excuses for skipping your normal exercise routine. If it's too hot outside or raining cats and dogs, try walking the indoor "track" — the ship's corridors. On almost every boat, you can make a complete lap or at least a horseshoe in the hallways on the passenger decks.
Of course, running through the hallways isn't an option. In lieu of a boring treadmill workout and a stinky gym (yes, even the cleanest ones still "smell"), a long walk in air-conditioned comfort without crowds of people is a great way to increase your heart rate. You'll find that the hallways are emptiest on sea days between 5:30 and 7 p.m.
You can crank it up (or down) a notch after each lap by changing decks. Ships usually stack three or four passenger decks in one area, so it's easy make a change of scenery and go up or down a flight of stairs during your walk. And if your knees can handle it, make a pledge to ignore any and all of the ship's elevators during the entire cruise. You'll be amazed how many stairs you'll climb in only one day.
Sign up for active shore excursions
Instead of a three-hour city highlights bus tour, opt for something a little less sedentary. Biking shore excursions are becoming popular on both ocean and river cruises, here and abroad. Chances are, you'll pass many of the same sights that you'd see on a dedicated city tour en route to your active shore excursion.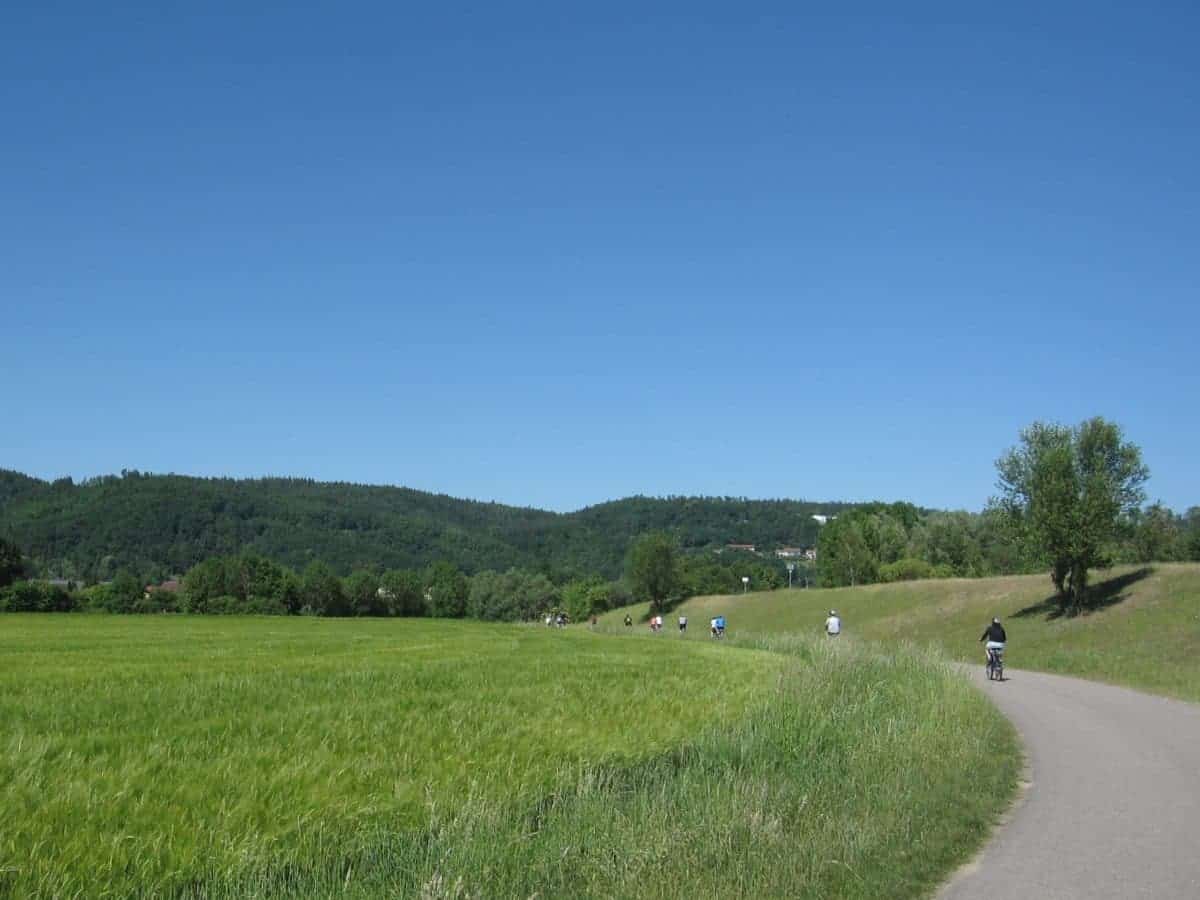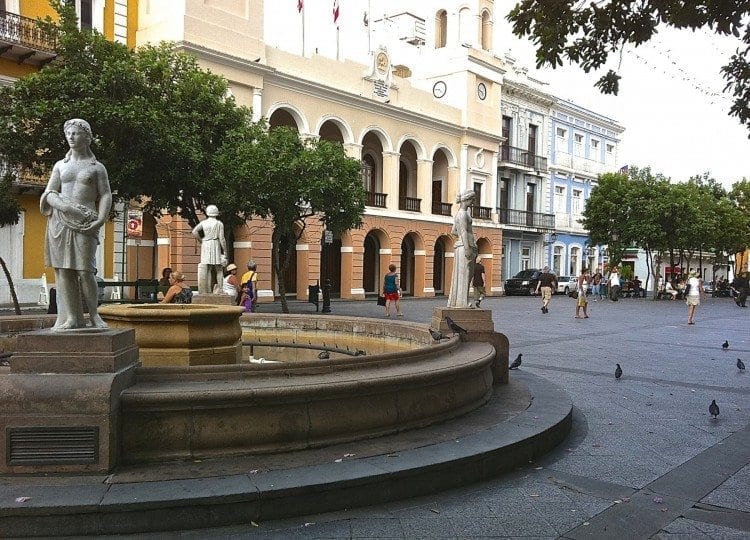 Instead of a bus tour, you can walk from the port in San Juan to El Morro Fortress and get a great walking tour of Old San Juan.
If your cruise doesn't offer a biking shore excursion, consider taking your own walking tour instead. For example, in Grand Cayman several cruise lines offer bus service to world-famous Seven Mile Beach. Skip the beach chairs and get your exercise in by walking the shoreline up and back from your drop-off point. If you're looking for more heart-pumping activity, you can also rent water sports equipment like snorkeling gear, kayaks and paddleboards at the beach.
Try a new activity
Even though you can find every imaginable type of exercise equipment in the onboard fitness facility, this is about avoiding the treadmill and other equipment.
A cruise is the perfect time to try an active class that you'd never do at home like yoga, Zumba or even roller skating. Two left feet? No problem. Trained dancers, male and female, welcome everyone to learn some new moves. From an assortment of goofy line dances to cha-cha and foxtrot, there are classes offered nearly every sea day on most cruises. Note: Some of these specialized classes charge a fee and require sign-up. On many cruise lines you can sign up ahead of time for a week's worth of lessons.
Be a kid again
Back on board, splash, climb and play the day away at the onboard waterparks. There are towering waterslides, wobbly ropes courses, rock climbing walls and even surf simulators available on some of the larger cruise lines.

Royal Caribbean FlowRider
Grab a boogie board on Royal Caribbean's FlowRider; push your limit on Norwegian's Epic Plunge 200-foot waterslide or test your balance on Carnival's SkyCourse — a challenging ropes course. If competitive sports are more your style, cruise lines have you covered there, too: nearly all lines offer basketball, bowling, volleyball and a variety of other group pick-up sports. With all of these options at your fingertips — and a commitment to healthy eating — you'll return from your cruise with nothing but memories, and no extra pounds.

I'm the editor and creator of CruiseMaven.com, a solo traveler cruising the world on waves and wheels, collecting recipes along the way.  I hope my articles and photos entertain, advise and inspire you to travel the world without flying.  Take a breath…stop for a local meal and a glass of wine along the way.