Holland America Line leads the way in healthy cruise dining.
Cruise passengers who prefer "Forks Over Knives, " have stood blearly-eyed looking at the same old salad bar day after day or found the one pasta or curried vegetarian option on a cruise dinner menu, will rejoice at what Holland America and Master Chef Rudi Sodamin have created.
Fifty-two vegetarian dishes, twenty-two on the new vegetarian menu and thirty vegetarian dishes added to the main dining room menu, exemplifies Holland America's commitment to accommodate all guests' dining preferences. Considering that cuisine is a major topic of passenger conversations and memories, this is a brilliant step forward in the culinary options on a cruise.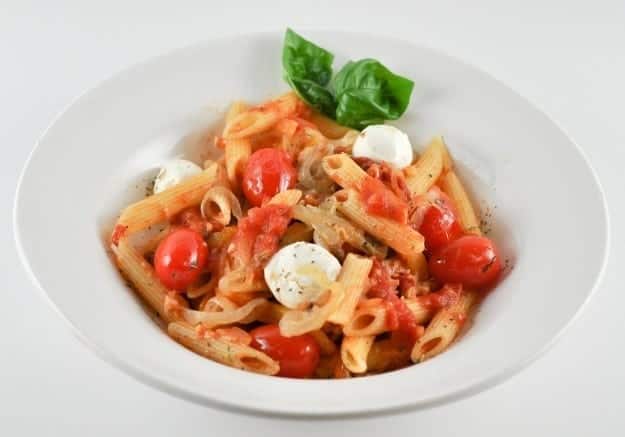 What to expect
Vegetarians know the importance of flavor and spice to enhance even the most simple of meatless recipes. Holland America's savory collection of dishes on the new vegetarian-only menu include Portobello Mushroom and Chipotle Quesadillas, Vietnamese Vegetable Spring Rolls, Curried Vegetable Empanadas, Spicy Lentil and Garbanzo Salad, Sweet and Sour Vegetable Tempura, Vegetable Jambalaya, Grilled Vegetable and Tofu Kebobs, and Baked Cheese Polenta with Mushrooms and Artichoke Hearts.
When Rudi Sodamin set out to create this exclusive menu, he took into consideration the importance to incorporate not only a vibrant mélange of flavors but to also make sure that the ingredients maintain the healthy culinary experience. The alternative menu includes a full range of appetizers, salads, soups and main entrées, and is available upon request at no extra cost for lunch and dinner in the main dining room aboard all 15 ships in the fleet.
"Many more people are choosing a vegetarian culinary experience, yet the options can be limited," said Richard Meadows, Holland America Line's executive vice president of marketing, sales and guest programs. "By offering a complete vegetarian-only menu and the largest vegetarian selection at sea, we are ensuring that all guests can take part in an exceptional dining experience while cruising with Holland America Line."
The main dining room menu
In addition to the new vegetarian-only menu, 30 new vegetarian dishes will be added to the main dining room menu. These offerings also will be featured as a second vegetarian option in the casual Lido buffet during lunch. Additionally, every dinner menu will now offer guests the option of one appetizer, one soup or salad, and at least one vegetarian entrée each evening.
Some of the newly expanded vegetarian selections on the main dining room menu include Corn and Zucchini Pancakes served with Southwest-style cous cous salad, Asparagus and Zucchini Torte with wild rice and sun-dried tomato coulees, Carrot and Parmesan Risotto topped with a lemony arugula salad and crispy carrot ribbons, and Grilled Eggplant and Bell Pepper Masala braised in yogurt with Indian spices and served with coconut-pistachio basmati rice.
Finally, a cruise line has addressed the lack of vegetarian selections throughout the onboard dining experience. Speaking as someone who is Ms. Fussy and prefers a vegetarian approach to dining, when it comes to shipboard cuisine, I can't wait to explore these new vegetarian and vegan dishes.
And…taking healthy cruise ship dining one step further, did you know that you can also pre-order your dinner entreé prepared salt-free? All you need to do is tell your waiter. You'll be handed a menu for the next night's dinner and you simply choose what you would like and it will be prepared without salt, wherever it is possible.
I'm the editor and creator of CruiseMaven.com, a solo traveler cruising the world on waves and wheels, collecting recipes along the way.  I hope my articles and photos entertain, advise and inspire you to travel the world without flying.  Take a breath…stop for a local meal and a glass of wine along the way.