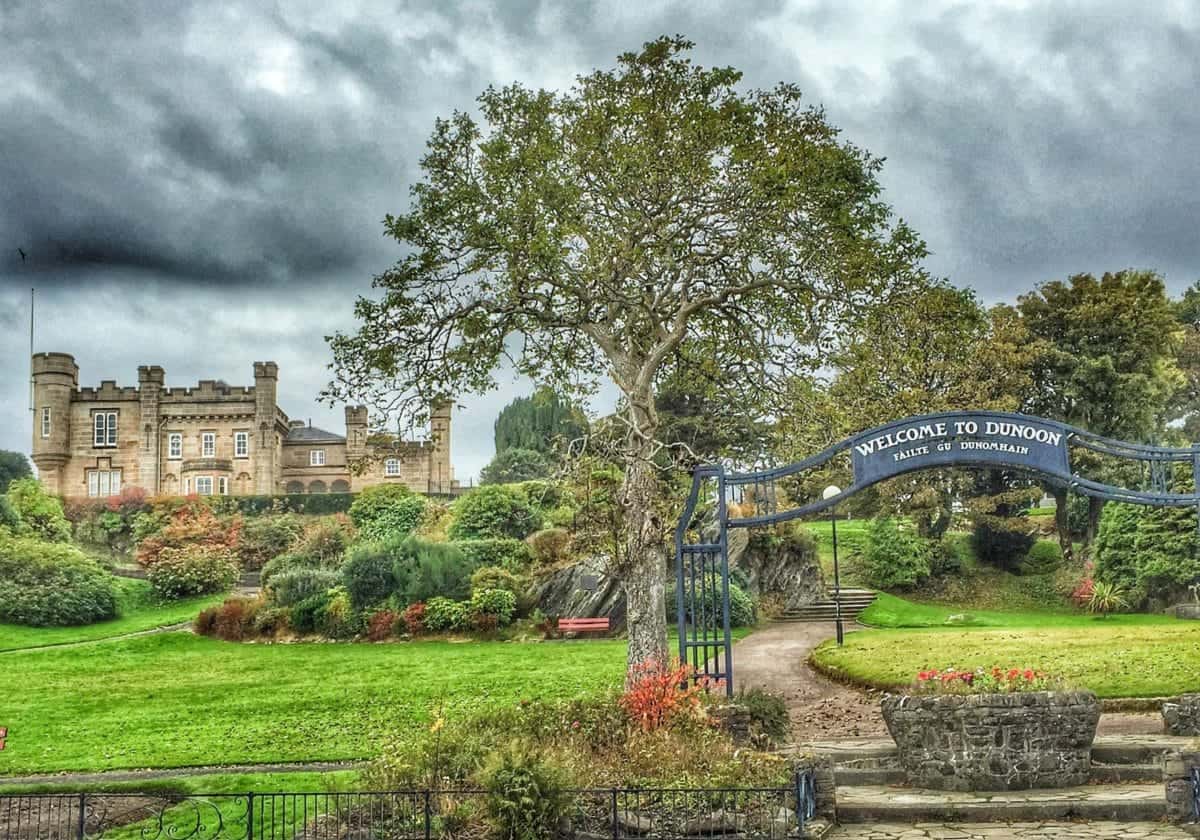 Relax along the waterfront at Douglas Park Guest House.
Considering it was a late autumn transatlantic crossing, we had a pretty smooth week aboard Queen Mary 2. Docked in Southampton and an early departure from the ship, I was soon on the motor coach for a onward journey to London and eventually Douglas Park Guest House in Dunoon, Scotland.
It was a long days' journey aboard two trains from London to Glasgow then Glasgow to Gourock. Only a ferry ride remained. It took 20-minutes to cross the choppy Firth of Clyde to the commuter port at Dunoon. I arranged for a taxi to meet me and it was only a few minutes ride to my much-anticipated destination: Douglas Park Guest House.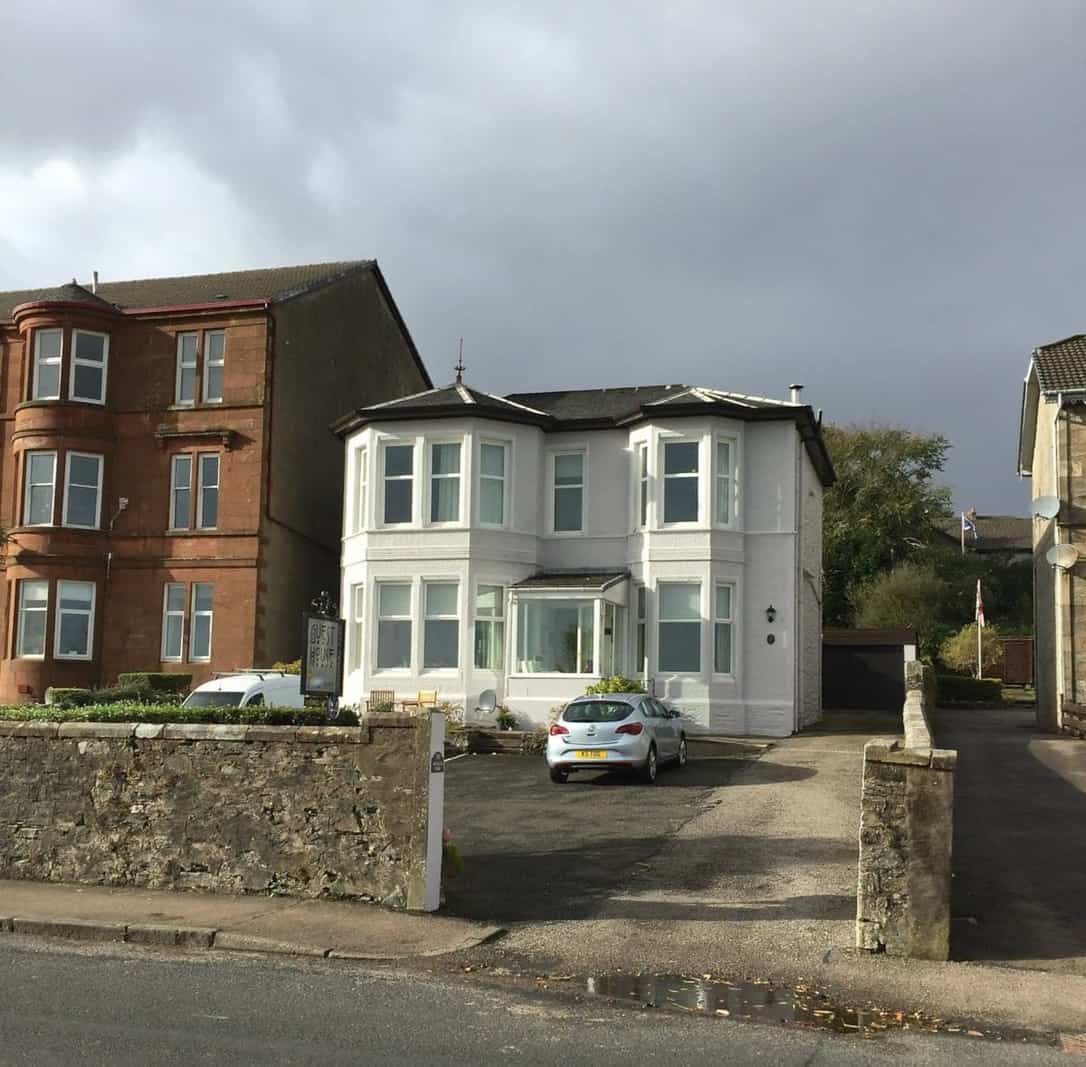 My arrival at Douglas Park
We pulled into the gravel driveway of Douglas Park Guest House just about sunset. Ken greeted me at the door and helped me inside with my luggage. My room was ready so Ken brought my things up the one flight of stairs.
A wide panorama from the tall bay windows afforded an unobstructed view of the now calm Firth of Clyde, a waterway that sees marine traffic nearly 24 hours a day. I'd have been happy to just stay in my room and decompress for a week.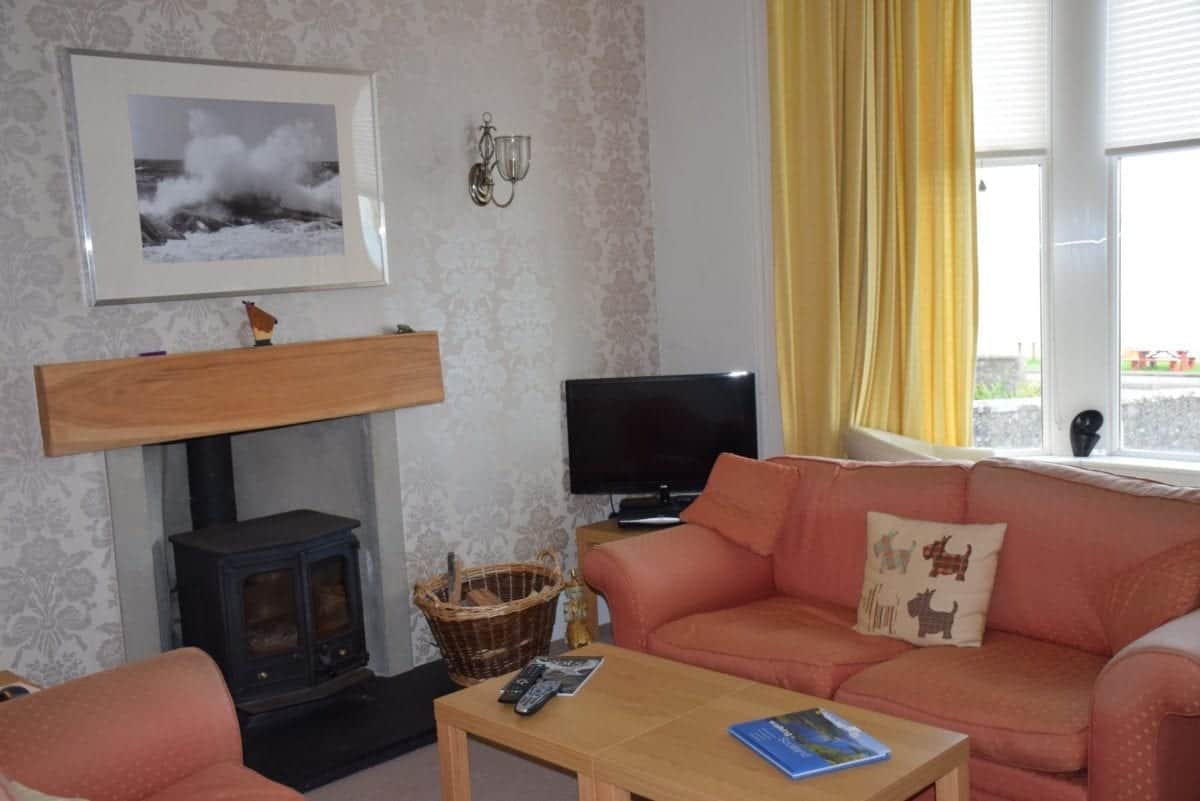 The contemporary furnishings were immaculate and very welcoming. A tour of the downstairs yielded a cozy sitting room with books, a few board games and magazines. I was offered a hot cup of tea (unlike the usual Florida "iced" tea) and a couple of cookies to tide me over until dinner.
With advance notice, owners Ken and his wife Shona will prepare a full proper dinner, from appetizer to dessert.
The sitting room is on one side of the center vestibule and the dining room on the other.
Both rooms have the same almost-floor to ceiling bay windows with the mesmerizing sea view.
I couldn't wait to settle in to my new digs. And I wasn't disappointed.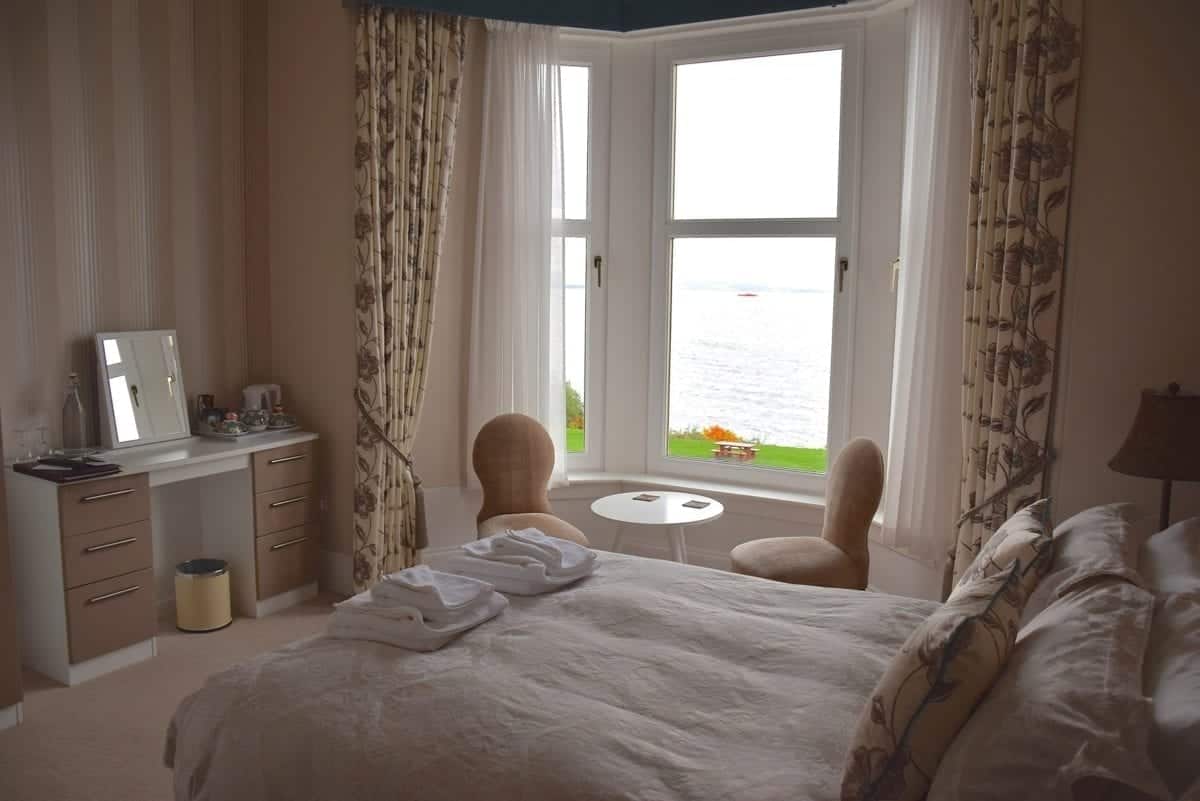 All of the bedrooms are furnished in pastels, and have a very spacious feel. My room was a perfect size, big enough for me to keep both of my small suitcases open on the floor and not have to trip over them.
The bathroom was amazing…I still marvel at the electric towel warmers. Lighting was good and the shower very roomy with great water pressure.
I'm not sure how old this house is but the interior (and exterior) is beautifully maintained.
At dinner, Shona would ask what time I thought I'd be downstairs for breakfast. Since the other guests were early risers, I didn't want to cause any delays, so I was usually downstairs for breakfast by 8:30. Breakfasts were enough to tide an average person until mid afternoon. Eggs your way, toast, hot and cold meats, yoghurts, fresh fruit…it was all available.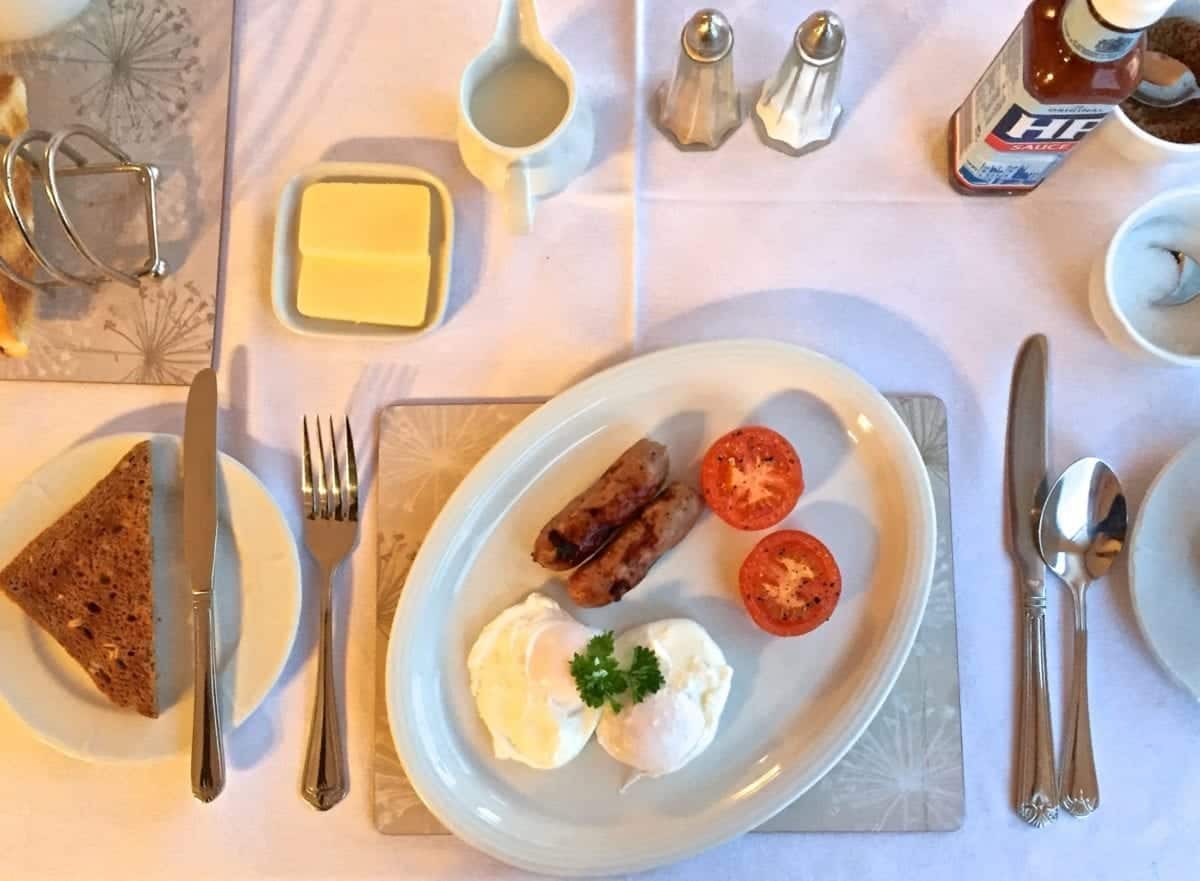 Where it is located.
As for the location, the bus to the city or out to the country stops right in front of Douglas Park. On my third day, I hitched a ride with Ken who was leaving to run errands and he dropped me off at the local launderette. It's always nice to begin your next journey with clean clothes!
When all was washed, folded and neatly tucked into my oversize handbag, I strolled from the launderette into the main downtown of Dunoon and stopped for a much anticipated bowl of soup at a cozy coffee shop, Seasons.
After warming up (it was the end of October) I leisurely continued my walk along the seaside promenade that followed the road to Douglas Park. You couldn't get lost.
There's even Ken and Shona's little dog, Tilly, that loves to say hi. But you might have to ask Ken and Shona to bring Tilly out for a visit in the Guest House section. They're careful not to give their dog run of the house.
My four nights went by way too fast and before I knew it, I was saying goodbye to my new friends. Time to retrace my steps. The taxi took me to Dunoon's port for my ferry to Gourock. While it may sound confusing and a lot of work, making all of the connections was really easy and involved very little walking with my suitcases.
If you're wondering what my reason was for this amazing visit to Dunoon, find out why here.
I think I'm pretty picky and there wasn't one aspect of my stay there that I would have wanted to change.
For more information and to reserve your room, send a note to Ken and Shone at Douglas Park Guest House.
Insider Tip: All the rooms are beautiful but it's the front-facing rooms that have a view of the water. If you're on a budget, ask for the room without an en-suite bathroom. It's located right next to the bedroom and all yours. There's even a plush bathrobe to use for jaunts between your room and the bathroom.

I'm the editor and creator of CruiseMaven.com, a solo traveler cruising the world on waves and wheels, collecting recipes along the way.  I hope my articles and photos entertain, advise and inspire you to travel the world without flying.  Take a breath…stop for a local meal and a glass of wine along the way.