From Allure of the Seas recurring propulsion problem and itinerary changes, to a clown fight and Carnival's Faster to the Fun costs, here's the cruise news you may have missed.
Cruise News Weekly Update
Royal Caribbean Ship Has Propulsion Problems…Again
And the problems continue for Allure of the Seas. With its scheduled drydock not until March 2020, Allure of the Seas will have to cruise at a slower speed until then. There's a propulsion pod issue going on and the mega ship just can't reach its intended ports in the current itineraries.
Royal Caribbean has decided that the easiest thing to do, rather than cancel sailings, is to simply revise the ports visited. This applies not only to Allure of the Seas but to some of their other ships as well, including sister ship, Oasis of the Seas. This is to not only avoid overcrowding in some ports but to also find dockage space.
READ NEXT:  What's in Store After the Allure of the Seas $165 Million Refurbishment
More than 30 itineraries across various ships have been modified to accommodate the slow-moving Allure of the Seas. If you are wondering how and if your upcoming cruise is affected, contact your travel agent or Royal Caribbean and make sure they have your correct email address. Royal is notifying booked passengers through email.
Carnival's Faster to the Fun Cost to Drop in 2020 on Two Ships
Beginning in 2020, Carnival has announced that they will reduce the cost of their Faster to the Fun prices on two of their ships.
The two ships that will see the decrease are the Carnival Conquest and Carnival Ecstasy. Both ships will sail four-night itineraries in 2020 and you'll pay a reduced fee of $59.95 per stateroom rather than the previous $69.95.
Conversely, Carnival Elation which is also sailing four-night itineraries, will increase its Faster to the Fun program from $59.95 to $69.95 per stateroom.
Just to give you an example of the range in prices, Faster to the Fun on 2-night cruises is $39.95 per stateroom while Faster to the Fun on 3-night cruises are either $39.95 or $49.95 depending on the ship. If you're going on an 8-night cruise, the cost is $99.95 unless you are going on an 8-night cruise aboard Carnival Horizon in which case the cost for Faster to the Fun is $119.95 per stateroom.
Keep in mind that Faster to the Fun is not offered on Europe cruises, Carnival Journeys, or ships departing from Honolulu, Norfolk or Vancouver.
Dubrovnik, Croatia Overcrowding Becoming a Problem
The city of Dubrovnik and the Cruise Lines International Association are trying to create a plan to avoid overcrowding of this once-quiet cruise port. I've never watched Game of Thrones but apparently the series has caused a huge influx of tourists, especially those arriving by cruise ship.
In case you're not familiar, Dubrovnik, like many other places in Europe, is an ancient walled city. Once you dock in town, as soon as you enter through the massive gates, you pay a small fee for the privilege to walk along the path on the top of the wall, above rooftops and past spectacular ocean views.
READ NEXT:  Best things to do in Dubrovnik on your own
Last year, the city voted to curtail the amount of cruise ships allowed to dock on any particular day. According to CLIA, there is a mandate to create a plan for the city based on the United Nation's sustainable tourism criteria, implementa cruise ship berthing policy and develop a "Respect the City" visitor education campaign.
The last time I was there was at the end of the day and I was the last person allowed to walk the wall. For 7 Euros, I had almost the entire stretch to myself. It was kind of creepy but very cool.
Sky Princess and Enchanted Princess – And All That Jazz
Princess Cruises announced that Sky Princess and Enchanted Princess will add a new jazz theatre called Take 5. It's being billed as the only jazz theatre at sea. It was revealed that the lounge will also feature hand-crafted cocktails by a Master Mixologist.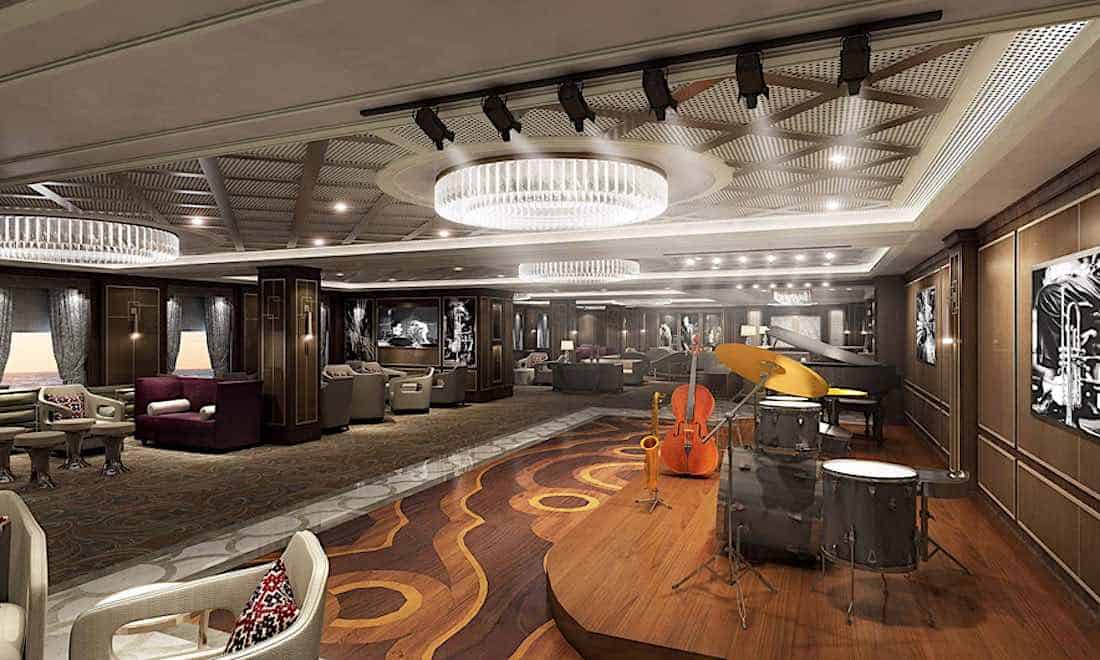 When the new Princess ships debut, the Sky Princess in October 2019 and Enchanted Princess in June 2020, Take 5 entertainment will cover the evolution of jazz from its roots, to BeBop, and contemporary sounds.
Guests can expect live performances by jazz musicians, participate in dance lessons, attend workshops, and hear guest performers.
Some of the Take 5 afternoon enrichment and themed nights will showcase:
A Night in Harlem with sounds of the roaring 1920s
The Birth of Big Band and BeBop – music from the late 1940s, with post-war jazz and the birth of BeBop
The Way You Look Tonight featuring female jazz vocal stylists emulating the sounds of Ella Fitzgerald, Billie Holiday and Norah Jones.
Toda La Noche – Afro Cuban Jazz – guests can take salsa lessons to popular Buena Vista Social Club covers – which by the way I still grumbling that didn't get to see their show in Havana
A Sophisticated Evening of Cool – the cool jazz sounds of the 1950s like Miles Davis and Oscar Peterson.
And because these two new ships are included in Princess's Medallion Class, you can order drinks on demand from your seat in the jazz club.
Fight Breaks Out – Clown Arrested
British decorum was non-existent aboard a P&O cruise ship last week when a fight erupted on deck 16 in the Lido Buffet.
Not just any brouhaha, mind you, but outright fighting that left three men and three women injured and bloodied.
As you'd expect there are at least two sides to every story. This one begins with someone showing up at the Lido Buffet dressed as a clown. Apparently this didn't sit well with a guy who said he booked this Norwegia fjord cruise specifically because it was advertised as not having a fancy dressup night. I guess that includes clown costumes.
Furniture, dishware and utensils were thrown about causing all sorts of injuries, including to the security staff. The two men involved (the clown and the unfancy dresser) were confined to their respective staterooms for a day until the ship docked in Southampton and the police arrived.
And that's a wrap for cruise news August 2, 2019. Happy weekend, everyone!
I'm the editor and creator of CruiseMaven.com, a solo traveler cruising the world on waves and wheels, collecting recipes along the way.  I hope my articles and photos entertain, advise and inspire you to travel the world without flying.  Take a breath…stop for a local meal and a glass of wine along the way.