When the CDC will come a-knocking at their ship's "door" is anyone's guess.
That's precisely what happened last weekend aboard the 113,300 ton Carnival Splendor, in Long Beach, California. The ship's staff and crew received a surprise visit by inspectors from the Centers for Disease Control and Prevention. Once again, the Carnival Splendor earned a 100 perfect score for cleanliness.
The Carnival Splendor made her debut in 2008 and since then has undergone eight health inspections. Including last weekend's perfect score, the Splendor has earned a total of six 100 scores. The other two almost-perfect scores were 99 and 98. For the cruise industry, this is a record-setting accomplishment.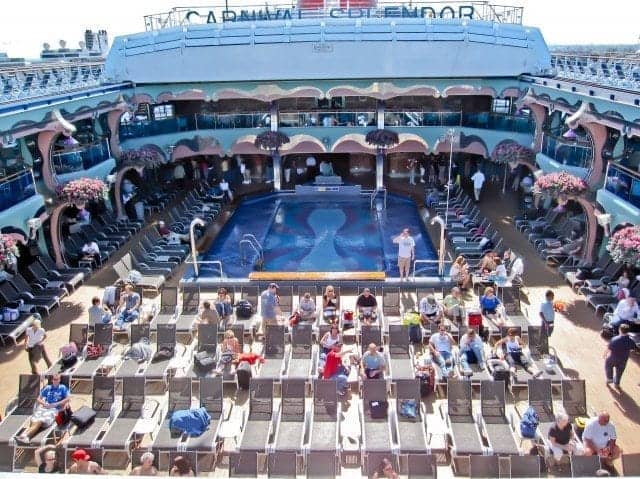 What's involved with these surprise inspections
The inspections are conducted twice a year and according to the Vessel Sanitation Program regulations. The purpose of the program is to assist the cruise ship industry to prevent and control the introduction, transmission, and spread of gastrointestinal illnesses on cruise ships. In total there are forty-two items on the Program's checklist that includes areas such as the medical facilities, child activity centers, galleys and dining rooms, swimming pools and spas and the air filtration system.
The unannounced inspections are required for any cruise ship that carries over thirteen passengers and has an international itinerary calling at a U.S. port. At the conclusion of each inspection, CDC inspectors meet with ship management to discuss inspection violations and provide them with a preliminary report. Within 2 weeks of the inspection, CDC sends a final copy of the inspection report to the corresponding cruise line. Corrections must be completed and re-evaluated.
According to the Vessel Sanitation Program regulations:
"Ships that fail inspections are re-inspected within a reasonable time period of the failure. If a ship fails an inspection because of an imminent public health risk, VSP may recommend that the ship not sail. Imminent public health risks include the following violations:
inability to properly chlorinate potable water;
inability to keep food within safe temperatures;
inadequate facilities for cleaning and sanitizing equipment;
inability to properly dispose of solid or liquid waste; and
an infectious disease outbreak where continuing normal operations may subject newly arriving passengers to disease."
More Carnival ships have received a perfect sanitation score
Carnival has a good reason to be proud. Since January 2012, five other Carnival ships have received a perfect 100 score; the Carnival Pride, Carnival Liberty, Carnival Dream, Carnival Freedom and the Carnival Sensation. The Carnival Pride is a two-time winner, twice receiving perfect 100 scores this year.
Carnival Splendor, which currently operates seven-day Mexican Riviera cruises from Long Beach, is headed for a new year-round home in New York City. From here, she'll cruise year-round for eight-nights to the Caribbean and Bahamas beginning March 23, 2013.
Bucket-list cruise opportunity
For something really unique, hop aboard the Carnival Splendor in Long Beach on Feb 3, 2013 for a repositioning cruise from California to New York. It's a forty-eight day voyage from Long Beach, California to the Manhattan Cruise Terminal in New York City. You'll visit all of the key cities of South America, including Santiago, Chile; Ushuaia and Buenos Aires, Argentina and Rio de Janeiro, Brasil. If you've never sailed around the horn of South America through the Straits of Magellan, you are in for a once-in-a-lifetime fabulous experience.
I'm the editor and creator of CruiseMaven.com, a solo traveler cruising the world on waves and wheels, collecting recipes along the way.  I hope my articles and photos entertain, advise and inspire you to travel the world without flying.  Take a breath…stop for a local meal and a glass of wine along the way.