As you can see from the photo, the weather in Falmouth, Jamaica was about to change. So were our plans for a visit tomorrow to Grand Cayman.
Rather than make his familiar departure announcement as we sailed away, the Captain instead chose to tell us mid-afternoon, that due to tropical storm Rina, we weren't going to Grand Cayman.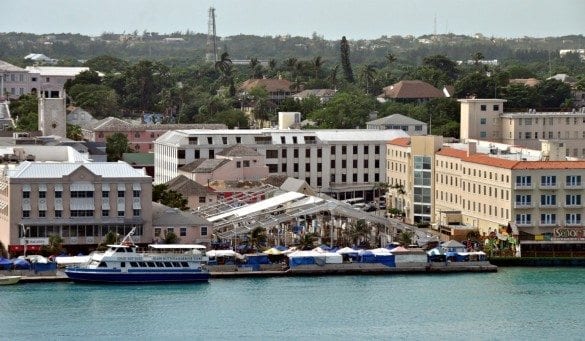 After a day at sea, we were going to end up in Nassau, Bahamas. Not quite Grand Cayman…but there was no choice. Nassau; less than 200 miles from Miami and I can't count how many times I've been there. Same for Grand Cayman, but I was hoping for a relaxing day at Seven Mile Beach and not a shopping day on Bay Street in downtown Nassau. I was probably the only one of 1,900 passengers who was grousing about Nassau. Time to regroup and find a positive angle to write about this diversion. Then it happened.
Over the years, I've been on ships where we couldn't make it into port due to high winds or rough seas, but I hadn't experienced a port diversion. I fully expected lots of grumbling and moaning among the passengers as they slowly filed back onboard, under a prematurely darkening sky and light showers. But no. I didn't hear one complaint and I was really trying to pick up something untoward. Maybe it's because all of the weather-related cruise situations are making it onto the nightly news and it's no surprise when it happens.
We would be one of eight mega-cruise ships that were forced to dock in Nassau on that day, due to the storm passing by Grand Cayman. Eight ships would equal somewhere near 22,000 passengers and maybe 6,500 crew members, if some of the crew were able to go ashore. It was fun to accidentally be a part of Nassau cruise line history. By the time the 8th ship docked, this day would go on record as having the most ships in Nassau Harbour at once on a single day. Cool.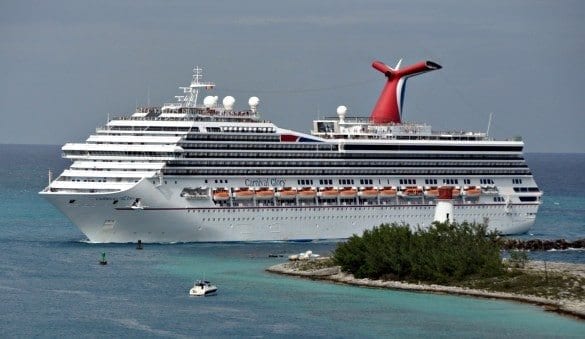 To make lemonade out of lemons was pretty easy. It's impossible not to agree that it's a beautiful approach into Nassau Harbour. Many of us were on deck to watch the huge Carnival ship as she rounded the curve into the harbor.
I love Nassau. It's a small enough island with plenty to do. In fact, I heard that because there were so many passengers arriving on a moment's notice that shore excursions were sold out even before most ships docked.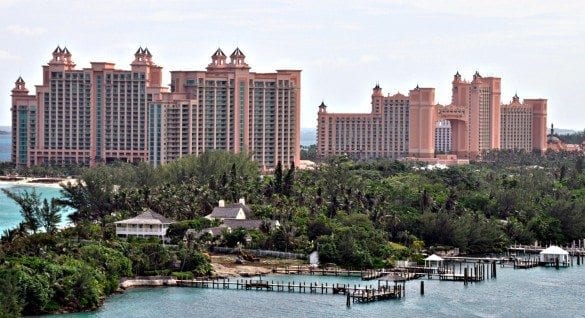 I really didn't feel overwhelmed when walking around downtown. Even the funneling of thousands of people returning to the ships, through only two doors at the Nassau terminal, went smoothly. I will admit that I planned to be back on the ship by 2PM just to avoid the mad crush and also to have an hour or so to wander around the Celebrity Millennium with a minimum of guests onboard.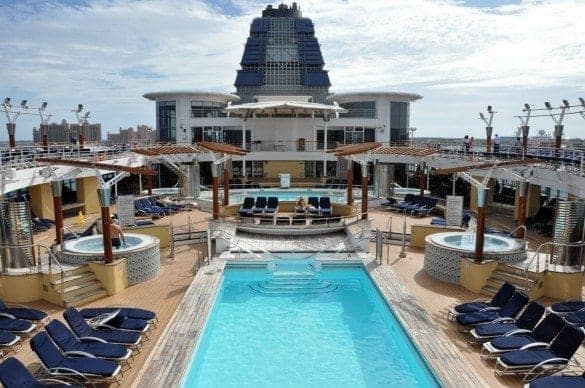 If you've been to a port many times and you don't feel like revisiting the same sites, do what many frequent cruisers do; stay on board and have the ship (almost) to yourself. Enjoy the buffet without a thousand other hungry passengers.
The next time you're on a cruise and the captain changes course, think of it as an adventure and make the best of it. After all, at least you're on a cruise going somewhere.
I'm the editor and creator of CruiseMaven.com, a solo traveler cruising the world on waves and wheels, collecting recipes along the way.  I hope my articles and photos entertain, advise and inspire you to travel the world without flying.  Take a breath…stop for a local meal and a glass of wine along the way.