If all predictions for 2012 are right, it's full steam ahead for a slew of cruise discounts with the Caribbean a prime target. With so many drive-to ports around the US allowing for easy access to Caribbean departures, the cruise lines don't want to miss an opportunity to fill their ships. Airfare to the Caribbean isn't looking bad either as the year progresses.
The first really great deal of the new year just landed in my email. If you've ever wanted to cruise in luxury and with "real" sails, you need to take a look at Windstar Cruises.
Your choices:
Windstar Cruises has announced two-for-one fares starting from $1,399 per person, based on double occupancy, on select 2012 Caribbean voyages when booked by February 24, 2012. You only have to book by Feb. 24, 2012. There are many applicable dates throughout the year that you can apply the sale pricing, not just in the winter.
Three Caribbean itineraries are available and each one features intimate and exclusive island-hopping experiences in the tropics all while sailing on a luxurious sailing yacht.
The new historically-themed cruise port in Falmouth, Jamaica
Flavors of the Caribbean sails from Dutch St. Maarten to French-influenced Martinique. Seven-day sailings on Wind Surf roundtrip from Philipsburg,St. Maarten visit Le Marin, Martinique; Pigeon Island, St. Lucia; Roseau, Dominica; Falmouth Harbour,Antigua; and Gustavia, St. Barthelemy. Departures: January 14, 28; February 25; and March 10, 24, 2012. Two-for-one fares starting from $1,399 per person, double occupancy on select sailings.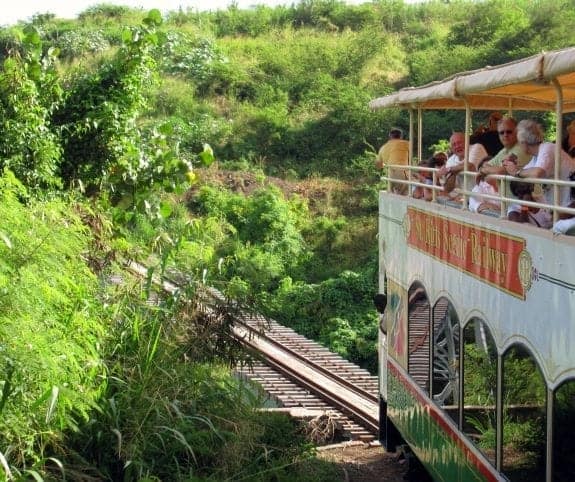 Discover a yachtsman's paradise while visiting exclusive ports like glamorous St. Barts and the enchanting British Virgin Islands on Windstar's Yachtsman's Caribbean voyages. Seven-day sailings onWind Surf roundtrip from Philipsburg, St. Maarten visit Soper's Hole – Tortola, BVI; Jost van Dyke, BVI (overnight); Virgin Gorda, BVI (overnight); Basseterre, St. Kitts; Les Saintes, Guadeloupe; and Gustavia,St. Barthelemy. Departures: February 18; and March 3, 17, 2012.
Sail to the unspoiled Grenadines and discover the rugged natural beauty of St. Lucia and beyond on Windstar's Jewels of the Windward Islands voyages. Seven-day sailings on Wind Spirit roundtrip fromBridgetown, Barbados visit Pigeon Island, St. Lucia; Bequia, St. Vincent Grenadines; Tobago Keys, St. Vincent Grenadines (overnight); Mayreau, St. Vincent Grenadines; and St. George's, Grenada. Departures: January 21, 28; February 4, 11, 18, 25; March 10, 17, 2012.
Windstar Cruises operates three luxury sailing yachts not only in the Caribbean, but throughout Europe including the Greek Islands and the Mediterranean. With a whopping 148 to 312 guests, these sleek ships can visit remote harbors and coves that the usual mega cruise ships just cannot reach. Last month, Windstar was included once again on Condé Nast's 2012 Gold List of Cruise Lines.
If that's not enough, Windstar is refurbishing their three sailing yachts to the tune of $18 million. Phase one of the Wind Surf was just completed which saw luxurious upgrades to the staterooms, suites, bridge suites and corridors.
Keep an eye out for more cruise deals as we move through January. It's the traditional cruise lines' "Wave Season" and you can usually find the best cruise vacation values offered in the first three months of a new year. Because the cruise lines want to get as many cabins filled during the first quarter of the year, a savvy cruise shopper can find onboard credits, complimentary upgrades, free airfare and many more perks for booking and depositing early.
Source: Windstar Cruises
Photo credit: Windstar Cruises and Sherry Laskin
I'm the editor and creator of CruiseMaven.com, a solo traveler cruising the world on waves and wheels, collecting recipes along the way.  I hope my articles and photos entertain, advise and inspire you to travel the world without flying.  Take a breath…stop for a local meal and a glass of wine along the way.