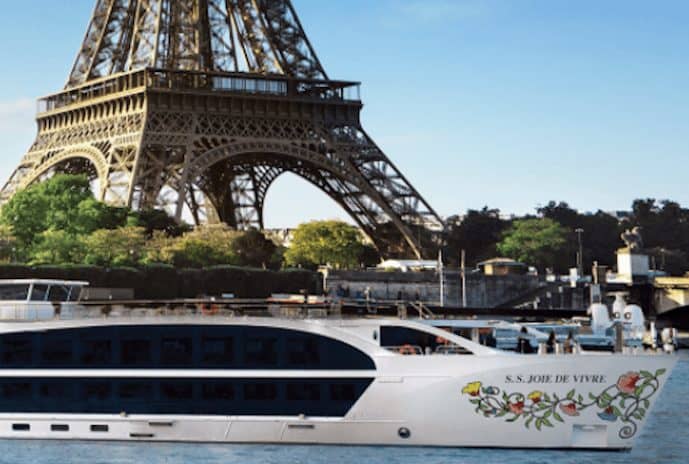 Launched in Paris, Uniworld Boutique River Cruise Collection's newest Super Ship, the S.S. Joie de Vivre, set sail on its maiden voyage along the Seine River. Included in the inaugural events was the traditional christening ceremony in Paris led by the ship's Godmother, Dame Joan Collins.
After the event, the S.S. Joie de Vivre set out on a cruise through Northern France following Uniworld's Paris & Normandy itinerary.
Because the ship's length is only 125 meters, instead of the usual 135 meters, the S.S. Joie de Vivre can easily dock in the heart of Paris walking distance to the Eiffel Tower. The ship has two Royal Suites, eight Junior Suites, and 54 staterooms for a maximum capacity of 128 guests. Sailings on the S.S. Joie de Vivre in 2017 run from April 2 to December 27.
The family-run design team from Uniworld's sister brand, Red Carnation Hotels, outfitted the S.S. Joie de Vivre with bright, colorful and classic design and décor inspired by 20th-century Parisian influence from the Golden Twenties to the free-spirited Sixties.
Farm-to-table cuisine and superb local wines are served in the ship's Restaurant Le Pigalle, Salon Toulouse and Le Bistrot. Le Cave des Vins is the S.S. Joie de Vivre's intimate dining venue. Guests select fresh ingredients and prepare a seven-course meal with the ship's onboard chefs, with French wine pairings from the sommelier.
The S.S. Joie de Vivre has Club L'Esprit, a spa and wellness center that offers massage therapies and beauty treatments, as well as a fitness area. Yoga sessions and aquatic fitness classes are also offered daily and refreshing smoothies are served in the L'Esprit Bar.
Reminiscent of the high school pool with sliding floor in the Christmas move, "It's a Wonderful Life" the S.S. Joie de Vivre similarly offers pool with a hydraulic floor transforms the space from day to night for guest entertainment. At night there's Claude's, an authentic French Supper Club experience, with a tapas menu accompanied by curated cocktails and live music. For a few nights throughout the cruise, Claude's presents classic French cinema under the stars.
Source and photos: Uniworld Boutique River Cruise Collection and Steve Dunlop
I'm the editor and creator of CruiseMaven.com, a solo traveler cruising the world on waves and wheels, collecting recipes along the way.  I hope my articles and photos entertain, advise and inspire you to travel the world without flying.  Take a breath…stop for a local meal and a glass of wine along the way.