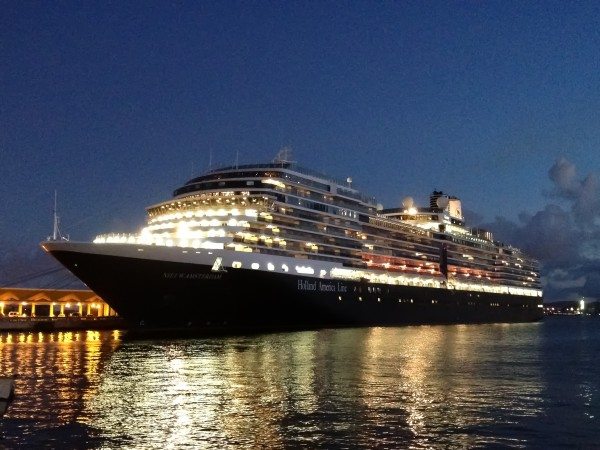 Following surprise health inspections by the CDC, two Holland America ships, the Amsterdam and Noordam received a score of 100 on their recent health inspections.
Along with Amsterdam's and Noordam's perfect scores, sister-ship Zuiderdam also earned a perfect 100 earlier this year. Plus, Eurodam set a record-breaking six-year run of perfect scores.
The surprise visit for the USPH (United States Public Health) aboard the Amsterdam took place on August 8, 2018 while the ship was docked in Sitka, Alaska, during a seven-day Alaska cruise.
The unannounced inspection aboard Noordam was held in Juneau, Alaska on Aug. 29, 2018 also while in the middle of a seven-day Alaska cruise. Over the past five years, several Holland America ships have achieved a perfect score of 100 nearly 30 times.
"There is nothing more important to us than the health and well-being of our guests and crew, and the most recent series of 100's is an impressive accomplishment that reflects this commitment," said Orlando Ashford, president of Holland America Line. "Congratulations to the teams aboard Amsterdam and Noordam, as well as everyone ashore who worked very hard to achieve these perfect scores."
Every cruise ship must undergo a surprise health inspection by the CDC twice a year. These inspections are part of the Vessel Sanitation Program, which was introduced in the early 1970s and is required for all passenger ships that call at a U.S. port.
The unannounced inspections are conducted by officials from the United States Public Health Service.
Read next: Holland America
Health scores range from one to 100 and includes dozens of areas on the ship. The checklist covers everything from food sanitation and hygiene, galley cleanliness, drinking water, swimming pools, ship personnel and many more areas that come in contact with passengers.
In total, over the past five years, Holland America ships have garnered a record total of 29 perfect health inspection scores.

I'm the editor and creator of CruiseMaven.com, a solo traveler cruising the world on waves and wheels, collecting recipes along the way.  I hope my articles and photos entertain, advise and inspire you to travel the world without flying.  Take a breath…stop for a local meal and a glass of wine along the way.