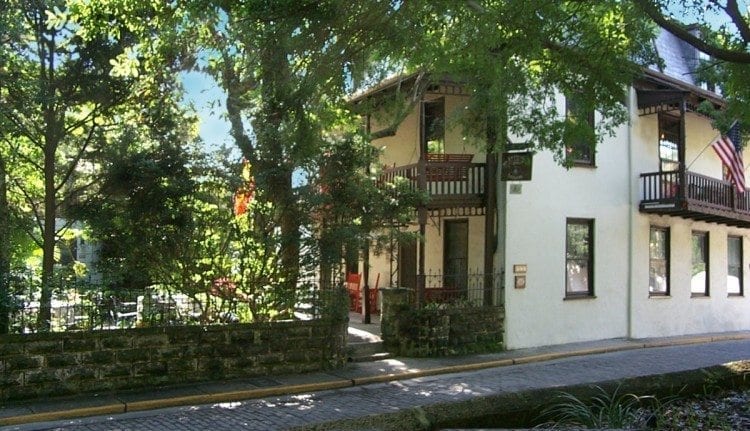 Stay a few nights or before or after your cruise from Jacksonville.
It's easy to overlook treasures found in our own backyard. I live a short three hours from St. Augustine, but I've never been there. So when I was invited to stay at the historic St. Francis Inn St. Augustine Bed & Breakfast on a whirlwind 4-day press trip, I jumped at the chance.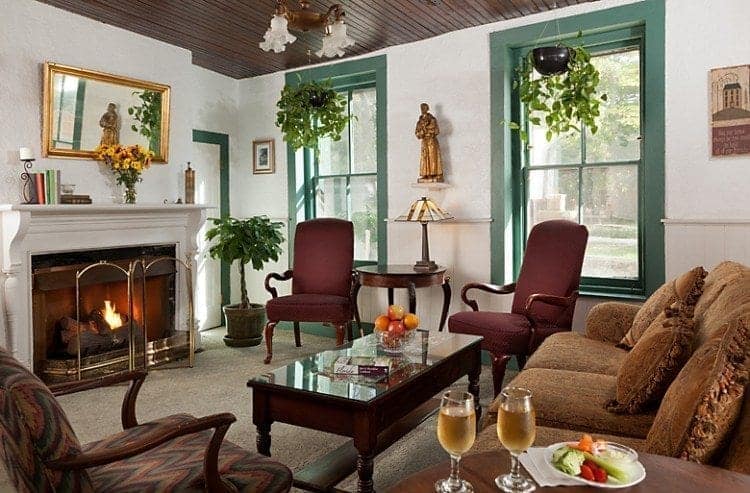 First Impression
It took a couple of tries until I found the unassuming St. Francis Inn simply because Siri wasn't doing her job. Once I found St. George Street, it was a cinch to reach the inn and pull into their (free!) parking lot directly across the street from the inn. As I walked in the front door, I knew the St. Francis Inn St. Augustine would be a very interesting place to stay.
St. Francis Inn St. Augustine is a really old house.
The St. Francis Inn property dates back to 1791. From family home to lodging, it's changed ownership many times over the centuries. It wasn't until 1948 that the inn received its current moniker, the St. Francis Inn Bed and Breakfast. There's quite a history to this place. Details, including a few ghost stories can be found here on their website. Remember, St. Augustine is America's oldest city and there are bound to be a few scary stories embedded in its history.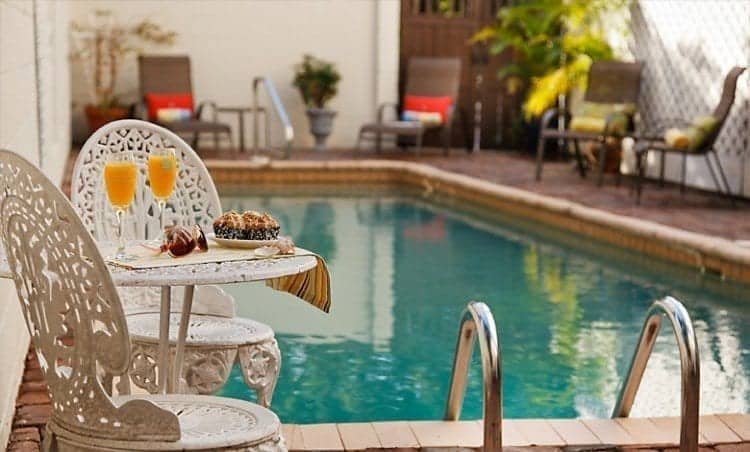 The St. Francis Inn today
From the rocking chairs on the front porch, to the solar-heated swimming pool, the St. Francis Inn is an eclectic mix of old and new. Each of the 17 uniquely-designed rooms and suites are beautifully decorated with antique-type furnishings and modern amenities.
There's something about this place that made me feel instantly welcome. The front desk staff was super-friendly and knowledgeable with directions for anywhere in town, whether by foot, bike (complimentary) or car.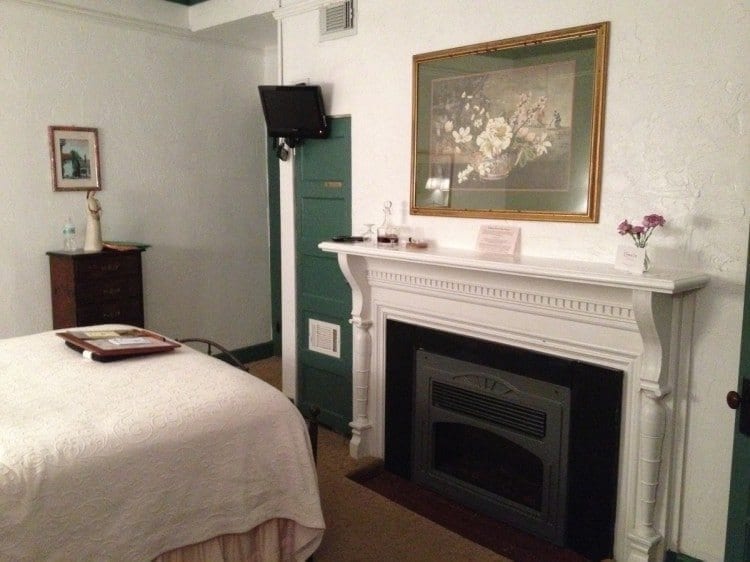 I made good use of the free wifi which is available in all the guest rooms and public areas. I was glad to learn that the inn had central air conditioning since St. Augustine's summer weather was a sweltering 90+ and humid. Many of the rooms have a year-round fireplace and whirlpool tubs.
Every evening, guests congregated on the courtyard or in the dining room for the 5:00-6:00p.m. Social Hour. Along with complimentary wine and beer, the in-house chef created a variety of delicious appetizers that changed each night.
Those who were back at the inn later that night were treated to the Evening Dessert, from 8:00-9:30p.m. But my favorite complimentary amenity was the cut-glass decanter filled with a dark amber sherry and two small snifters on the mantle in my room.
A hot and cold breakfast buffet was served every morning from 7:30-9:30a.m. Early risers can hobble over at 6:30am and pour themselves a cup of freshly brewed coffee and grab a couple of cookies until breakfast time.
Great place for families
So what's in it for kids? The owners recently added four oceanside beach accommodations on Anastasia Island, 6 miles from the St. Francis Inn. While the inn itself isn't ideal for families with young children, the waterfront and beach lodgings are perfect for kids who want to play all day at the beach. Full access to the inn is included for those staying at the beach.
Before I knew it, I was packing to leave. Down the old staircase I went, and said good-bye to everyone, including the inn's owners, Margaret and Joe Finnegan. From the St. Francis Inn, I headed out on a two day drive to New Orleans, glad that I was able to get a sound night's sleep my entire stay. The St. Francis Inn was quiet and relaxing. I never heard any noise in the hallways or creaking from the old wooden floors.
Today, nearly 170 years since Anna Dummet opened the doors, the Finnegans carry on the St. Francis Inn tradition and welcome guests year-round to their inn. It's Bed and Breakfast, plus a lot more.
————-
St. Francis Inn's Spinach, Ham and Swiss Quiche
Ingredients:
3 cups packed baby spinach, chopped
6 large eggs, lightly beaten
1 1/2 cups half and half cream
1/2 teaspoon salt
1/2 teaspoon dried mustard
1 9-inch frozen pie crust or puff pastry
1/4 pound sliced ham, chopped
1 1/2 cups shredded Swiss cheese
Instructions:
Line a rimmed baking sheet with foil, place it in oven and preheat to 375°F.
Mist a medium skillet with cooking spray and warm it over medium heat.
Cook spinach, stirring often, until wilted (about two minutes). Remove spinach to a paper towel-lined plate and pat dry.
Combine eggs, half and half, salt and mustard in a large bowl and whisk until well mixed.
Arrange spinach on bottom of pie crust. Scatter ham over spinach. Sprinkle cheese over ham. Pour egg mixture into shell.
Place quiche on a baking sheet and bake until filling is set and crust is golden, about 40 minutes.
Let stand 10 minutes, slice into wedges. Serve hot.
For more information, visit: St. Francis Inn
I'm the editor and creator of CruiseMaven.com, a solo traveler cruising the world on waves and wheels, collecting recipes along the way.  I hope my articles and photos entertain, advise and inspire you to travel the world without flying.  Take a breath…stop for a local meal and a glass of wine along the way.