Until you've taken a Canada New England cruise, you might not understand what all the fuss is about. It's not the swarthy, romantic Mediterranean nor the lush, tropical Caribbean. It's simply North America and the water is mainly a river.
But once the beauty, history and friendliness of this itinerary is experienced, you'll know why a visit to Montreal by cruise ship is quickly becoming a highly sought-after cruise vacation.
At a recent press conference by the Port of Montreal, it was enthusiastically announced that 2012 would be a banner year for arriving cruise ship passengers and crew. Up 46% over last year, this season's ship arrivals are expected to bring over 49,000 passengers and 6,500 crew members into Montreal, on thirty-five international ships from May through October.
"I am absolutely thrilled by these results that show a very promising future for Montreal's international cruise industry as well as significant economic spinoffs for the city," stated Sylvie Vachon, President and Chief Executive Officer of the Montreal Port Authority, at a press conference held Thursday morning at Iberville Passenger Terminal.
With a record number of cruise passenger arrivals comes the obvious economic boon to any city or island or even village. The Montreal Cruise Committee, led by Tourisme Montréal and the Montreal Port Authority, expects the 2012 cruise season to  generate about $14 million in economic benefits. From shops to hotels to even the Casino de Montréal, every venue is expected to see a financial gain by the time the cruise season draws to a close.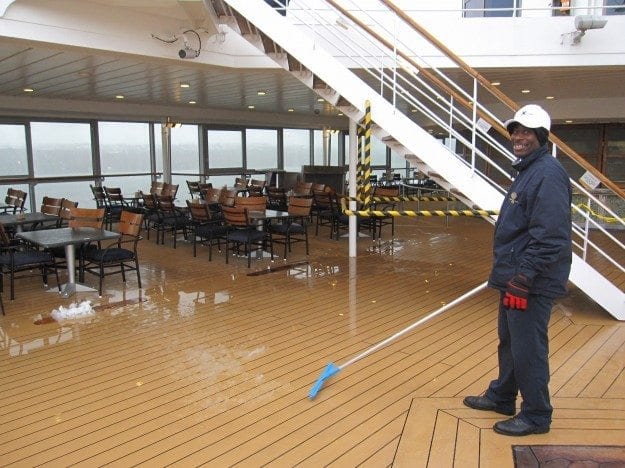 As your Canada-bound ship leaves the Atlantic ocean, traverses the Gulf of St. Lawrence and journeys into the scenic St. Lawrence River, you'll have cruised nearly 1,200 miles to reach Montreal. A summer cruise to Canada lets you enjoy a plethora of outdoor activities on the ship and ashore, in cities and towns along the way. However, an autumn cruise, with possible snow showers at the very end of the season, may gift you with a spectacular foliage display and crisp autumn weather under cloudless blue skies as your ship meanders its way into Montreal.
Written by Sherry Laskin for CruiseMaven.com
Source: Port of Montreal
Photo credit: Port of Montreal (headline photo), Sherry Laskin
I'm the editor and creator of CruiseMaven.com, a solo traveler cruising the world on waves and wheels, collecting recipes along the way.  I hope my articles and photos entertain, advise and inspire you to travel the world without flying.  Take a breath…stop for a local meal and a glass of wine along the way.