MSC Divina plus Eataly, Disaronna, Nutella and Venchi equals an Italian food extravaganza.
MSC Cruises has partnered with a gastronomical lineup of culinary partners aboard the MSC Divina, to bring a taste of Italy to the Caribbean. The family-owned Italian cruise and shipping company is focused on providing their guests aboard the MSC Divina with a unique Mediterranean atmosphere, which includes favorite Mediterranean and Italian cuisine, snacks and beverages.
It's a recording setting year of "firsts" for MSC Cruises. The 4,345-guest MSC Divina is the first of their Fantasia-class ships to sail the Caribbean year-round. And the Divina is the first of their ships to offer guests upscale, European-brand culinary choices from specialty coffee and crepes, signature cocktails to creamy gelato and authentic Italian specialty restaurants and marketplace.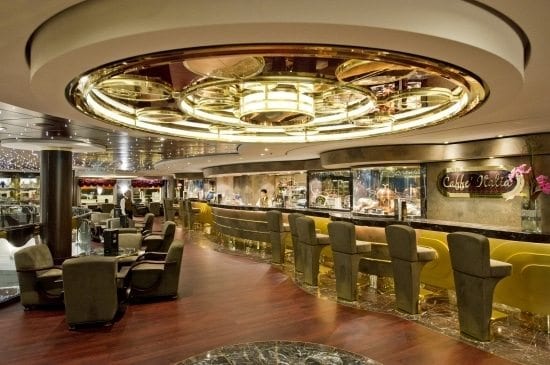 Look Out Starbuck's, Segafredo's in the House
Possibly the numero uno coffee brand in Italy, Segafredo Zanetti is now the leading espresso producer, too. While all 12 of the MSC ships feature Segafredo coffee throughout their ships, only the Divina will offer Segafredo's Caffé Italia serving their traditional espresso and cappuccino, specialty coffees and chocolate beverages.
Caffé Italia boasts a Chocolate Temptation menu with decadent beverage selections that include White Chocolate, After Eight Chocolate and Cherry Chocolate drinks. Chocoholics will appreciate the frozen Chococcino and Caramel Coffee Frost, especially while cruising the Caribbean during the summer months.
Nutella Anytime
It's Nutella, the chocolatey hazelnut spread that's found its own space aboard the MSC Divina. Called the Nutella Corner and located near the main pool, Nutella fans can indulge in a freshly made, warm Nutella-filled crepe as well as receive a free Nutella gift. Families also receive little Nutella to-go snack packs, complete with Italian bread sticks for dipping into the creamy, hazelnut and cocoa spread.
Disaronno Outdoor Garden Terrace Bar
Almost everyone has heard of the sweet Amaretto almond liqueur by Disaronno. Now MSC and Disaronno have partnered to create an exciting poolside bar featuring unique cocktails mixing Disaronno Amaretto with other popular liqueurs and spirits. Once during every cruise, this usually relaxing bar area is transformed into an upbeat, place to meet, dance and sip the designer cocktails.
I Scream, You Scream for Gelato!
When Silviano Venchi opened his chocolate shop in Turin in 1878, little could he imagine that one day his stores would not only be world-wide but out to sea, as well.
Considered by many to be the best gelato in the world, guests aboard the Divina can now savor Venchi gelato at the poolside Gelateria, Made fresh daily in a specially developed onboard laboratory and kitchen, Venchi gelato uses only fresh ingredients and seasonal fruits, nothing artificial. From dark chocolate to fresh fruit sorbet, there are new flavors created every day.
Eataly at Sea
No, it's not a typo. It's Eataly, celebrity chef Mario Batali's Italy-based restaurant and marketplace complex. With only 26 land-based locations worldwide, this is a must-do culinary experience when onboard the MSC Divina.
Featured on the Divina are two Eataly restaurants, Ristorante Italia and Eataly Steakhouse. The first, Ristorante Italia, is an evening-only, 30-seat supper club. The Steakhouse is similar to Manza, the steakhouse in the New York City Eataly. Manza, meaning, "beef" in Italian, features American beef dishes in both modern and traditional Italian culinary preparation.
At the Eataly Marketplace, guests can purchase authentic Italian products from olives and olive oil to dried pasta, handcrafted sweets and artisanal balsamic vinegars to bring home.
Parting Thoughts
The MSC Divina is as elegant as her godmother, famed actress Sophia Loren, who christened the ship in Italy in 2012. For those who appreciate all things Italian and would like to experience the same on a cruise ship in the Caribbean, the Divina is the choice.
It's not only the food and beverages that are Italian and Mediterranean in flavor, but also the variety of entertainment. From live performances to Italian language lessons, the onboard experiences reverberate a European vibe, though the itinerary is decidedly Caribbean.
I'm the editor and creator of CruiseMaven.com, a solo traveler cruising the world on waves and wheels, collecting recipes along the way.  I hope my articles and photos entertain, advise and inspire you to travel the world without flying.  Take a breath…stop for a local meal and a glass of wine along the way.