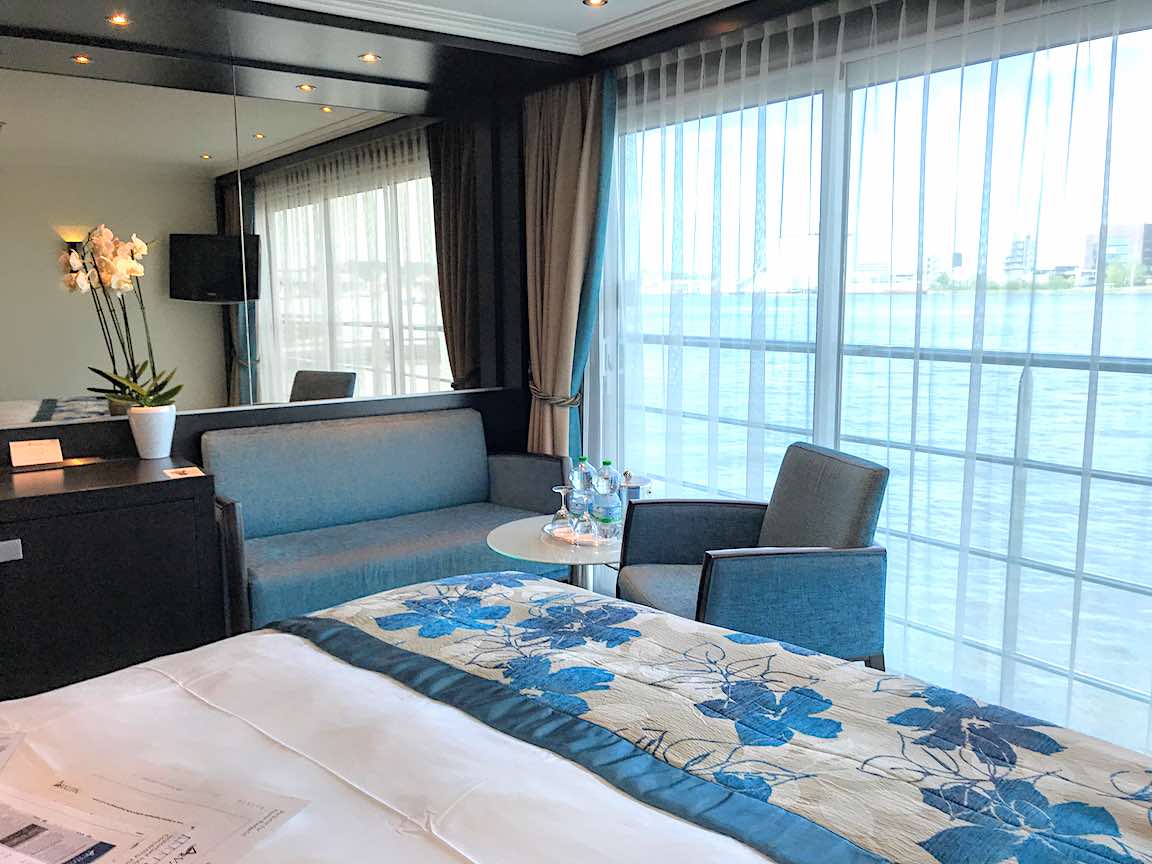 If you've ever taken an ocean cruise (as have many river cruise passengers) the first thing you'll notice when you open your river cruise ship's cabin door, is the smaller size. Significantly smaller, unless of course you have an Owner's Suite or another top of the line accommodation.
Choosing accommodations on a river ship begins with the category you can afford or just cannot live without for your vacation.
The River Ships
Almost all of the major European river ships are the same width and only the length may vary as with Viking's Longships. These extra-long river ships, all 45 of them, enable Viking to do some interesting interior configurations to accommodate about 190 guests in an average of 86 cabins. Extra length also means dedicated space for outdoor dining.
With the width of all river ships determined by the locks and bridges. Exterior construction looks fairly similar. It's amazing how each river cruise line can design ships that distinguish themselves from other lines given the same constraints.
Smaller cabins means being smart about packing for your cruise. Better to under-pack than cram too many clothes and shoes into smaller closets and drawers. Stow your suitcase under you bed, move unnecessary promotional books and flyers out of sight or give to your cabin steward to free up more storage space.
Mobility
If mobility is an issue, keep in mind that on many of the older river ships, the elevators do not reach the lowest deck (or the sundeck either). The stairs that lead to the lowest deck where you'll find the least expensive accommodations, may be a short spiral staircase. Unless you have a huge arm-span, you'll only be able to hold onto one railing.
Suites
Suite accommodations on a river ship include ultra-large living spaces, bigger and swankier bathrooms and separate sitting areas. Some river ships have their most spacious suites at the back of the ship. Yes, there will be tons of space and a huge balcony. But be aware that engine noise can be an issue if you are sensitive to sound. Remember, river ships do a lot of their cruising at night. Engine noise could interfere with your sleep, even if you are on the highest passenger deck.
Read More about river ship accommodations
I'm the editor and creator of CruiseMaven.com, a solo traveler cruising the world on waves and wheels, collecting recipes along the way.  I hope my articles and photos entertain, advise and inspire you to travel the world without flying.  Take a breath…stop for a local meal and a glass of wine along the way.