Viking Ocean Cruises takes delivery of Viking Sea.
In one of two ceremonious events this week, Viking Ocean Cruises second ship, Viking Sea, changed hands from shipbuilder to owner. At the traditional delivery ceremony, Viking Sea was presented from Fincantieri ship yard to Viking Ocean Cruises' Torstein Hagen in Ancona, Italy.
"What a remarkable 12 months this has been, launching our first ocean ship, taking delivery of our second ship and preparing for the final outfitting of our third ship. I am proud of everyone at Viking and Fincantieri for their contributions," said Torstein Hagen, chairman of Viking Cruises. "As we take delivery of Viking Sea we now double Viking's ocean capacity, which demonstrates how enthusiastic our guests are for destination-focused cruises. We look forward to further increasing our presence next year and the years after that."
On April 3, Viking Sea will depart from Istanbul for a voyage through the Mediterranean and Atlantic Ocean to travel up the Thames River to Greenwich, England. The christening ceremony will take place on the Thames on May 5.
Viking Sea will cruise an inaugural season through Scandinavia and the Baltics and then the western and eastern Mediterranean.
Viking Ocean Cruises new Viking Sky meets the sea.
On May 23, again at Fincantieri's Ancona shipyard, the 930-guest Viking Sky celebrated a traditional "float out" ceremony. This is the third all-veranda ship in the Viking Ocean Cruises fleet. Viking Sky is scheduled to begin cruising Europe in early 2017.
The 4:30pm ceremony included Marit Barstad, the ship's madrina (godmother) and sister to Viking Founder and Chairman, Torstein Hagen. Ms. Barstad carried out maritime history when she welded commemorative coins below the ship's mast. She also cut the cord that allowed sea water to flow into the ship's building dock.
The first ship in the Viking Ocean fleet, Viking Star, launched in May 2015 and continues to receive excellent reviews from both passengers and online review sites.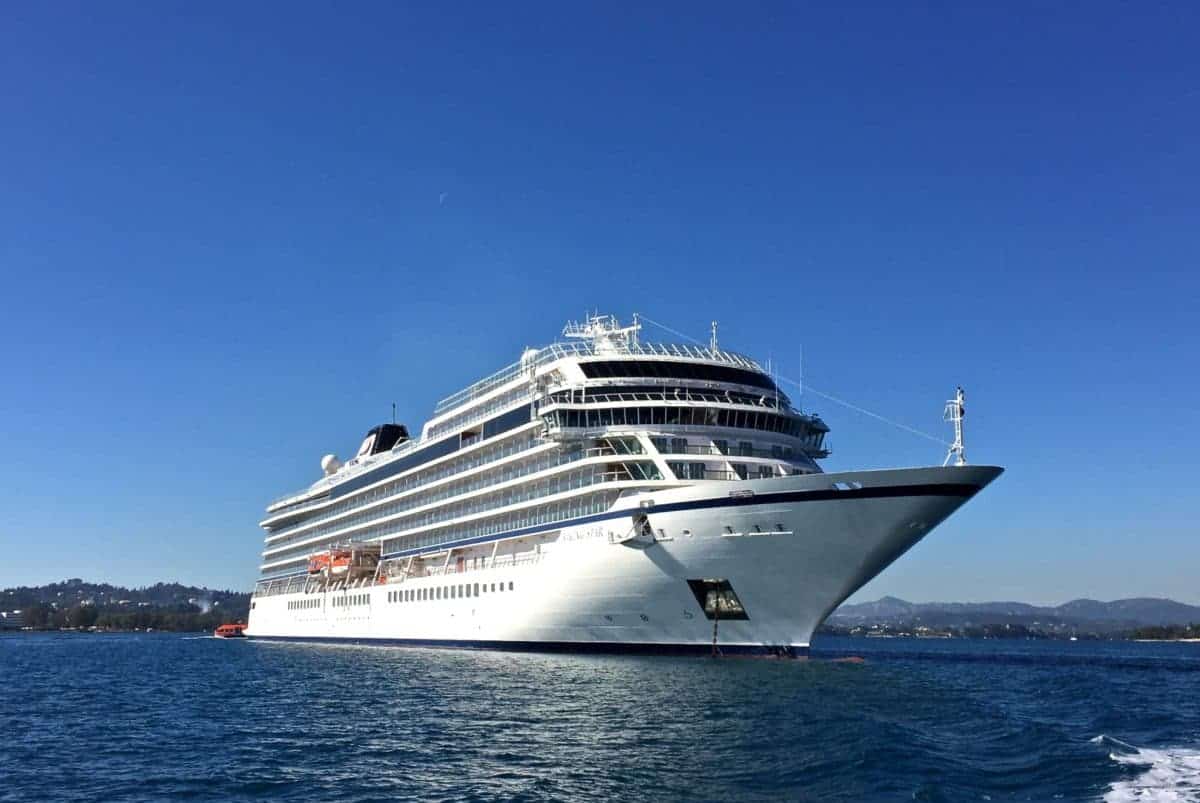 And there will be more.
Following the float out ceremony for the Viking Sky, it was announced there will be three more sister ships to join the Viking Ocean Cruises fleet, one each year through 2020. The three new ships will also have 465 veranda staterooms and accommodate up to 930 guests.

I'm the editor and creator of CruiseMaven.com, a solo traveler cruising the world on waves and wheels, collecting recipes along the way.  I hope my articles and photos entertain, advise and inspire you to travel the world without flying.  Take a breath…stop for a local meal and a glass of wine along the way.