Cunard has announced their line-up of speakers for its second annual Transatlantic Space Week. The 9-night voyage of Queen Mary 2, departs from Brooklyn on October 7, 2018 and arrives in Southampton October 16, 2018. The voyage will occur at the same time as International World Space Week.
The transatlantic journey will feature a variety of space-themed experiences including talks from distinguished space explorers including:
Dr. Jeffery Hoffman, a former NASA astronaut and Shuttle pilot. Hoffman made five space flights and became the first astronaut to log 1,000 hours of flight time aboard the Space Shuttle. He is now Professor of Aerospace Engineering in the Department of Aeronautics and Astronautics at the Massachusetts Institute of Technology (MIT).
Robin Scagell of the Royal Astronomical Society is a lifelong astronomer and the author of numerous books including Complete Guide to Stargazing, 101 Things to Spot in the Night Sky, The Urban Astronomy Guide.
Also in the lineup of speakers is Dr Lawrence Kuznetz, a former flight controller during Apollo and a 40-year veteran of the space program. Kuznetz helped to build the space shuttles and is a former Life Science Experiment Manager for the International Space Station.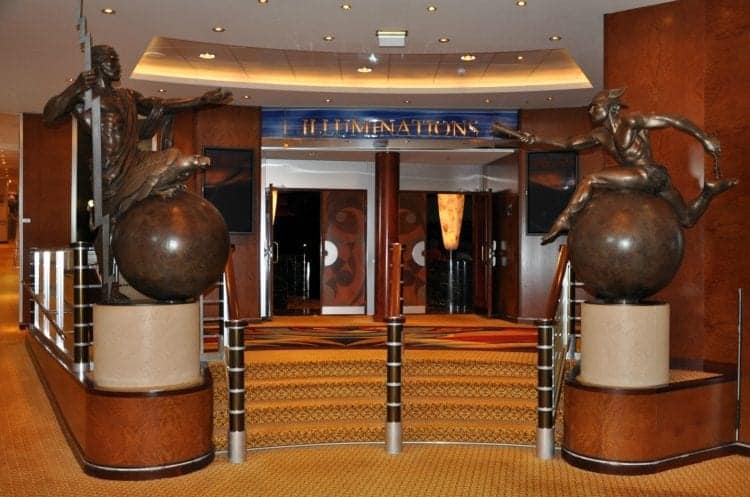 Queen Mary 2 is the only ship to have a full-sized planetarium, Illuminations, on board, offering a variety of constellation shows and virtual reality rides throughout the day on each transatlantic crossing. Cunard's partnership with the Royal Astronomical Society (RAS) allows the ship to offer specially-curated shows putting distant stars and galaxies into focus and explaining what passengers can see in the night sky at different times of the year.
I'm the editor and creator of CruiseMaven.com, a solo traveler cruising the world on waves and wheels, collecting recipes along the way.  I hope my articles and photos entertain, advise and inspire you to travel the world without flying.  Take a breath…stop for a local meal and a glass of wine along the way.