Amtrak and Lyft, a popular rideshare company that rivals Uber, have formed a partnership to help train travelers. The idea is to make the trip to or from an Amtrak station as seamless as possible.
Amtrak passengers can use the Amtrak mobile app to access the Lyft app section to request a ride. When you first sign up for Lyft, you'll receive a $15 credit to be divided up on five rides with $3 off on each ride. Access Lyft through Amtrak's app and you'll receive $5 off each of their first four Lyft rides if you use the promo code AMTRAKLYFT.
How it works
First, you'll need to download the Amtrak app. The app itself is pretty neat and easy to navigate. To reach the page where you can order your Lyft ride though, is kind of hard to find at first. It takes a couple of screens to get there.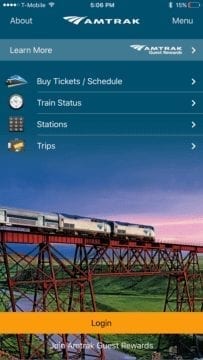 Tap Train Status. Next, enter your arrival or departure station and then the train number. Finally, enter your date of travel. Touch Check Status.
When you then tap the purple Lyft bar, your present location will appear and you'll have the option to request pick-up. As an incentive, a little pop-up appears in the upper left-hand corner. Tap to receive the $3 off the cost of the ride.
PIN FOR LATER!
Sure…of course you could order a typical taxi. Or Uber. But with the convenience of ordering your Lyft right in the Amtrak makes it super easy to use. If you've ever waited outside in mid-winter in front of an Amtrak station hoping for your taxi to arrive before you freeze, the new Amtrak Lyft partnership is very exciting.
Where does Lyft Operate
Lyft operates in more than 360 communities across the U.S., covering 80 percent of the U.S. population and reaching 97 percent of Amtrak riders. This partnership creates a seamless end-to-end travel experience from your doorstep to an Amtrak station.
The partnership between Amtrak and Lyft extends across the 46 state Amtrak network.
READ MORE about my travels on Amtrak.
I'm the editor and creator of CruiseMaven.com, a solo traveler cruising the world on waves and wheels, collecting recipes along the way.  I hope my articles and photos entertain, advise and inspire you to travel the world without flying.  Take a breath…stop for a local meal and a glass of wine along the way.