It's amazing how clever nautical designers can be when it comes to putting so much into such a small space. If you're used to ocean cruise ship staterooms, don't be surprised to find that river ship cabins are a bit smaller.
Your River Ship Cabin – Sleeping arrangements
Bed configurations are usually similar to that on an ocean cruise ship; two twin beds that can convert to a queen size. With the smaller size staterooms, two twins don't always leave a lot of space between beds pushed against opposite sides of the walls. There will be a small nightstand in the middle. Queen size bed configuration gives both guests a walking path between the walls and the bed.
Bedding varies a bit between river cruise lines. Cotton count for the sheets and pillow cases, pillow menus, duvets, comforters and bedspreads or scarves depend on the luxury level of your chosen river cruise line.
One often-commented and complained about item; the weight of the comforter. For some reason, cruise lines (both river and ocean) tend to think that the heavier the weight of the comforter, the more "luxurious" it must seem to the guest. It is if you live in the arctic.
If the weight of the comforter hurts your feet or is way too warm, inform your room attendant. The comforter will be replaced with a sheet and wool or acrylic blanket. Most likely a queen bed configuration will require two twin size blankets that overlap to fit the queen bed.
Robes and slippers are almost always provided for use while aboard.
What Toiletries You'll find in your Cabin
If you don't have a preference for the products you use at home, you can use the body and hair products provided by the ship. Some of the cruise lines now employ the pump dispensers whereby they will fill the shower pump container with, if you're lucky, L'Occitane French toiletries or some other designer brand. Less expensive cruise lines use generic soaps and lotions. Other cruise lines still provide those little bottles, though not all are filled upscale designer products
How to find out? Simply ask the cruise line what bathroom products they use. If no one at the cruise line knows the products' name, it's a safe bet that the ship uses a non-name brand and you may want to carry your own soaps, conditioners and lotions.
How Much Closet Space in Your Cabin
Considering the small size of average accommodations on a river ship, the closet really isn't that tiny or inconvenient to access. If you need extra hangers, just ask your room attendant. You can always stash extra clothes in your suitcase and slide it all under your bed.
There will usually be a couple of hooks, too, which are great for jackets and coats during the winter months.
READ MORE: Room Service on a river cruise
Bathrooms in a River Ship Cabin
Here's where the difference lies. Bathroom sizes and fixtures can tremendously vary between cruise lines. You can count on a small-sized sink, toilet and shower. Marble-topped vanity counters are becoming the norm as are built-in night lights. Lighting however, may run a bit peachy or yellowy. If that's the case, women may wish to bring a small mirror to use to stand by a window or glass door when applying makeup.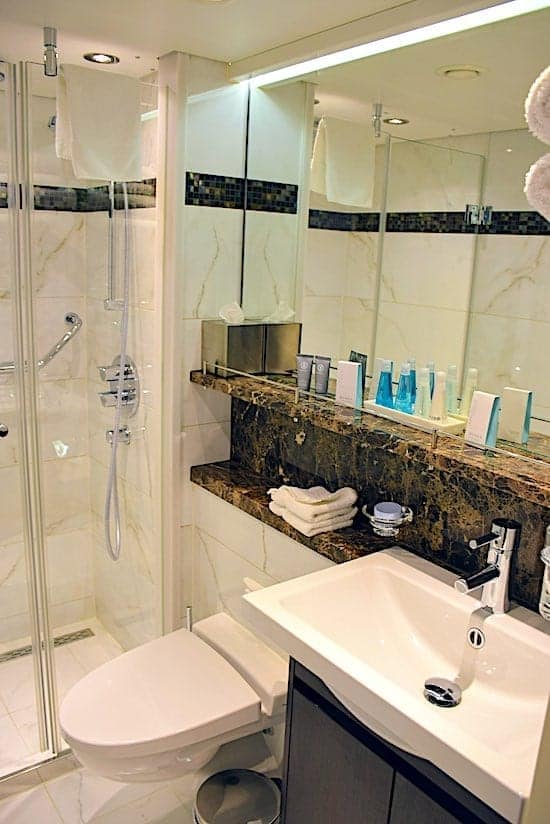 As you'd expect, the higher the suite category, the more sumptuous the bathroom. Check and compare stateroom bathrooms on your cruise line's website on in their brochure. Measurements aren't perfectly accurate but will give an idea as to what to expect.
If you don't want to pack your hair dryer, there's always one to use in your stateroom. Whether it's an awkward, low-wattage wall mounted device, a dryer attached inside a drawer or a deluxe model in a cloth bag hanging in your closet, if it's important to you then it's worth asking someone.
TV and In-cabin entertainment
Technology is advancing quickly on river cruises. AmaWaterways has long provided every stateroom with its own computer, large monitor, keyboard and mouse. Through this system, guests may access the internet (free of charge), watch complimentary movies, satellite TV stations and the ship's webcam.
Other premium cruise lines, like Viking, Emerald and Avalon provide a wall-mounted TV screen that picks up satellite infotainment, a selection of free or fee-based movies, and a variety of TV stations.
When in motion and depending upon location (lower Danube has some rather remote areas) or if in a lock, TV reception may falter or altogether quit for a short time. This is normal and not an indication of the cruise line's techno skills.
Almost everything you need to know about a accommodations on a river ship can be found either in their brochure or online. Look closely and really pay attention to any details that you feel might impact your experience. Know what extras to pack based on what the cruise line provides.
I'm the editor and creator of CruiseMaven.com, a solo traveler cruising the world on waves and wheels, collecting recipes along the way.  I hope my articles and photos entertain, advise and inspire you to travel the world without flying.  Take a breath…stop for a local meal and a glass of wine along the way.