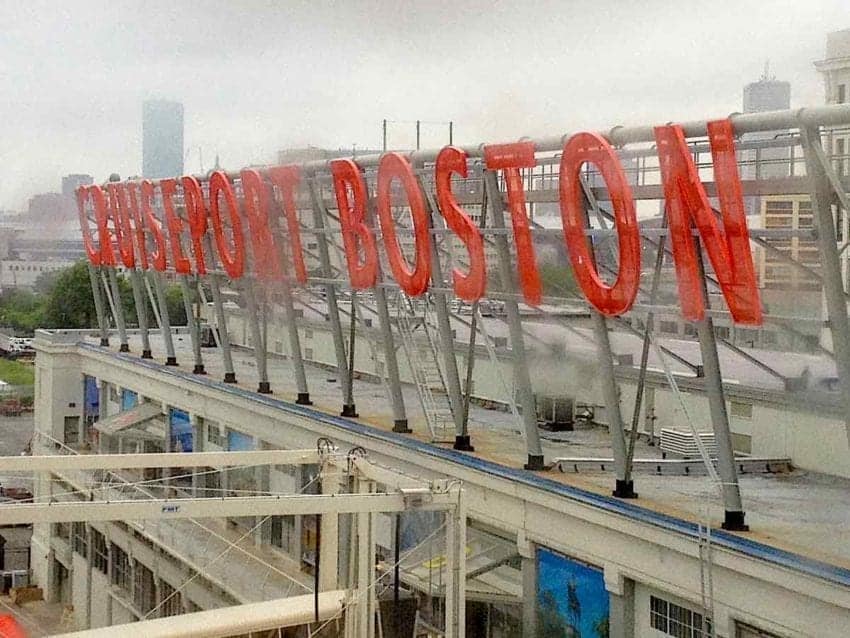 Thirty-six hours before boarding a ship in Gloucester, MA for a New England cruise, my husband and I flew into Boston's Logan airport. Travelers visiting Boston pre-cruise, post-cruise or for only a day can choose from a plethora of fun attractions. Boston is a very walkable city. Its narrow streets, historic buildings and downtown waterfront are worth exploring.
Like other savvy visitors, we chose a hop-on/hop-off tour with Old Town Trolley. A fully-narrated experience, its 18 popular stops encompass much of this compact historic city. Boston's trolley drivers are well versed in local history and folklore. Among the most popular stops are the Freedom Trail, Fenway Park (home of the beloved Red Sox), Boston Garden, New England Aquarium, Seaport, Boston Tea Party Ships & Museum, Cheers plus North and South Stations.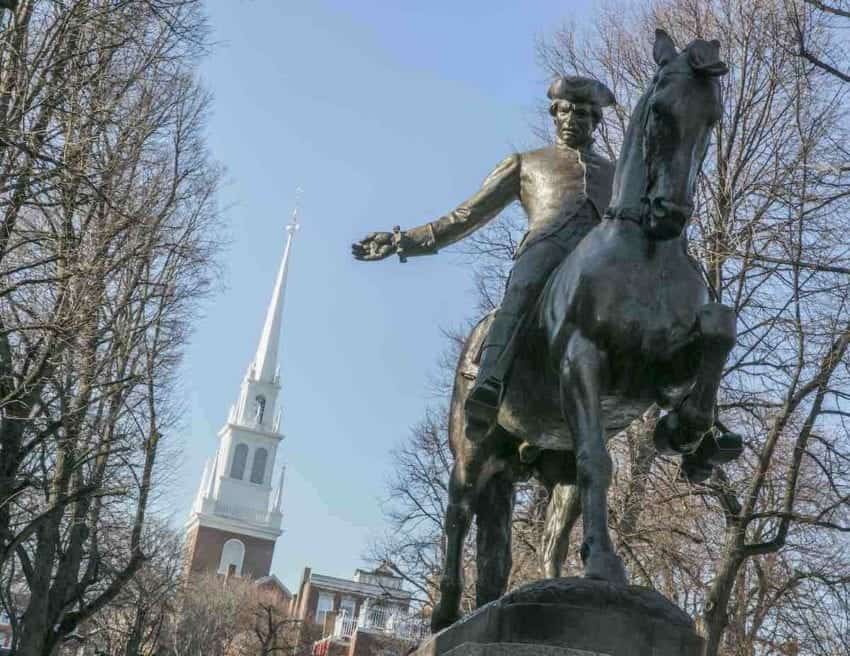 Like history? Walk your way through time on the 2.5-mile Freedom Trail. Along the way visit some of 16 colonial and revolutionary landmarks including the Old State House, Paul Revere's House, plus the Old North Church where in 1775 two lanterns were hung to warn colonists of arriving British troops.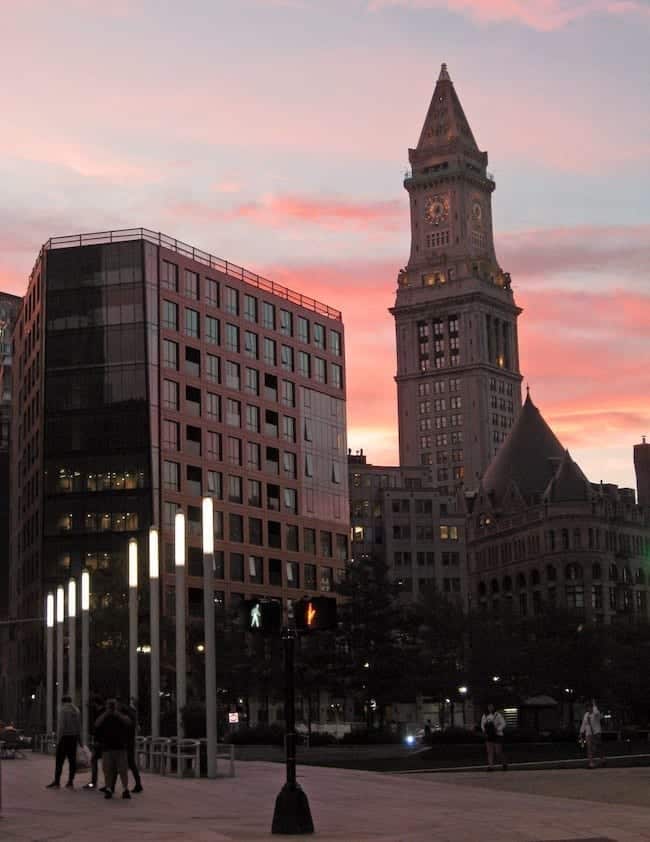 Considered the cradle of liberty for the U.S., Faneuil Hall was gifted to the city in 1742 by wealthy merchant Peter Faneuil specifically for use as a free public meeting hall and gathering place. Spirited conversations were held here in colonial times. Today a National Park Service visitor center is the starting point for ranger-led tours of the Freedom Trail and Black Heritage Trail.
Faneuil Hall Marketplace includes Faneuil Hall plus North and South Markets (for brand-name shopping) and Quincy Market, a 19th century complex with 125 restaurants, stores and retail pushcarts. Trolley stop 1. The complex is surrounded with brick and cobblestone alleys and sidewalks.
Hint: wear your walking shoes—in some places red brick and cobblestone pavers are uneven. Some older buildings may lack elevators or have steep stairs without railings.
Lunch on the go
Quincy Hall is home to the famous food colonnade with 30 tempting options from around the globe. In this huge food court, we found the best ever New England clam chowder and other delectable sea food. We ate at communal wood tables in the casual central dining area. Outdoor seating also is available with entertainment from street performers ranging from musicians to jugglers and magicians.
Boston uniquely blends colonial history with cutting-edge innovation. Near centuries-old buildings, visitors can find trendy restaurants with stunning glass-enclosed galleries.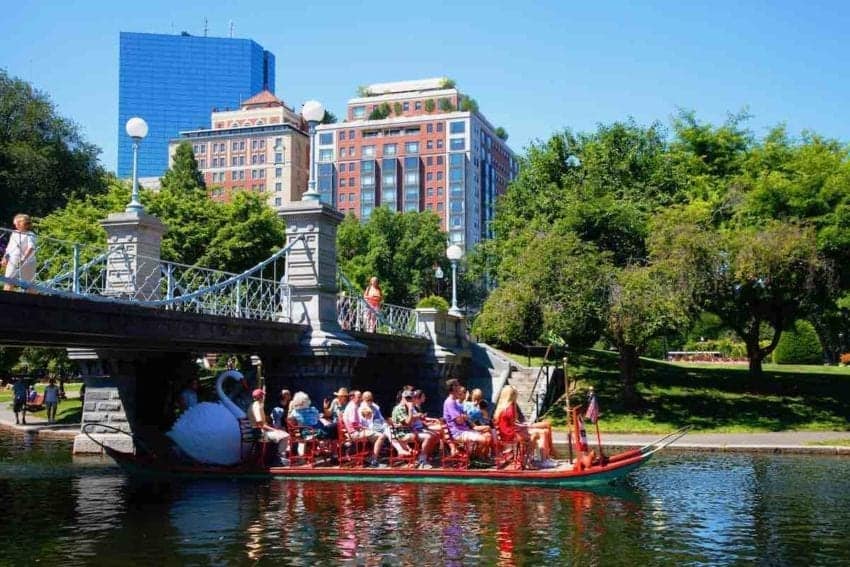 A must-see is picturesque Boston Garden, where large leafy trees, flowering shrubs and gorgeous flower beds provide an idyllic setting for stress reduction and strolling. The lagoon with seasonal swan pedal boats and resident ducks is a favorite for all ages. Trolley stop 13.
For a visual overview of the city, visit Skywalk Observatory on the 50th floor of the Prudential Building. On a clear sunny day the 360-degree view of the city that extends out to sea is remarkable. Even on a rainy day you can see Boston's many green spaces and how it differs from other U.S. cities.
The well-organized structure of the city with hundreds of red brick buildings resembles older European cities. Audio guide units suggest what to look for. Admission includes films on how immigration influenced Boston's development and interesting artifacts displays. Trolley stop 9.
Boston offers plenty of land, water and sports tours such as Fenway Park, home of the beloved Red Sox, World Series champs in four of the last 15 years. Water options include harbor and whale watching tours.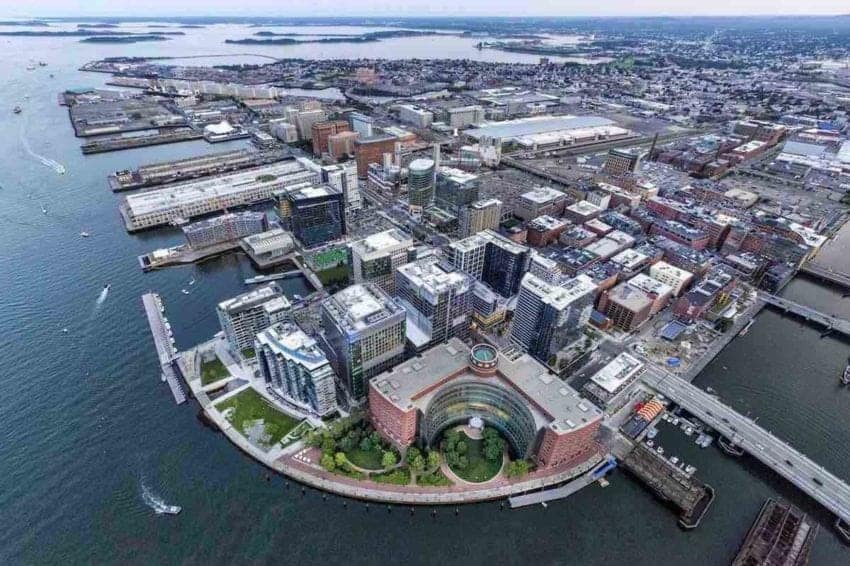 The fastest growing Boston neighborhood, Seaport District offers a vibrant mix of hotels, dining venues, museums and parks, as well as stunning harbor views. During the 2018 April to November cruise season, 153 ships visited Flynn cruiseport. Trolley stop 18.
Because Boston is home to more than 50 colleges and universities, as well as numerous theaters and galleries, visitors will find a vibrant performing arts and culture scene. Bean Town also is blessed with four professional sports teams.
Getting Around
Unlike many other major cities, Boston's Logan Airport is just three miles from downtown. Visitors can take a taxi cab, Uber, Lyft, water taxi, ride subway for $2.75 per person—or take the free Silverline bus from the airport to South Station. Boston has an excellent mass transit system.
Where to Stay
We stayed at the Harborside Inn at 185 State Street in the Financial District. A considerate hotel staffer advised taking the Blue Line subway from the airport. Because we had luggage, he also checked out the Aquarium stop for us in advance. We emerged from the elevator just 15 feet from the hotel entrance without navigating stairs or crossing a street!
Our 7th floor atrium queen room was quiet and spacious with a work desk. We enjoyed complimentary welcome drinks in the spacious lounge. Centrally located, Harborside Inn is an easy walk from Quincy Food Colonnade, Faneuil Hall Marketplace, night life, the Aquarium, waterfront eateries and shops.
Fabulous Food
An old adage says eat where the locals do. A Boston friend highly recommended Nebo, a popular Italian restaurant at 520 Atlantic Avenue in the Financial District. A favorite after-work hangout for business clientele, Nebo is owned by two Italian sisters. They raise the bar on quality food and stellar customer service.
We enjoyed every delicious bite of the signature zucchini lasagna. Graziella, our attentive server, recommended the octopus starter, which was succulent and exceptional. Nebo also is known for delicious pizza and lovely outdoor seating.
My happiest Boston memory is the wonderful friendly locals who assisted with directions in and around the city. They also helped with directions and luggage on the subway and on the commuter train from North Station to Gloucester ($5.25 per person for a 48-mile ride!), where we boarded the small ship Victory II for a New England cruise. Other cruise guests had similar experiences with helpful Bostonians. They make Boston strong!
Visit BostonUSA to help plan your stay in Bean Town.