Rich chocolate, a daring zip line and adorable puffins add to the fun and excitement of a visit to these six cruise ports in Canada.
Your visit to these Canada cruise ports, on a Canada New England cruise, are filled with fresh seafood, beautiful scenery and even literary history. If you love to walk, this is the perfect itinerary because more times than not, your cruise ship docks in the city center, just like on a Europe river cruise. After all, you are cruising the St. Lawrence River through Canada.
Here is a list of the most commonly visited cruise ports in Canada, though not nearly all of them. Some Canada cruise ports are visited only two or three times each season by smaller, luxury cruise lines. The ones I've listed are the most frequently visited in Canada.
Sydney, Nova Scotia
You know you've arrived in Sydney when you see the giant fiddle alongside the cruise pier.  Take a stroll through Sydney right from the cruise terminal. Stop in a pub for a cold beer, thick seafood chowder and some great fiddle music.  Chocolate lovers should be sure to visit the Cape Breton Fudge Company on Prince Street.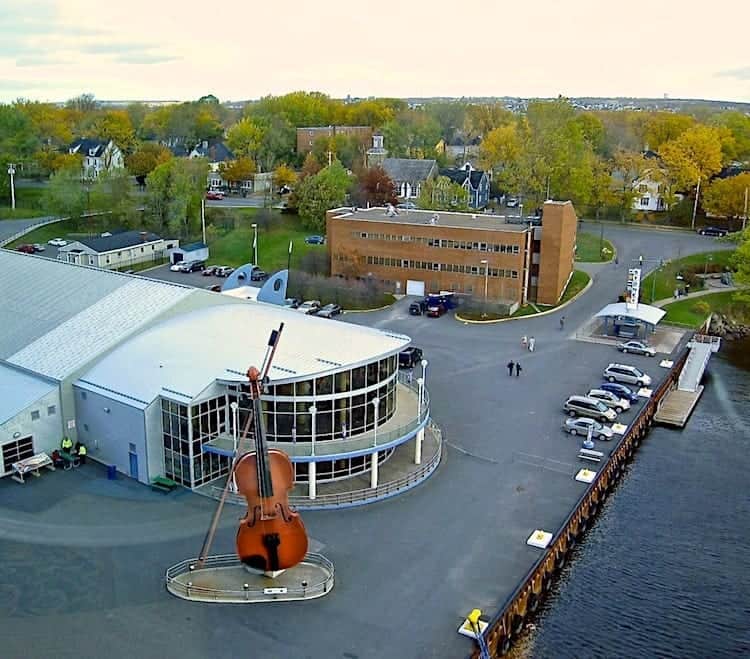 Drive along the winding Cabot Trail for awesome views of the rugged coastline and through Cape Breton Highlands National Park.
Visit two of the oldest homes in Sydney; the Cosset House Museum and the Jost Heritage House. Both are on Charlotte Street, close to the Cruise Terminal. You can pick up a walking map as you exit your ship.
Saint John's, Newfoundland
Meander through the narrow streets of The Battery, a quaint neighborhood which still resembles a 17th century fishing village.
See Related: Scenic New England Cruise Ports
When the urge to splurge strikes, head up the hill one block from the pier Water Street. Here you'll find the main shopping area and lots of down-home handicrafts.
Check out the panoramic view from Cabot Tower on Signal Hill. You can see out over the water all the way to Cape Spear as well as the city and harbor.
Saint John, New Brunswick
Follow the yellow brick road. Actually, it's a white painted strip called the Harbour Passage that goes from the cruise port all the way to the Reversing Falls Rapids. Not to be missed!
Once you get to at Reversing Falls, where the Saint John River meets a series of whirlpools and rushing water, not for the faint of heart is a zip line ride across the Reversing Falls Rapids, 50-feet above the water.
Covered bridge fans should check out the 15-mile covered bridges bicycle tour through the tranquil New Brunswick countryside.  There will also be excursions to Bay of Fundy.
Quebec City, Quebec
It's almost like being in France! Tune up your high school French, sit at a café and celebrate the joie de vivre!
Head on up to the Haute-Ville (the old section) either on foot (au pied!) or ride the vintage funicular up to the top. Explore, dine, drink and shop along narrow streets overlooking the harbor.
For a splurge, sign up for Afternoon Tea at the famous castle-like Chateau Frontenac, perched high atop the cliff. Can't miss it…just look up! While you're there, you might be lucky enough to join a ghost tour.
Montreal
Have lunch at the newly refurbished, soon-to-reopen celebrated Queen Elizabeth Hotel. Then check out subterranean life beneath the hotel where you'll find one of the largest underground complexes in the world, nicknamed the Underground City and the Via train station.
A great walking city, hoof it from the port over to Old Montreal. Be sure to check out the ornate Basilique Notre Dame de Montreal. China Town is nearby, with interesting shops and of course, lunch!
Have a craving for a mile-high juicy corned beef sandwich or a world-renown bagel? Hop a taxi to Schwartz's Deli on St. Laurent Blvd. Napkins included.
Charlottetown, Prince Edward Island
It's Anne of Green Gables everything! You might remember Lucy Laud Montgomery's renown story of Anne, the orphan girl who was adopted and grew up on Prince Edward Island.  It "literally" put Charlottetown on the world's tourist map. Walk from the cruise port to downtown and browse the "Anne" shops and candy stores.
Enjoy a guided tour out to Prince Edward Island National Park. It's a wildlife and birder's paradise. Plus gorgeous coastline, beaches and sand dunes.  And puffins!
Foodies take note: Head over to Queen St. or Victoria St. for lunch. Savor local cuisine with regional ingredients. Note to self: the island fish chowder and lobster cheese casserole are fabulous.
These are just six of many Canada cruise ports along the St. Lawrence River. Other unique, fascinating Canada cruise ports and many with a French flair include Baie-Comeau, Corner Brook, Gaspé, L'Anse aux Meadows, Sept-Iles, St. Pierre et Miquelon (a colony of France) and Trois-Rivieres.
I'm the editor and creator of CruiseMaven.com, a solo traveler cruising the world on waves and wheels, collecting recipes along the way.  I hope my articles and photos entertain, advise and inspire you to travel the world without flying.  Take a breath…stop for a local meal and a glass of wine along the way.