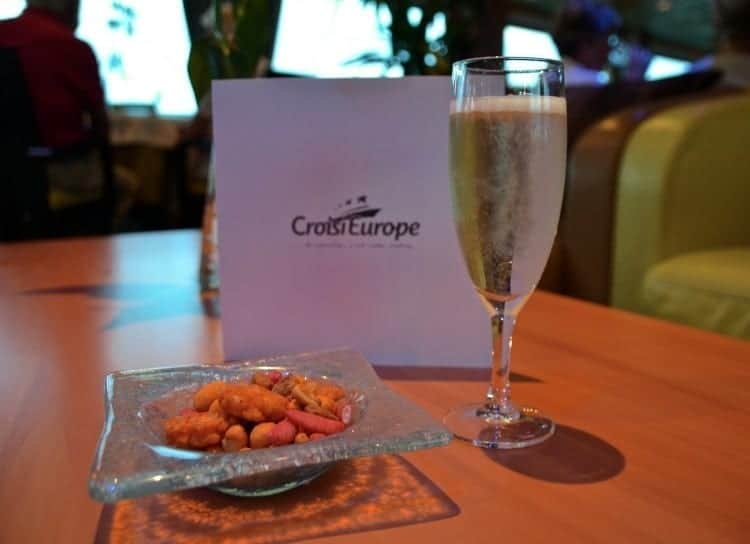 It's like staying on a private yacht in the heart of Venice.
I was excited to return to Venice. This time though, I wasn't going to stay in a hotel.
CroisiEurope, a family-owned river cruise company based in Strasbourg, offers a very reasonably priced four-night stay in the heart of Venice, aboard the Michelangelo river ship.  From where the Michelangelo is docked, it's a quick 15-minute walk along the famous Riva degli Schiavoni promenade to Piazza San Marco.  The location is ideal; the setting is breathtaking.
I boarded the Michelangelo at the San Basilio terminal, near the expansive Marittima cruise terminal, home to the big cruise ships.  By late afternoon we were all onboard and the Michelangelo began its short journey across the lagoon to tie up in its new location for the next four days.
Once we docked in our new location, it was easy to get my bearings.  The bow of the ship pointed toward the city with the tower of San Giorgio Maggiore on the left and San Marco on the right.  I know it looks like a long walk to Piazza San Marco from the photo above, but it's really only 15 minutes.  There are three low bridges to cross, with about 12 steps up and then down. But the steps are not steep nor unbalanced and there are iron hand rails if needed.
Embarkation
Whether you arrive into Venice by train or a plane (Marco Polo Airport is on the mainland), you'll need to know and plan ahead to know how to get to San Basilio and the Marittime Venice cruise terminal.
I had arranged a private transfer from Santa Lucia Railway Station.  Yes, it's pricey, about €80 ($120USD) but traveling alone with luggage, it's makes life easier.  After a 25-minute scenic boat ride along the Grand Canal, we merged into the Guidecca Canal, towards the cruise terminal.  Boarding a river ship is so simple.  There are none of the lines, stress or confusion that occur on some of the larger cruise ships.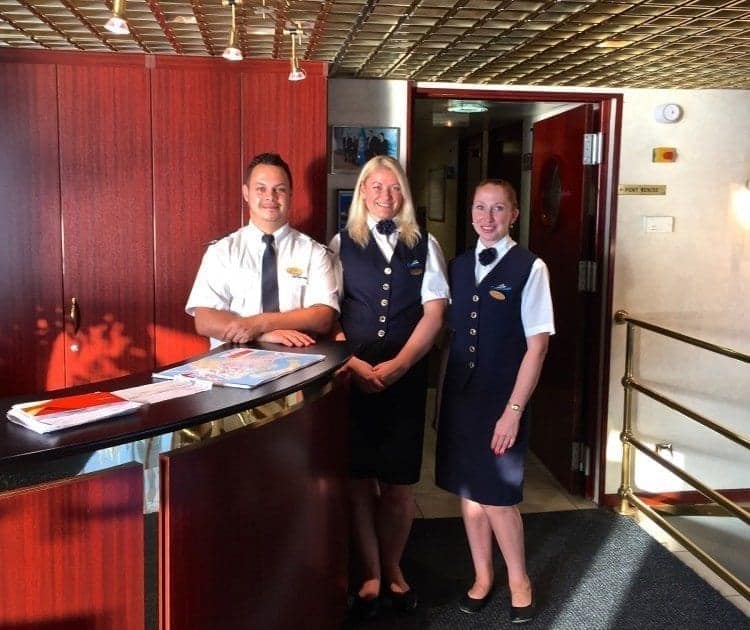 A pleasant, "Buongiorno" as I stepped aboard and an escort to my stateroom completed the process.  No credit card to put on file, no electronic key card.  Just an old fashioned brass key fob and key.  Just as you do in grand old hotels in Europe, your key is left with Reception every time you leave the ship, even for an evening stroll along the waterfront.
Accommodations
All the staterooms are pretty much the same.  The only difference is the deck (Upper or Main) and picture window size (Upper deck has larger windows.)  Of the 78 staterooms, two are designated for singles, four have double beds and there's one suite.
Compared to the newer mass market river ships, these staterooms are definitely smaller and less glamorous.  But everything you need is there, including a safe, wall-mounted hair dryer and a small writing desk.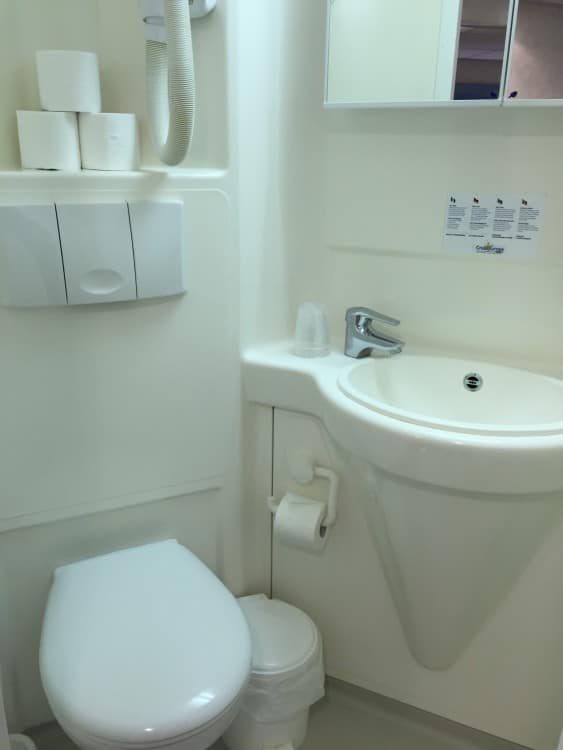 And this is one time I can fiinally say, I spent no time in my stateroom except to sleep and shower.  I used the free wifi in the lounge so for once I didn't do my homework in the stateroom. Every free moment, I was outside, either on a complimentary tour or wandering the narrow, cobblestones streets through Venice.
Public areas
It's a river ship so there aren't a lot of public areas.  There's the spacious, Astro-turfed sundeck with reclining chairs (and a partial awning for shade), the lounge, dining room and reception area. That's it.  And here they are: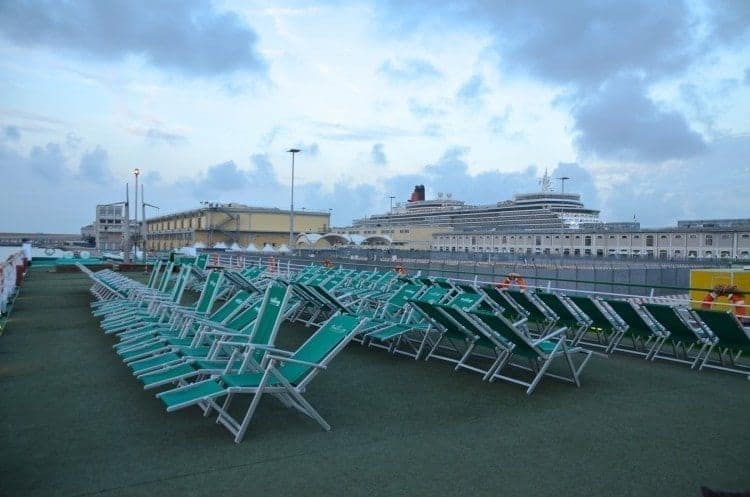 Every evening, the Lounge was the place for entertainment, the welcome aboard and farewell events and the bar was open almost all the time.
And the bar….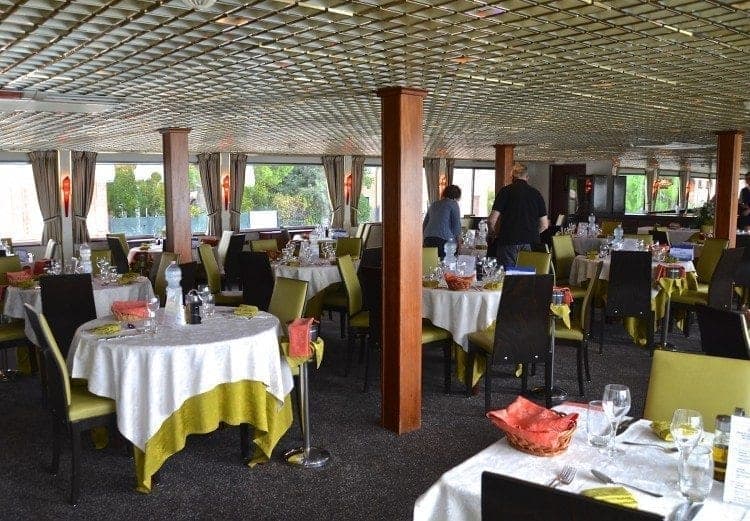 Food and Dining
I have absolutely no complaints. None.  A French river cruise company that prepares fabulous Italian dishes in Italy? Makes sense to me.  Though portions are small (as in most of Europe), after four courses plus unlimited wine and beer, no one goes home hungry.  Desserts like Ricotta cheesecake and Tiramisu were fabulous.
From our first dinner with perfectly-boiled gnocchi and marinara for a starter, to our last Gala Dinner, the French-inspired Italian cuisine was excellent.
If you are a vegetarian or even semi-vegetarian, it's extremely important to notify the cruise line in advance.  Every meal had some sort of meat for a main course.  Fois gras was on the menu, too.  There's fish for the asking as well as a vegetable entrée.  But the chef needs to know in advance.
Entertainment
Most nights, everyone left the ship shortly after dinner to walk through Venice under the full moon.  Entertainment consisted of an onboard musician, local professional entertainment and a hilarious Crew Show with audience participation.
Itinerary
Burano and Murano
Chioggia and Padova (Padua)
Included in our complimentary excursion to Murano was a visit to a centuries-old glass blowing factory. Yes, there's the inevitable tourist shop after the demonstration.
For me, Chioggia and Padova were a real highlight. On the last morning, we took a 45-minute boat ride to the sleepy fishing village of Chioggia. After a couple hours to walk around on our own, we boarded a motorcoach to go to Padova.
Padova dates back to sometime around 1183 BCE.  It's home to the 800-year old University of  Padova, where Galileo Galilei once studied.  The oldest city in northern Italy, Padova is progressive and energetic, thanks to the university's influence.  Beautiful city-center parks and statues and the beautiful Basilica of Saint Anthony are exceptionally interesting.
Our tour guide provided narratation throughout the excursion.  Except of course for the last hour.  That's when everyone wandered off to try a caffe at the famous Pedrocchi Café, founded in 1772.  Great gelato, too.
Conclusion
You'll love your experience aboard CroisiEurope Michelangelo if:
The idea of living on the Venice Lagoon sounds exciting
An all-inclusive getaway makes your life easier
Being in close quarters with fellow passengers mostly European seems like fun
You appreciate classic French cuisine with an Italian influence
Value for your vacation dollars is important
You won't love this cruise if:
Steak and eggs is your ideal breakfast
You only sleep on a California king-sized bed
A stateroom with a balcony is mandatory
Being one of only a few English-speaking passengers is not in your comfort zone.
Waking up to view the tower of San Marco, one of the most iconic sights in the world, doesn't excite you
CroisiEurope is not a new river cruise company.  But they are a new player to the North American river cruise scene. A very economical vacation option, the Michelangelo is clean and comfortable with fabulous cuisine and very friendly and knowledgable staff.  That's my takeaway.
Check back soon for more about my visits to Burano & Murano and Chioggia & Padova.
Fast facts:
Built: 2000 and refurbished in 2011
Cabins: 78 cabins
Passengers: 158 passengers
Complimentary Samsung Galaxy Tablet for guests' use
Disclosure:  I was a guest aboard the Michelangelo.  This in no way influenced my opinion or my review. Just because I like something doesn't mean that my readers will feel the same way.  Conversely, if I don't like something (fois gras!) doesn't mean that you won't love it.  I try to remain objective and unbiased to present as accurate a review as possible.
I'm the editor and creator of CruiseMaven.com, a solo traveler cruising the world on waves and wheels, collecting recipes along the way.  I hope my articles and photos entertain, advise and inspire you to travel the world without flying.  Take a breath…stop for a local meal and a glass of wine along the way.