Queen Mary 2 refurbishment includes new menus and venues.
Continuing with our updates on the "Remastering" of Queen Mary 2, as Cunard calls it, we've just received more new dining information.
With the demise of the beautiful but underused Winter Garden, the Queen Mary 2 refurbishment will see the creation of the new Carinthia Lounge.  Located on the same deck as the Kings Court Buffet, the Carinthia Lounge will offer light breakfasts and lunches along with premium coffees, teas and fresh pastries served in a café ambiance.
The Todd English Restaurant, which has been there since the Queen Mary 2 was launched in 2004 is going away.  In its place will be The Verandah restaurant, modeled after the Grill on the original Queen Mary.
If you've ever cruised aboard the Queen Mary 2, you probably have memories of trying to navigate through the Kings Court Buffet.  After twelve years of either love it or hate it, the Kings Court Buffet will finally undergo a total transformation.  Along with a new fresh color scheme and traffic flow, guests will find the tables pre-set and waiters will serve the beverages, thus eliminating a traffic jam at beverage stations.
Carving stations will double for cooking demonstrations areas for guests to interact with the chefs.  The Kings Court Buffet will continue to offer the fee-based specialty dining experience in a cordoned-off area.  On a rotating basis will be Italian, Indian, Tex Mex and Pan Asian cuisine.
The Chef's Galley, located in a delightfully secluded corner of the Kings Court Buffet, will still serve a modified lighter and healthier breakfast and a selection of pasta and pizza at lunch and dinner.  On select nights, the Chef's Table will offer a tasting menu hosted by the executive chef.
Suite guests can expect to find completely refurbished Queens and Princess Grill restaurants along with new menu selections plus the new Smokehouse alternative dining.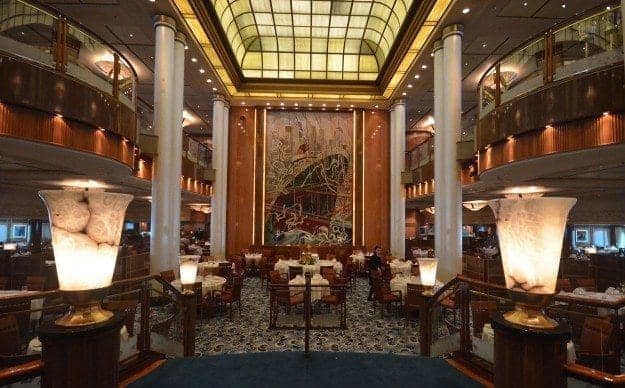 Menus in the existing Britannia Restaurant and Golden Lion pub, will be refreshed.  The Afternoon Tea selection served in the Veuve Clicquot Champagne Bar, will also be refreshed.
"At Cunard, we pride ourselves in delivering a culinary experience that continuously exceeds guest expectations and illustrates Cunard's utmost attention to detail," said Richard Meadows, president, Cunard North America. "We are pleased to debut refreshed culinary offerings on Queen Mary 2 Remastered, which we have created to appeal to the most discerning guests while revitalizing classic dishes and creating new ones."
As a long-time Queen Mary 2 fan, I'm excited to see all the new features and refurbishments, especially at the Kings Court Buffet and The Verandah. The ship returns to service mid-June in time for the annual 4th of July celebration 5-night cruise from New York on July 1.
Photos: Cunard 
I'm the editor and creator of CruiseMaven.com and self-appointed "expert" on cruises, trains and solo travel.  By sharing news and reviews plus my cruise and travel experiences, I hope to entertain, inform and inspire you to travel the world without flying.  Be sure to enjoy a local meal and a glass of wine along the way.