Raw Food. It's become a very popular and trendy lifestyle choice.
Until now, the only way a raw food proponent could cruise and find something to eat that was uncooked was to be a twice daily fixture at the Lido Buffet salad bar. Not any longer. SeaDream Yacht Club has introduced their new "Raw Food" menu; the first cruise line to offer this option to their guests. But what exactly is "raw food" if not just salad bar fare?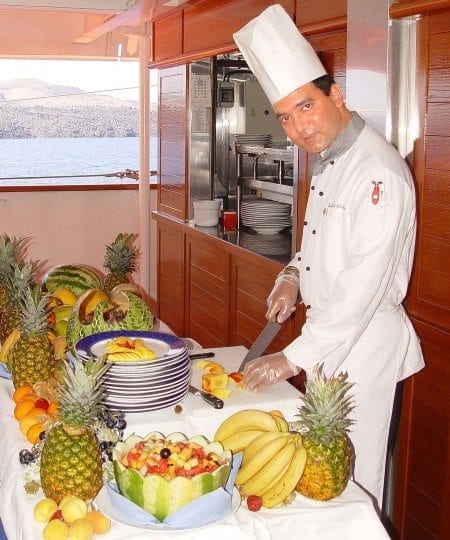 "Raw Food" proponents are usually strict vegetarians and believe that plant foods eaten in their natural state keeps all of the nutrients intact and provides the most wholesome diet. Raw foods should be organic whenever possible and never cooked above 118°F, lest the enzymes in the food be destroyed.  It is believed that high heat leaches enzymes and vitamins critical for proper digestion and health benefits.
Aboard the twin mega-yachts, SeaDream I and SeaDream II, gourmet raw food is offered in addition to the regular menu.  Aside from preparing meals using foods that are either totally raw or lightly heated, ingredients used aboard the SeaDream ships for their raw food menu are also organic and vegan.  No fish, meat, eggs or dairy.
Bringing this new culinary experience onboard the yachts was the brainchild of SeaDream's Norwegian owners, Linn and Atle Brynestad.  Having stayed at the Hippocrates Health Institute in West Palm Beach and personally experiencing the health benefits by maintaining a raw diet, the Byrnestads were determined to figure out a way to introduce raw food to their ships' menus.
The Brynestads recruited the Institute's Executive Chef, Renate Waller, to lend her expertise to the SeaDreams's galley. Chef  Renate, also know as a "Raw Food Chef," worked with SeaDream's Corporate Chef, Sudesh Kishore to create gourmet raw food dishes that would entice even the most skeptic of foodies.  Says Hippocrates Institute Chef Renate, "Switching to a high percentage of raw, living plant based foods, enables people to reclaim feeling great and being well.
In case you aren't familiar with the Hippocrates Health Institute in West Palm Beach, it was founded over fifty years ago by Ann Wigmore, a holistic health practitioner, nutritionist, whole foods advocate, health educator, author and a doctor of Divinity.  She followed the Hippocrates philosophy which believes that a vegan, enzyme-rich diet of sprout and vegetable juices, wheatgrass, salads, nuts, seeds and fruit are key components to optimum health.
SeaDream, known for the exceptional cuisine and dining experiences, remains committed maintaining their high culinary standards and food diversity.  "The raw food menu is an added option. If you come aboard to enjoy filet mignon and double chocolate mousse, by all means it's on the menu" said Kishore. He added "Nobody else at sea is offering this style of raw cuisine, and because we serve at most 112 guests, we can. One might assume raw food is boring or bland, but guests who chose to try it are in for a tasty surprise."
Chef Kishore revealed a few of the new raw food menu creations which include beverages such as Watercress Tang; a liquid mélange of watercress, Anjou pear, lime and pineapple; the Blood Apple Blaster; a blend of apple, ginger, red beet, lime juice and agave.  For a salad that's certainly not ho-hum there the slightly spicy, Asian style Cashew Curry salad. The Vegetable Lasagna uses pasta-like noodles made from spinach leaves and coconut meat and layered between a spicy cauliflower mash and topped with a sun-dried tomato marinara.
The raw food concept continues into dessert.  The Cashew Lemon Cheesecake has a crust made from almonds and dates. The "cheesecake" filling's main ingredients are cashews, lemon juice, almond milk and coconut butter. There are also sugar-free desserts, too.
Glatt-Kosher is now available on charter sailings.
For those who adhere to a Glatt-Kosher diet and have been unable to find a cruise line to accommodate their needs, they'll be happy to learn that SeaDream has partnered with Jon Greenseid, a nationally recognized kosher consultant.  Available only on private charters, meals are prepared under strict rabbinical supervision.  Chef Kishore has created a kosher menu that offers both traditional and contemporary Glatt-Kosher meals.
Bob Lepisto, SeaDream's President, said "Research indicates the kosher industry continues to grow at an astounding rate. Starting this fall, on voyages sailing roundtrip from San Juan, Puerto Rico we'll be able to accommodate kosher private charter weddings, bar/bat mitzvahs, charity benefits, corporate and personal events."
Sounds to me like SeaDream Yacht Club takes their clients' dietary needs seriously and is truly stepping up to the plate, so to speak, to offer something for everyone.
I'm the editor and creator of CruiseMaven.com, a solo traveler cruising the world on waves and wheels, collecting recipes along the way.  I hope my articles and photos entertain, advise and inspire you to travel the world without flying.  Take a breath…stop for a local meal and a glass of wine along the way.