A long-standing favorite among guests on Princess Cruises is Sabatini's, the signature Italian specialty restaurant. Debuted aboard the Grand Princess in 1998, Sabatini's was a set menu and served "family style" in the Italian tradition. Until now.
Fast forward to today's dining preferences and you'll notice how the cruise dining experience has evolved since the 1990's; smaller portions, lighter cuisine and shorter time spend sitting in the dining room. Princess Cruises noticed the gradual change and has brought the popular Sabatini's restaurant into the twenty-first century.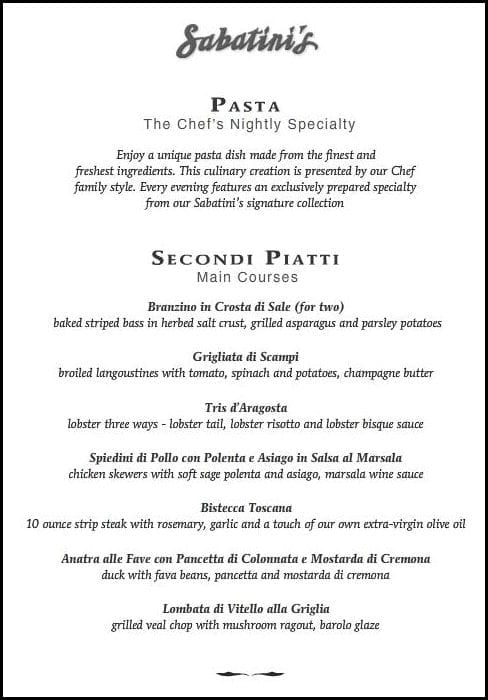 Offered on thirteen of Princess Cruises' seventeen ships, Sabatini's now features an updated collection of favorite Italian dishes and a new ala carte dining menu.
"Sabatini's has always been the finest representation of Princess' Italian dining tradition," said Jan Swartz, Princess Cruises' executive vice president. "With this new menu we're ensuring that the Sabatini's experience continues to be fresh, current and exciting, especially for our loyal passengers who have grown to love it over the years."
The restaurant's culinary focus will continue to be on traditional Italian dishes and "new Italian cuisine," freshly prepared to order. To start every meal, and to enjoy while deciding on menu selections, guests are served herbed focaccia grissini, rosemary flatbread with air-cured prosciutto, and marinated green and black olives.
Passengers will enjoy such antipasti choices as hand-formed cow's milk burrata cheese with a creamy lava center on tomato carpaccio, or crisp buttermilk soft shell crab over baby arugula. The nightly special pasta dish might feature braised ossobuco meat, and delectable secondi courses include such entrees as duck with fava beans and pancetta, or baked striped bass in a herbed salt crust.
A perfect end to the dining experience might include raspberry frangipane tart with macerated wild berries or an almond, hazelnut and pecan napoleon with praline mousse and caramel pecan brittle.
Sabatini's also offers a robust selection of some of the finest Italian wines to pair with any of the dishes.
A cover charge of $20 per person for adults and $10 for children under age 12 applies.
Source: Princess Cruises
Photo credit: Feature – Sherry Laskin; Princess Cruises
I'm the editor and creator of CruiseMaven.com, a solo traveler cruising the world on waves and wheels, collecting recipes along the way.  I hope my articles and photos entertain, advise and inspire you to travel the world without flying.  Take a breath…stop for a local meal and a glass of wine along the way.