The picturesque Charlottetown Seaport on tiny Prince Edward Island prepares for their busiest cruise season ever, beginning with the arrival of Holland America's Maasdam on May 6.
Popularity for cruises to Atlantic Canada continue to gain momentum, especially to Prince Edward Island. This season there are fifty-seven ships calling on Charlottetown, the major cruise port on Prince Edward Island. Holland America is the major player to call on Charlottetown, with eighteen scheduled arrivals that comprise nearly 50% of all ship calls. In total, 79,786 passengers and 35,409 crew members are scheduled to arrive between May 6 and October 28.
"The cruise industry in Atlantic Canada, and particularly on PEI have been growing at an incredible pace," states Stan MacPherson, Chair of the board of the Charlottetown Harbour Authority. "The economic spin-offs that cruise brings to the Island is a welcome sight, specifically in slower times of the year for tourism operators."
Compared to years past, this season will add an additional eighteen ship calls, making 2012 the biggest and busiest cruise season ever on Prince Edward Island. While summer cruises to Atlantic Canada bring warmer temperatures and sunny skies, fall is the most interesting time to cruise Canada New England if you are looking for brilliant fall foliage, dropping temperatures and even the chance of light snow. This September and October will be the busiest two months of the cruise season on record for Prince Edward Island.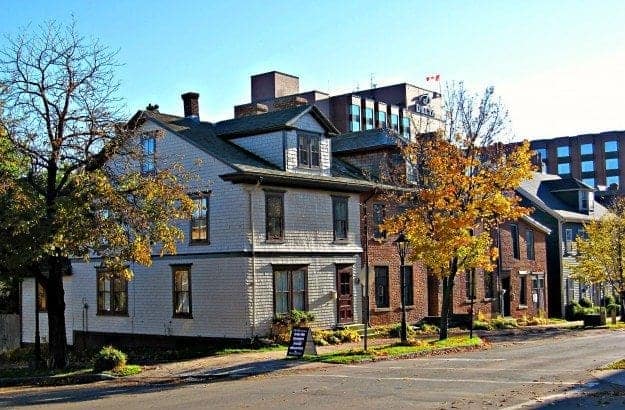 "The fall has always been a busy time for cruise in Atlantic Canada, but this year will certainly be our biggest to date." Explains Corryn Morrissey, Manager of Marketing and Communications with the Seaport. "With quite a few multiple ships days scheduled for September and October, we're encouraging businesses to remain open and be 'cruise friendly' this fall."
Unlike when I recently visited quaint, tree-lined Charlottetown in October and we were the only ship in town, October 9 this year will have approximately 11,000 passengers and crew descending from gangways all on one day. And this isn't the only multiple ship visit day in this fall, but certainly the largest in the amount of people.
Last year, there were over 90,000 passengers and crew visiting Prince Edward Island. According to the Charlottetown Harbour Authority, the economic impact for the 2011 cruise season, generated $12.9 million.
With this year's expected cruise visitor count at over 115,000 passenger and crew, it's no wonder that new shore excursion options are being added and shopkeepers are gearing up and anxiously await the arrival of souvenir-hunting customers.
When the season finally winds down, it will be the Regent Seven Seas Navigator that makes the last ship visit, arriving on October 28.
Here are the cruise lines that will visit Charlottetown Seaport this year:
Celebrity Cruises
Crystal Cruises
Holland America
Oceania Cruises
Princess Cruises
Quest of Adventure
MSC Cruises
Norwegian Cruise LIne
Regent Seven Seas Cruises
Royal Caribbean International
Seabourn Cruises
Silversea Cruises
Costa Cruises
For a complete cruise schedule to Charlottetown, Prince Edward Island, click here.
Source: Charlottetown Harbour Authority
Photo credit: Sherry Laskin
I'm the editor and creator of CruiseMaven.com, a solo traveler cruising the world on waves and wheels, collecting recipes along the way.  I hope my articles and photos entertain, advise and inspire you to travel the world without flying.  Take a breath…stop for a local meal and a glass of wine along the way.