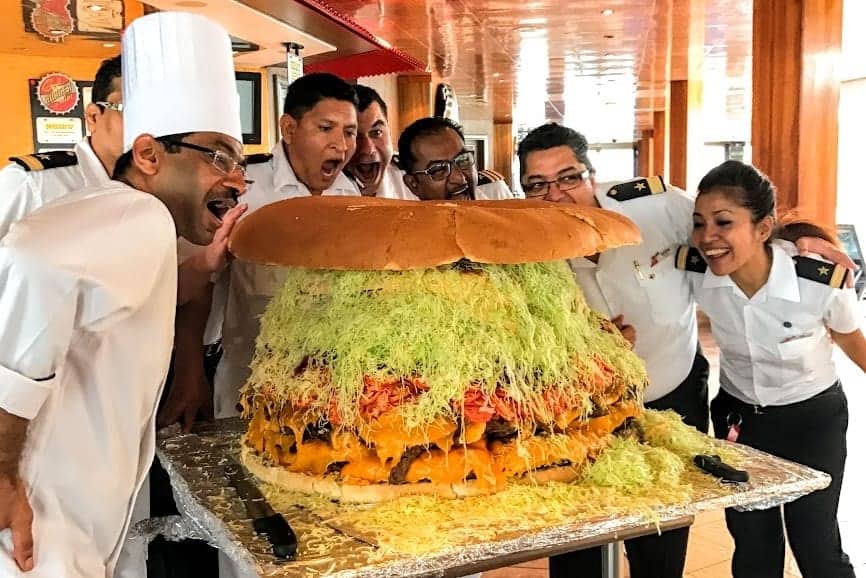 Though the official National Hamburger Day is Sunday, May 28, the folks at Carnival Cruise Lines decided to jumpstart the big day with their own hamburger celebration on Thursday.
Aboard Carnival Liberty at Port Canaveral, just before new guests were allowed to board for their 3-night cruise to the Bahamas, a group of us headed over to Guy Fieri's "Guy's Burger Joint, on the Lido Deck. It was here that National Hamburger Day would have an entirely new meaning.
First, it helps to know the burger menu. It's small. Really small. Five versions of a hamburger, from nearly plain to dressed up for a night on the town.
The restaurant is complimentary and the queue forms as soon as guests arrive, even before they can move into their staterooms, carry-on luggage in tow. Despite the popularity, everyone gets their burger within minutes.
Behind the counter, like a well-oiled machine, the line cooks plop 5 oz. balls of ground chuck onto the grill, smash it with a flattening tool, eventually flip it over until there's a nice crispy coating on the burger. Then it's mere seconds until it's dressed, plated, hand-cut french fries added and handed over to the eater.
Once you have your burger, it's time to head over to the toppings bar which also includes an array of hot sauces.
Okay…that's how it's done, start to finish. Back to the celebration.
During the course of an hour, each of us in our group had a chance to get behind the grill and fry up our own burger.
National Hamburger Day – Guy Fieri Hamburger
Finally, the pièce de resistance; the world's largest Guy Fieri hamburger – a 300-pound masterpiece! Bon Appetit!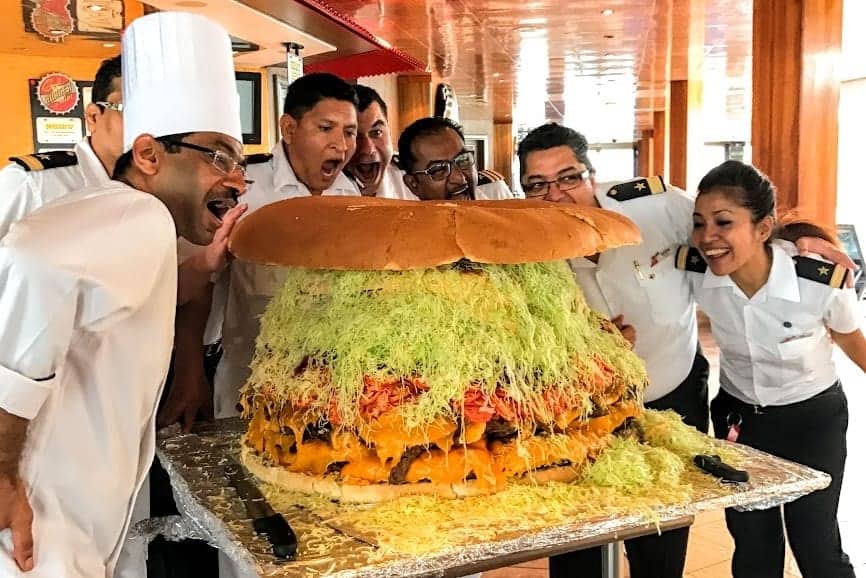 I'm the editor and creator of CruiseMaven.com, a solo traveler cruising the world on waves and wheels, collecting recipes along the way.  I hope my articles and photos entertain, advise and inspire you to travel the world without flying.  Take a breath…stop for a local meal and a glass of wine along the way.