Small, charming hotel near Trevi Fountain and Spanish Steps.
With Hollywood's version of Italy as my only guide, I knew I wanted to stay near Trevi Fountain and the Spanish Steps. I started to look online, without a clue of anything about Rome. When I found the 41-room Hotel Barocco, it was exactly what I wanted.
An ideal location, the hotel is a stone's throw from the beautiful Via Veneto. Trevi Fountain and the Spanish Steps are less than ten minute walk from the hotel, plus there's daily complimentary breakfast. Transportation can be arranged from the port city of Civitavecchia or the airport to/from the hotel. Unlike many small hotels throughout Europe, the Hotel Barocco is 100% smoke-free. And free wifi!
First Impressions
The glass and brass hotel entrance was stately, clean and inviting. My Italian language skills were pathetic and luckily the front desk staff spoke English. I glanced at the Guest Book as I waited for two departing guests to finish their check-out. In the book, under the "Country" column were guests' hometowns from all over the world; Japan, England, Australian and of course, the United States.
Check-in took only a couple of minutes. I was given a fancy-tasseled keyring and escorted up to my room. You can choose from the small modern elevator or a marble, winding staircase.
The Rooms
My single room at the Hotel Barocco was typically small. But absolutely beautiful. Yes, there was a window, but it was inches from a neighboring wall, so I just left the curtains closed. Kind of like an inside stateroom. If you aren't familiar with single rooms in Europe, you're in for a surprise. Most are the size of a small walk-in closet. At one hotel in London, the bathroom was so tiny that I had to turn sideways to enter.
The bathroom was very modern with blue LED lights that illuminated the marble and glass shower stall. Along with a beautiful array of upscale toiletries, the plush towels and zillion-count cotton bedding were very luxurious. Good lighting in the bathroom compensated for the lack of daylight in the bedroom.
Other Rooms include: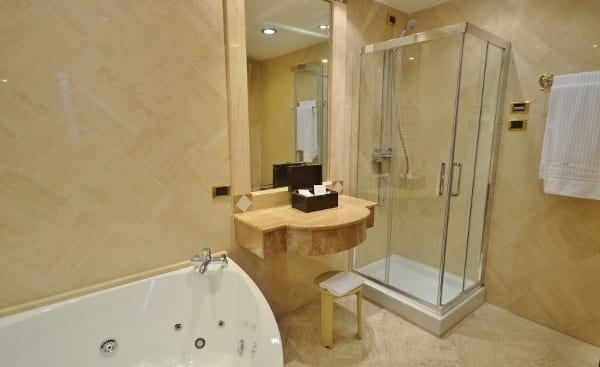 Dining and Bars
Breakfast is the only meal at the Barocco and it's meant to be savored. There's the beautiful buffet with sliced meats, cheeses, cereals and breads of all sizes and shapes. There's a menu for a la carte ordering, also complimentary. Their cappuccino is a work of art.
Stop by the cozy bar, open from the late afternoon until…?
What's Nearby?
The Fine Print
Would I stay again at Hotel Barocco? Of course. Yes, there are a zillion more hotels to experience and probably many are just as nice. Once I find a place that I really like, I return again because to me, it's nice to see the staff again, to know the location and good local restaurants. I can slip into vacation-mode much quicker than having to recalculate my surroundings at a new hotel.
Included
Wifi
In-room safe
Full daily breakfast
Concierge service
24-hour front desk
Details
Hotel Barocco
Via della Purificazione, 4 – 00187 Rome, Italy
Tel. +39 06 487 20 01/02 – Fax: +39 06 62 20 27 05
E-mail: info@hotelbarocco.com

Disclosure: This was not a sponsored stay at Hotel Barocco.
Photo credit: Sherry Laskin
I'm the editor and creator of CruiseMaven.com, a solo traveler cruising the world on waves and wheels, collecting recipes along the way.  I hope my articles and photos entertain, advise and inspire you to travel the world without flying.  Take a breath…stop for a local meal and a glass of wine along the way.