Fresh out of a multi-million dollar face-lift, the flagship of the fleet, Queen Mary 2, is all set for her eighth transatlantic season beginning in May.
This year she will sail 19 classic seven-day Crossings between New York and Southampton, and six nine-day extended voyages between New York and Hamburg. If you haven't experienced an arrival or departure from Hamburg, you should know that when the Queen Mary 2 sails into harbor, thousands of people line the docks to welcome her or bid a rousing "bon voyage."
For me, since I don't fly, I rely on the Queen Mary 2 for my yearly transatlantic crossing, in at least one of two directions. This purpose-built ocean liner is the only ship that provides regularly scheduled transatlantic service. And with new furnishing, revamped bars and lounges (including my favorites Golden Lion Pub and the Commodore Club), new Jazz Appreciation Workshops, new productions by the Royal Academy of Dramatic Art (RADA) including acting workshops, and so many more innovations to make even the most jaded transatlantic fan something different to experience.
"As travellers seek more relaxing, hassle-free ways to travel, we've seen tremendous interest in our Transatlantic Crossings," said Peter Shanks, president of Cunard Line. "In addition, these legendary voyages have wide appeal to first time and return Cunarders who want to experience the glamour and elegance of this unmatched ocean travel experience."
Going into more detail, here's a quick rundown of what to expect on your first or next Queen Mary 2 transatlantic voyage.
Todd English Restaurant
Patrons of Queen Mary 2's specialty restaurant, Todd English, can now enjoy the acclaimed chef's lunch and dinner offerings a la carte, replacing the original prix-fixe menu. One of the most celebrated chefs in the world, Chef English offers Mediterranean cuisine featuring "common ingredients prepared in uncommon ways."
Guests can enjoy such popular appetizers as "Todd's Truffled Potato Love Letters," mouth-watering pasta pillows prepared with parmesan and madeira glaze; "Lobster and Baby Corn Chowder," with parsnip purée, roasted corn and bacon; and "Tender Lettuce Salad of Boston Bibb and Mâche," with shaved white onions, toasted walnuts, shallot dressing and Danish blue cheese. Signature entrees include "Paella," with shrimp, mussels, clams, saffron rice, chorizo and chicken; and "Grilled Beef Tenderloin," with braised oxtail ragù, whipped truffle potato, glazed baby carrots and tempura fried French beans. Desserts include "White Chocolate Bread Pudding" and Todd's ever-popular "Chocolate Fallen Cake."
Juilliard School of Jazz: New Jazz Appreciation Workshops
Musicians from the Juilliard School of Jazz return to provide entertaining experiences. New this year will be a series of Jazz Appreciation Workshops on select cruises throughout the season, whereby guests can interact with Juilliard musicians, appreciate music with open discussions and demonstrations of various musical instruments, and learn the history of jazz. Guests sailing on the Fourth of July Getaway on 1 July will experience a Big Band Voyage with a performance by 16 musicians from the Juilliard Jazz Orchestra.
Royal Academy of Dramatic Art
Cunard Line partner, the Royal Academy of Dramatic Art (RADA), continues its popular on board programme and will sail six performance troupes aboard Queen Mary 2 during her Transatlantic season, presenting new productions of three of Shakespeare's most renowned plays, including The Merchant of Venice, Richard the Third and the timeless classic, Romeo and Juliet.
In addition, RADA actors will perform three versions of The Canterbury Tales by Geoffrey Chaucer, after which the audience will determine which performance was the best. Guests can also spot RADA actors strolling the decks dressed as "pilgrims," singing on their way to Canterbury.
Finally, the company will once again run three one-hour-long workshops, continuing the storytelling theme from The Canterbury Tales. Each workshop features a different element and technique to storytelling, offering guests unprecedented access to RADA's accomplished cast members.
Cunard Insights
Guests can also take advantage of the popular Cunard Insights enrichment programme, which offers lectures by famous authors, historians, celebrities and personalities. This season's line-up includes such guests as former BBC news anchor and Royal correspondent, Nicholas Bowen; chief White House correspondent for U.S. News & World Report, Kenneth Walsh; and Steve Rivellino, TV producer and former vice president and general manager of New York's Radio City Music Hall™.
Canyon Ranch SpaClub
Along with Cunard's impeccable White Star Service, guests revel in the luxury of time as they enjoy the countless unique amenities on board, including the many treatments offered by the Canyon Ranch SpaClub. New this year are the spa's Healthy Feet services which include:
Gait & Footwear Analysis: Guests meet with a highly trained foot expert for a complete evaluation including video analysis of gait and a precise assessment of the biomechanics of one's feet while walking across an orthotics mat. Upon completion of the analysis, a foot expert will recommend appropriate shoes.
Instant Relief: This treatment helps to alleviate painful symptoms associated with heel or arch pain, sore Achilles tendons, Morton's neuroma, shin splints or pain in the ball of the foot. A therapist tailors a massage for each guest.
Foot Rescue: This therapeutic treatment begins with a soothing foot bath in herbal salts. The spa technician focuses on the three "C's" of pedestrian wear and tear: calluses, corns and cracked dry skin, restoring damaged skin and nails.

One of my favorite things about a Queen Mary 2 seven or nine night crossing is the time change experience. With a five hour time difference between Southampton and New York, for five consecutive nights, the hour is advanced or set back one hour. On westbound voyages, you are treated to 25-hour days, which really does allow more time to see, do or just relax a little bit extra. On the eastbound crossings, with one hour shorter per day, you may find yourself strolling up to the King's Court looking for a late night snack at 2am, as your body is telling you it's only 10pm or 11pm. It's fun to see so many people up so late wandering around totally wide-awake. By day five, with the help of a couple of daytime naps, all the guests have adjusted to the difference and are set to disembark in England or Germany.
A short motorcoach ride from Southampton to St. Pancras station in London will give the opportunity to continue on to France via the Eurostar. In only two hours and twenty-one minutes, this amazing train will bring you from London right into the heart of Paris.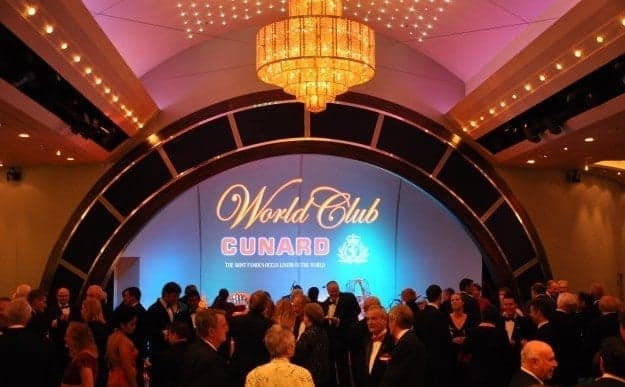 Every transatlantic cruise features a series of Royal Nights themed balls held in the Queens Room, which features the largest dance floor at sea, and each evening, the Royal Court Theatre presents West End-style musical revues and guest performers. On my Queen Mary 2 crossings, I've met John Cleese (on two separate occasions), Angela Basset and Richard Dreyfus. The celebrities take to the stage on one afternoon and present an "Actor's Studio" type of interview for the passengers.
It's historic. It's a tradition. A Cunard Queen Mary 2 transatlantic crossing should be on your travel to-do list at least once.
I'm the editor and creator of CruiseMaven.com, a solo traveler cruising the world on waves and wheels, collecting recipes along the way.  I hope my articles and photos entertain, advise and inspire you to travel the world without flying.  Take a breath…stop for a local meal and a glass of wine along the way.