Cunard announced that their popular Apple iStudy courses are now available on all three Ocean Liners.
The newest of the three iconic ships to receive the Apple Learning Center is the Queen Victoria. The centers offer the latest iMacs with workshops that aim to familiarize guests with the latest technology. iStudy has been a feature of Queen Mary 2 since October 2011 while Queen Elizabeth has had an Apple center on board since her introduction in 2010.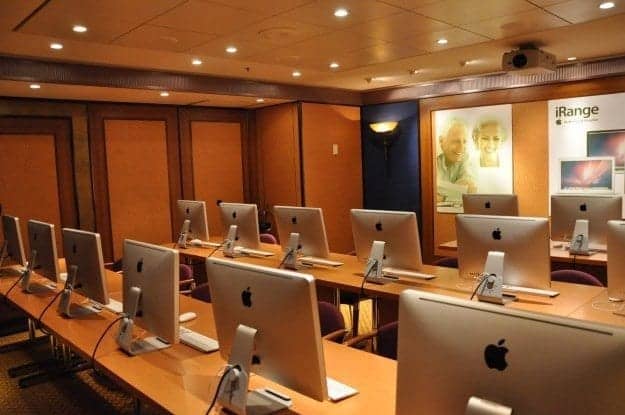 The workshops have proved a particularly strong draw on Queen Mary 2's Transatlantic Crossings to and from the Big Apple, with many guests bringing along their own iPads to use during the sessions.
"All the seminars and workshops are fronted by specially trained presenters to make learning fun, in a positive and relaxing environment. There is something for everyone – from the beginner to the more advanced, our aim is for the guests to walk out of the iStudy feeling enriched and more confident," says course creator and iStudy Presenter trainer Richie Litchfield.
Looking to buy your Apple computer tax-free? Aboard Queen Elizabeth, Cunard also offers iRange, an Authorized Apple Reseller at sea. Guests can test drive the latest Apple devices at their leisure. Apple trained staff are available to give specialist advice on all the products offered for sale on board, including iPods (Shuffle, Nano and Touch), iPad 2, MacBook Pro, MacBook Air, cases, bags, sleeves and speakers. It is hoped that these iRange Stores will also be opened on Queen Mary 2 and Queen Victoria in the future.
All Guest Computer Services Managers have been trained on the latest Apple technology to offer Apple courses to interested passengers. Apple iMacs are fitted throughout iStudy to provide guests with an intuitive and stimulating learning experience.
Designed exclusively for Cunard the iStudy programme offers three levels of learning:
In 'First Steps' the programme provides hands on learning for basic computer skills, both Mac and Windows, as well as an introduction to many of Apple's iLife applications.
The 'Next Steps' workshops cover more creative or advanced topics. With photo editing, building a family tree, DVD and movie- making courses on offer, guests are able to edit photos and videos of their voyage when they return home.
In the complimentary 'iStudy Seminars' guests receive a taster on all aspects of new technology, from Facebook to iPads.
"We are delighted to offer this additional attraction to passengers on board our ships," Peter Shanks, Cunard President and Managing Director. "We find that guests today are increasingly computer savvy and iStudy is an innovative new programme designed to introduce and showcase the latest Apple technology. The concept is great for those who are already confident with Apple products as well as for those who want to try out an iPad for example or learn how to get the best out of devices they already own".
In addition, the top Grand Duplex Suites on all three ships have been fitted with iPads for their guests to download the newspaper of their choice and use to browse the internet.
I'm the editor and creator of CruiseMaven.com, a solo traveler cruising the world on waves and wheels, collecting recipes along the way.  I hope my articles and photos entertain, advise and inspire you to travel the world without flying.  Take a breath…stop for a local meal and a glass of wine along the way.