There was a very special and private luncheon aboard Cunard Line's iconic Queen Mary 2 in New York City, to promote the "hands across the water" relationship between the United States and the United Kingdom. The master of the vessel, Captain Kevin Oprey, greeted everyone with a warm welcome as he went on to introduce Amanda Bowman, the president of The TransAtlantic Bridge, a non-profit organization dedicated to strengthening ties between the the two countries.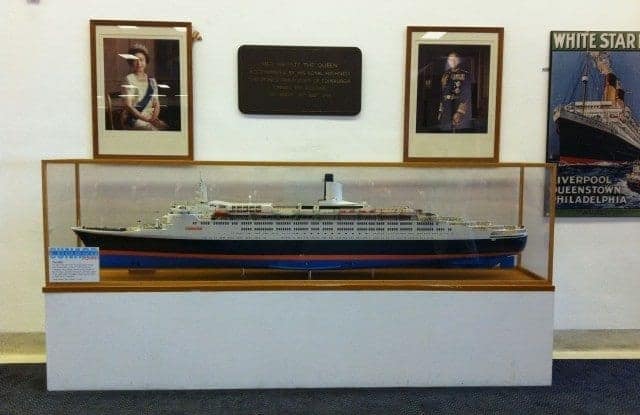 Next to be introduced was Edwina Sandys, the granddaughter of Sir Winston Churchill, who also spoke to the group. Afterwards a lecture was presented by celebrated author, Barry Singer, who spoke about his newly published book, "Churchill Style: The Art of Being Winston Churchill."
Singer's new biography details Churchill's private life and extravagant style outside the world of politics, featuring scores of never-before-published photographs, illustrations and documents from the Churchill family archives. From Churchill's love of cigars and luxury automobiles to his favourite books and impeccable sense of fashion, Singer leaves no stone unturned in the iconic statesman's day-to-day life.
"Cunard is pleased to have collaborated with The TransAtlantic Bridge on this very special event, celebrating the enduring relationship between the United States and Great Britain, and honoring Sir Winston Churchill in particular," said Peter Shanks, president of Cunard Line. "Churchill credited Cunard Line with ending WWII one year early, and we are proud to preserve our unique history with one of the world's greatest leaders. In fact, we pay tribute to him on all of our ships with dedicated venues in his name."
"Cunard was a wonderful partner for our 'Churchill Style' luncheon," said Amanda Bowman, president of The TransAtlantic Bridge. "The substance and style of Queen Mary 2 fully lived up to all the qualities that Churchill would have admired."
The Queen Mary 2 is the only purpose-built transatlantic oceanliner in the world, making several transatlantic crossings between New York, Southampton and Hamburg, Germany throughout the year.
I'm the editor and creator of CruiseMaven.com, a solo traveler cruising the world on waves and wheels, collecting recipes along the way.  I hope my articles and photos entertain, advise and inspire you to travel the world without flying.  Take a breath…stop for a local meal and a glass of wine along the way.