What's old is new again, especially when it comes to vintage cocktail recipes.
Remember the old fashioned Old Fashion? Or a cool Cactus Flower? Maybe you don't but Celebrity Cruises does. They'll soon be serving many of those treasured throwback cocktails aboard their ships, reinvented with a modern twist.
In collaboration with Josh Durr, celebrity bartender and  Molecular cocktail creator since 2006, and the Hawthorn Beverage Group, you can sip, savor or chug the same cocktails that your parents and grandparents enjoyed. But this time the drinks will be made with fresh ingredients, organic juices and top-shelf spirits. If newfangled, not old fashioned foo-foo cocktails gets you stoked, you'll be enticed with the new libation creations that Durr is concocting for Celebrity. (I'm having fun with this story, can't you tell?)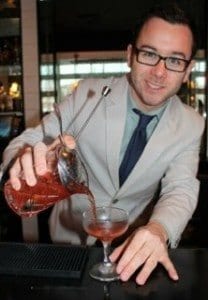 For those that don't imbibe, a new line-up of "zero-proof" (non-alcoholic) cocktails also will be introduced – 'Sparkling Mint Lemonade' or 'Raspberry Fizz.' In addition,  the already extensive list of fine wines by the glass will be expanded. Celebrity's current roster of international beer selections will increase, too, ranging from pale ales and IPA's to Belgian ales and premium lagers.
"Together with Josh Durr and the highly skilled mixologists at Hawthorn, we worked to create flavor profiles that vacationers will thoroughly enjoy, while also focusing on the details, quality of ingredients, and craftsmanship," said Celebrity's manager of Beverage Development Chanelle Duarte. "Through our creative guidance and the methodical specifications of Josh and his team, Celebrity is 'stirring up' an authentic, trend-forward craft cocktail bar experience for our guests."
Growing up in a culture tied to the bourbon distilleries of Kentucky, Durr's passion for the art of spirits mixology began at a young age, ultimately inspiring him to pursue a career that fully immersed him in the craft. He has since been honored with a "Rising Star Award" from Cheers magazine, and editorial recognition in The New York Times, Playboy, Forbes, Wine Spectator, Chicago magazine and Cheers magazine, and has landed a client list that includes Apiary, Diageo, Pernod, Remy Cointreau and Ruth's Chris, among others.
By the end of 2013, the new array of cocktails, fine wines and international beers will be available on every Celebrity ship.
Photo credit: Sherry Laskin; Josh Durr photo credit: TalesOfTheCocktail.com
I'm the editor and creator of CruiseMaven.com, a solo traveler cruising the world on waves and wheels, collecting recipes along the way.  I hope my articles and photos entertain, advise and inspire you to travel the world without flying.  Take a breath…stop for a local meal and a glass of wine along the way.