This past weekend, the Celebrity Beyond inaugural was a star-studded event in Fort Lauderdale, Florida. This is the third ship in Celebrity's revolutionary Edge Class Series.
Beyond celebrated its inaugural kick-off with U.S. Olympic gold medalist Simone Biles as the ship's Godmother. With the press of a "gold medal" button, the champagne bottle was released and broke against the Beyond's hull.
Beyond's inaugural showcase also featured a live performance from award-winning singer and songwriter, Leona Lewis set to the stunning visual backdrop of Simone Biles' performances. The stage came alive for performers from the Broadway musical DreamGirls.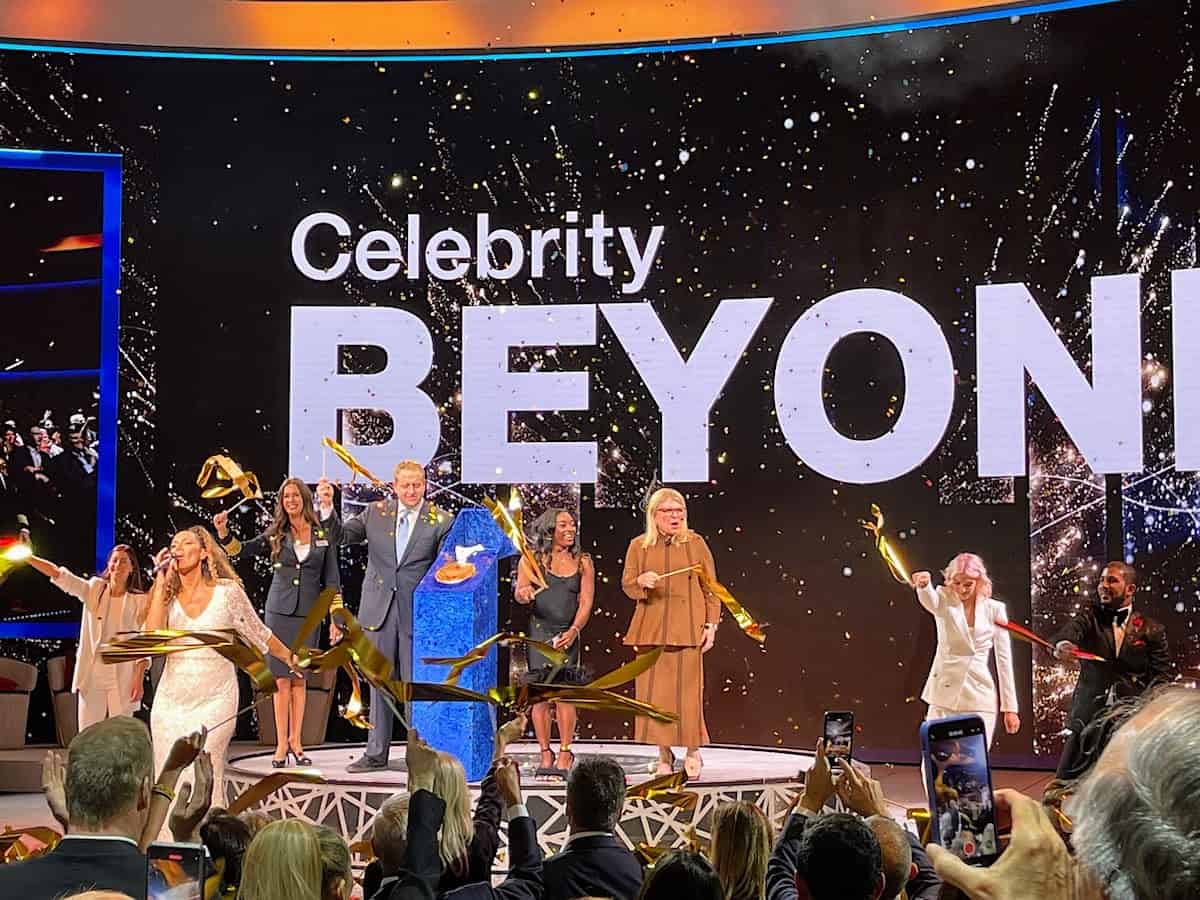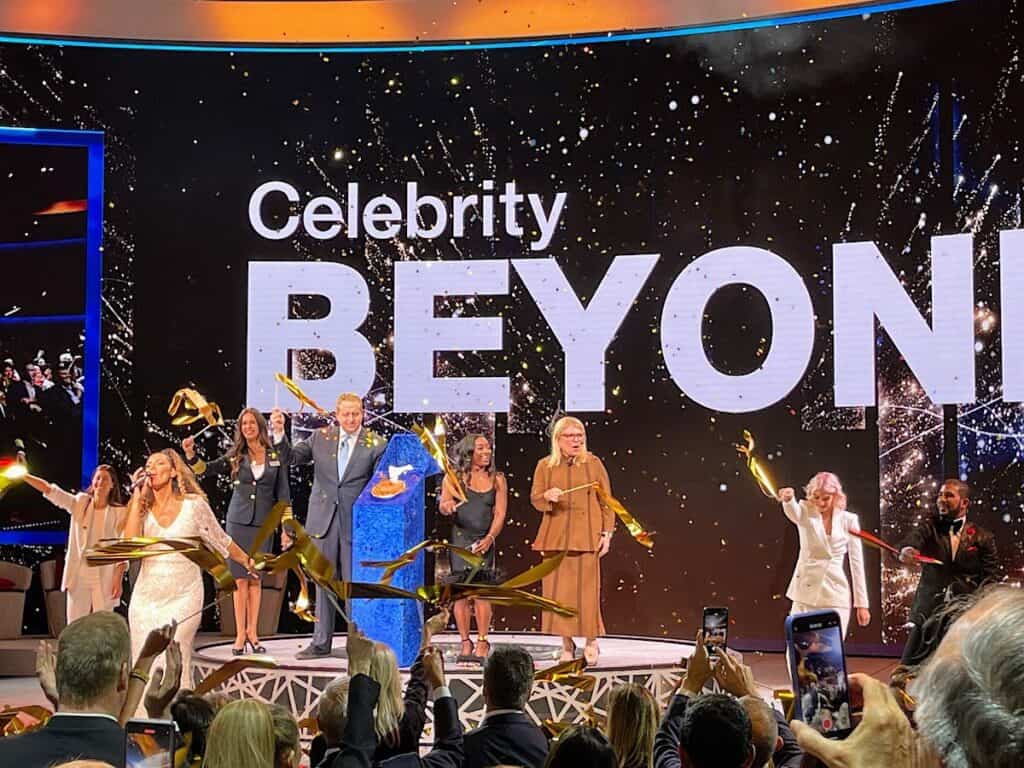 Beyond Goes Beyond All Expectations – Celebrity's Newest Ship is the Gold Standard.
Celebrity Beyond Inaugural Season Begins
A cast of inspirational women continue their onboard presence both at the helm, on stage, and at sea.
Captain Kate McCue, the first and currently only American woman to be named captain of a "Mega" cruise ship will sail Celebrity Beyond's inaugural season from Fort Lauderdale through a highly anticipated Caribbean season.
"I can think of no one better to be the Godmother of this incredible ship than the G.O.A.T. herself – Simone Biles," said Jason Liberty, President and CEO of the Royal Caribbean Group, the parent company of Celebrity Cruises. "This ship's beauty, power, and resilience sets the standard by which all others will be measured. Simone's determination, progressive nature, empowered attitude, and grace in the face of challenges make her such an inspiration to so many around the world. All of these attributes are why Simone Biles is perfectly suited to watch over Celebrity Beyond's journey."
Celebrity Beyond's launch is beyond what many in the cruising industry ever considered. It defines and successfully brings to life relaxed luxury. How to do it well not just at a hotel, but on a mega ship.
RELATED: Celebrity Beyond Ship Review and Photos
Beyond starts her inaugural season with trips to the Western and Eastern Caribbean where she'll sail to the iconic beaches of Grand Cayman and stunning landscapes of Puerta Plata.
Celebrity is known for being the gold standard in many cruising circles, and Beyond elevates that even further.
Now, guests enjoy luxury hotel-style accommodations with every stateroom. They can experience true culinary mastery with Michelin-level dining, and be pampered by some of the world's best wellness amenities.
"I've been waiting for this day to arrive for a long time, and I am 'Beyond' excited to be able to share her with our guests. She is the gold standard by which other ships are built and embodies the meaning of relaxed luxury," said Lisa Lutoff-Perlo, Celebrity Cruises President and CEO. "She is 'FULL' of wonder and excitement and our guests will undoubtedly feel reconnected to the world around them as they visit new destinations and immerse themselves in culinary experiences and wellness amenities not found anywhere else at sea."
Other renowned women in the Edge Series of ships includes Reshma Saujani of Girls Who Code, Godmother to the Apex and Nobel Peace Prize Laureate Malala Yousafzai, Godmother to the Edge. All Edge Series godmothers are trail-blazing women who inspire, teach, give back, and go Beyond.
"It is an honor to be selected as Beyond's Godmother and to join such a distinguished group of strong, barrier-breaking women who have been named as Celebrity's Godmothers before me," said Simone Biles. "I appreciate the important message this designation holds in recognizing our accomplishments as empowering women, and I am honored to share the stage today with fellow brave, boundary-breaking leaders like Lisa-Lutoff Perlo and Captain Kate McCue."
RELATED: Celebrity Edge Cruise Ship Review and Photos
Beyond Extraordinary
Lifestyle icons and celebrated artists comprise an award-winning troupe of designers, restauranteurs, health and beauty products and more. Kelly Hoppen and Nate Berkus alongside Jouin Manku showcase designs across the ship. Architect Tom Wright brings fluidity and elegance guests will notice at every turn.
One of the the most coveted experiences is the opportunity to dine at a Daniel Boulud restaurant. The ship's first Michelin-starred chef showcases and reimagines dining at sea.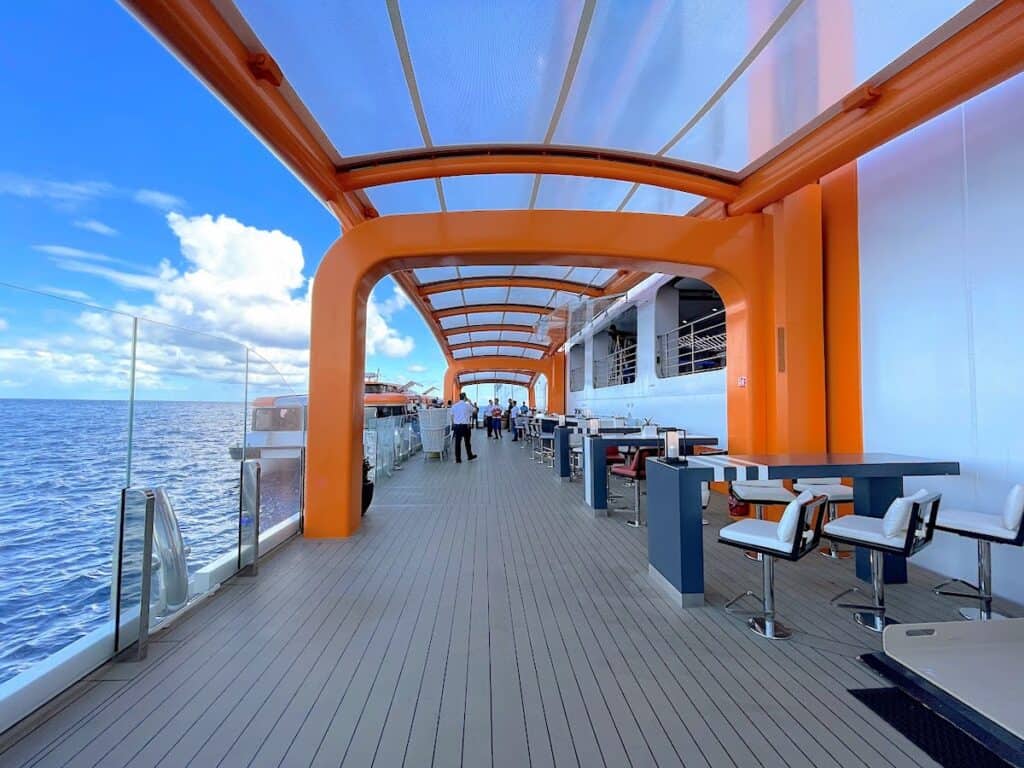 Goop CEO and founder, Gwyneth Paltrow is Celebrity's Well-Being Advisor. She brings her Goop line of products to the ship's spas and shops offering guests an elevated wellness experience.
Every element of Celebrity Beyond's look, and feel has been carefully curated with re-imagined, upgraded spaces and a host of luxurious amenities.
What Makes Celebrity Beyond So Unique
The Retreat®, an exclusive resort-within-a-resort area for suite guests highlighted by a two-story Retreat Sundeck with secluded cabanas, chic new seating areas, additional water features and the exclusive Retreat Bar; the warm and inviting Retreat Lounge; and the adjacent private restaurant Luminae.
Accommodations with fresh color palettes and design details that blur the boundaries between indoor and outdoor living. This includes the two-story Edge Villas with outdoor plunge pools. Plus the 1900-square-feet Iconic Suites, the largest in the fleet, with a private sundeck.
A Rooftop Garden and stunning Resort Deck featuring unique cantilevered float pools and sunken seating areas.
A multi-level, multi-terraced Sunset Bar, redefining the ship's aft with its internationally inspired beach club ambience.
32 distinct food and drink venues, including Le Voyage a first-ever Chef Daniel Boulud fine-dining restaurant at sea.
New AquaClass SkySuites, an immersive living experience including floor-to-ceiling ocean views, private balconies, luxurious bedding, complimentary access to the spa's Thermal Suite and other wellness amenities to help guests find their center.
A selection of signature goop retail products and well-being experiences from the brand including fitness tools for AquaClass guests, on-demand wellness classes on stateroom TVs, a custom detox smoothie and more.
The Magic Carpet®, one of the most unique innovations ever for a cruise ship, soars cantilevered above the sea, offering uninterrupted vistas while sipping cocktails or having dinner.
Celebrity Beyond Itineraries for 2022-2023
Celebrity Beyond inaugural season will spend the winter months with cruises from Fort Lauderdale. The ship will reposition to Europe on April 23, 2023 with a 14-night transatlantic crossing to Rome, Italy.
From Rome, the ship will offer 8, 9, 10 and 11-night Mediterranean cruises. Follow its U.S. absence, Beyond returns to Fort Lauderdale in October, 2023.

Jamie lives and works in Jacksonville, Florida. While her day job keeps her busy managing digital customer experience strategies for global brands, her passion is writing and finding new, eco-friendly ways to see the world. You can find her chatting about marketing, eco-tourism, and adventurous travels on Twitter @jamieckennedy.