Carnival just released a nugget of cruise news. Mardi Gras, their newest ship under construction, will have six separately themed areas, called zones. There will also be 20 decks and 20 stateroom categories.
The new ship, scheduled to launch in 2020, will be the first cruise ship in North America to be powered by LNG. But it's what's on the inside that's making headlines.
About those six zones. The zones are designed to attract guests to eat, drink and play in areas all around the ship.
Mardi Gras will also include the most expansive open decks of any Carnival ship. The stunning atrium acts as the hub of the ship and as on other ships, it's where guests first step aboard.
Carnival Mardi Gras' Six Unique Zones Explained
The six zones in Mardi Gras' design encourages passengers to stroll throughout the ship. These themed zones are: Grand Central, French Quarter, La Piazza, Summer Landing, Lido and The Ultimate Playground.
Grand Central
Grand Central, a beautiful three-story atrium, will really be a dazzler. Doubling as an entertainment complex, it's located near Bonsai Sushi and Bonsai Teppanyaki restaurants. Also nearby, Punchliner Club gets its own venue and Piano Bar 88, the sing-a-long bar is there, too.
French Quarter
Like a visit to New Orleans,  Mardi Gras' French Quarter offers a bit of the Big Easy at sea. French Quarter will have its share of bars and restaurants, NOLA-style.
La Piazza
At La Piazza you'll find authentic Italian cuisine at family-style Cucina del Capitano and 24/7 Pizzeria del Capitano. There'll be a new Mediterranean-themed seafood restaurant, too. Plus a bar for cappuccino by day or classic Italian cocktails at night.
Summer Landing
A great outdoor hangout there's a lunch counter for the Smokehouse Brewhouse plus plenty of lounge chairs to stretch out on and soak up the sun.
Lido Deck
If you love Carnival's assortment of poolside restaurants, hold on for a few months until the next reveal. Rumor has it there are new fun eateries planned.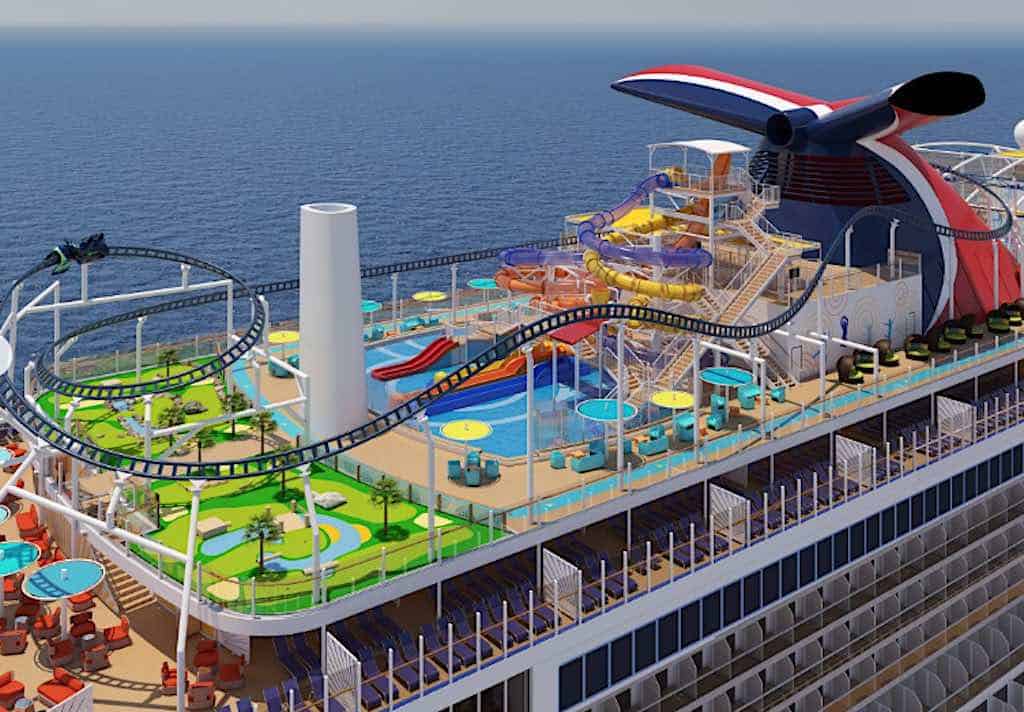 The Ultimate Playground 
Mardi Gras' Ultimate Playground will span Decks 18-20 includes a family-friendly play area plus the largest and most elaborate Carnival WaterWorks aqua park in the fleet, plus with an expanded SportSquare. And then there's BOLT: Ultimate Sea Coaster with its 800-foot-long track and speeds of nearly 40 miles per hour.
Reservations for will open for sale on Jan. 30, 2019.
Mardi Gras renderings:  Carnival Cruise Line

I'm the editor and creator of CruiseMaven.com, a solo traveler cruising the world on waves and wheels, collecting recipes along the way.  I hope my articles and photos entertain, advise and inspire you to travel the world without flying.  Take a breath…stop for a local meal and a glass of wine along the way.