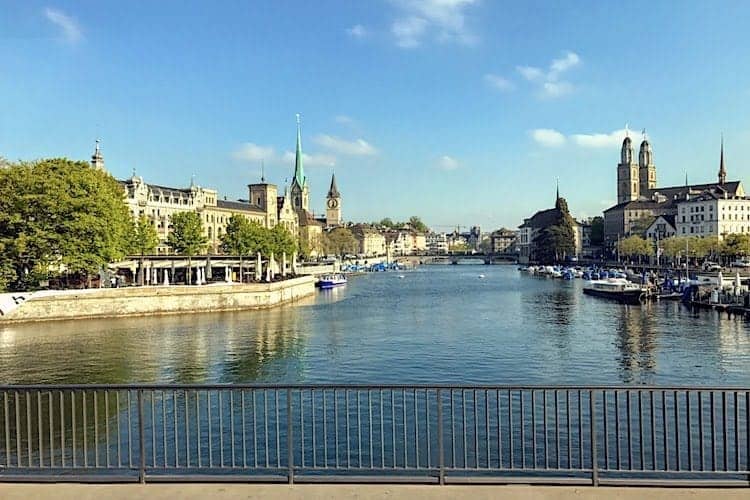 AmaWaterways AmaKristina pre-cruise tour in Switzerland was four days; two days in Zurich and two days in Lucerne.  Plenty of time to get a feel for two of this country's most popular (and expensive!) cities.  It was several years since I've tried a pre-cruise land extension, so I decided to try it.
After a smooth 14-day transatlantic crossing aboard Holland America's new Koningsdam and three nights in Rome at my friend Anna's B&B, I boarded a train to Milan and another to Zurich. Three and one-half hours for each route. The scenery from Milan to Zurich was spectacular. The super-fast SBB train went through the brand new and longest train tunnel in the world, slicing through the Alps in 22 minutes.
From Zurich train station it was a 10 minute taxi ride to our hotel, Steigenberger Bellerive.
For an additional cost, you could upgrade your hotel room from a city/industrial view to a beautiful view of Lake Zurich.  Not necessary for me. Well…you decide.
The first night of any pre-cruise land package includes a meet and greet with your river ship's cruise manager, who will be with you the entire time, on land and river.  Monika, our cruise manager for AmaKristina, spent a quick few minutes to explain what we'd be doing for the next four days, a rundown of the optional (additional fee) tours and free time.
Bright and early the next morning, after the included and enormous buffet breakfast, most of the group (about 45 people) opted for the free city tour via motor coach.
Later, almost everyone chose the optional ($) tour to the Rhine Falls.  This five-hour tour included a boat ride to the face of the falls and a visit to the small town of Stein am Rhein.  It's a nice tour and gets good to great reviews, especially the ride to the Falls.
Instead of the Falls, I chose to take time and walk around cold and windy Zurich.  I wanted to see city sites around our hotel, grab a Swiss lunch and definitely shop for a hat and gloves; snow was in the forecast.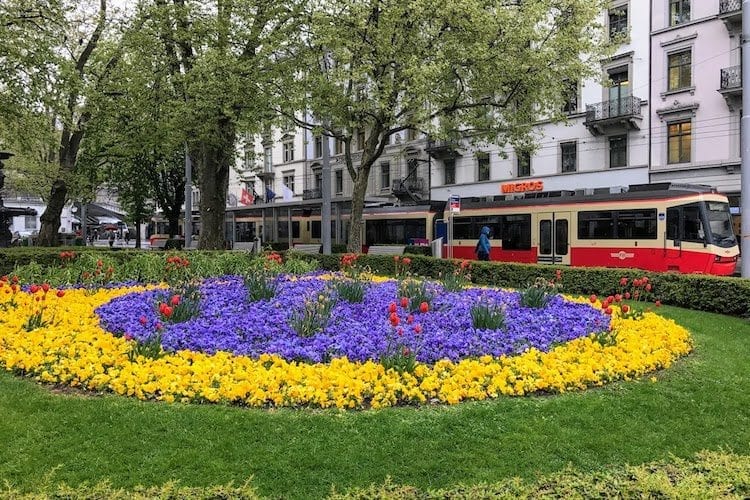 Lovely Lucerne
A boat ride across Lake Lucerne and we arrived at one of my favorite hotels in Lucerne, the lakefront Schweizerhof.
One of my favorite cities in Europe for its beauty and charm is Lucerne.  Surrounded by the jagged edged Alps, Lucerne is part story-book, part tourist town.
The best optional tour, which I totally regret not doing, was a cable car ride, called a "Cabri O", to the top of Mount Stanserhorn, at 1,900 meters, almost 6,000 feet up.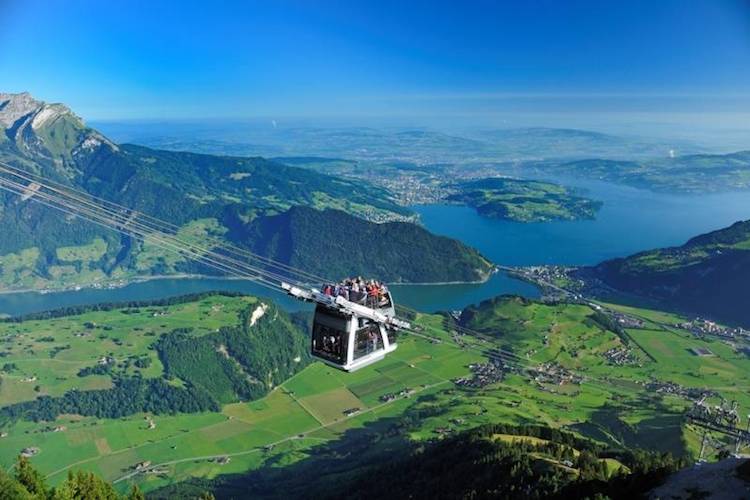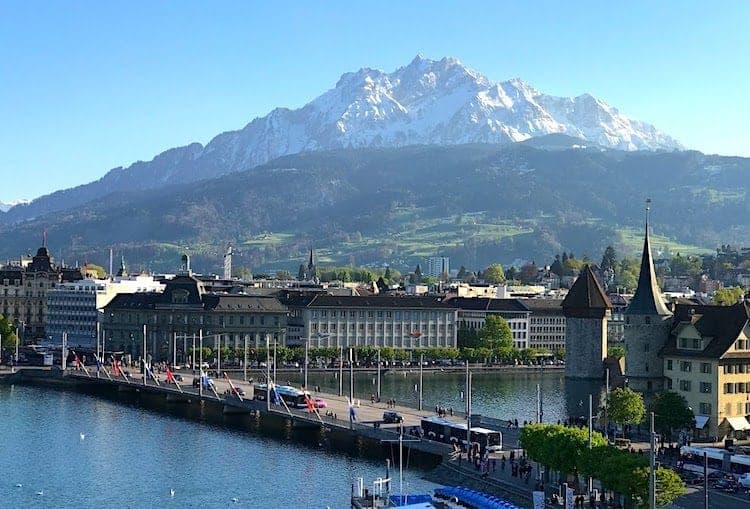 Finally, we packed up and set our luggage outside our doors by 8am. After yet another hearty buffet breakfast, we were off on the bus for the two hour drive to Basel and our awaiting river ship, AmaKristina.
If you're planning an AmaWaterways Rhine river cruise between Basel and Amsterdam and if it's in your budget, I highly recommend the add-on pre-cruise land extension in Zurich and Lucerne.  It's also a great opportunity to meet with other cruise guests in a more bonding environment that carries onto the cruise itself.
I'm the editor and creator of CruiseMaven.com, a solo traveler cruising the world on waves and wheels, collecting recipes along the way.  I hope my articles and photos entertain, advise and inspire you to travel the world without flying.  Take a breath…stop for a local meal and a glass of wine along the way.