Viking Cruises to launch new ocean cruise ship in 2015.
This is a groundbreaking year for Viking Cruises. In March, Viking River Cruise made history with the simultaneously christening of ten new river ships; four in Amsterdam and six in the shipyard in Germany.
On Thursday in star-studded Beverly Hills, California, a new cruise line was announced as was their newest star, the all-balcony, 928 passenger cruise ship, Viking Star to launch in 2015. This would be the fledgling cruise line's first venture into ocean cruising.
To boldly go where the big guys cannot.
Technically a small ship by today's mammoth standards, the Viking Star will spend her inaugural season first in Scandinavia (of course!), then the Baltic and down to the Mediterranean. Because the ship is smaller, she'll be able to cruise the Thames River and dock right in London, rather than two hours away in Dover or Southampton. In Paris, it's Rouen for her port of call, a lot closer to Paris than the usual port of Le Havre.
"Today is a proud day for Viking and for river cruising. We are honored to showcase 10 of our revolutionary new Longships and to have had such a celebrated group of women helping us christen them," said Torstein Hagen, Chairman of Viking Cruises. "Our guests are explorers, just like the ancient Vikings of our Norse heritage, which is why we deliver authentic and enriching travel experiences like no other cruise line."
Finally,  real all-inclusive cruise pricing.
River cruises have always included free wifi when onboard. But cruise ships make a ton of money selling internet packages so free wifi is well, not a option. Enter the new Viking Star with complimentary wifi for their guests. Also included are shore excursions in each port, beer and wine with lunch and dinner as well as a free self-serve launderette.
The Viking Star's interiors will reflect the uncluttered look and feel of Scandinavian design, yet invoke a sense of understated elegance. Just released are these renderings of some of the exciting features planned for the Viking Star: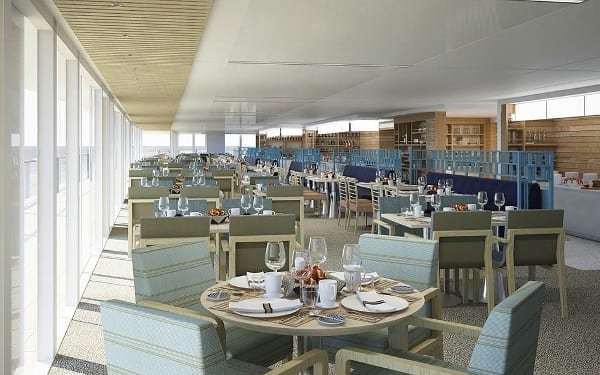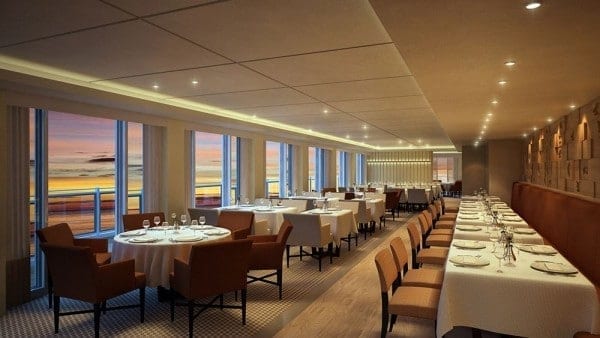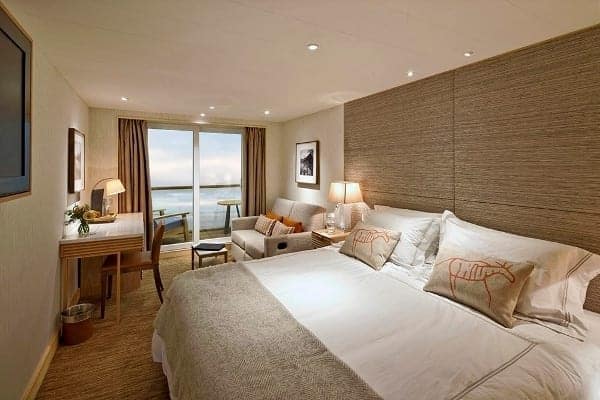 More innovations for the Viking Star include, get this, snowflakes! The Nordic-style spa will have a "snow grotto" where little snowflakes gently fall from the ceiling. For dining, there'll be The Restaurant and World Café (see photos above) plus The Chef's Table, Italian Grill and The Kitchen Table and several more. Al Fresco dining is "in" so the Viking Star is slated to have more outdoor dining options than on any other cruise ship. Free wine and beer with lunch and dinner, too.
Viking Cruises, with so many new ships, itineraries and onboard values, is looking towards the future. With another ocean ship scheduled for 2016, they also have options on two more cruise ships. Viking River will see the addition of twelve new river ships in 2014.
Keep an eye on this "new" cruise line. They're on the move and right on target to capture the segment of the cruise market that wants to spend more time immersed in what the ports have to offer, rather than on canopy ziplines, rock-climbing walls or water slides.
I'm the editor and creator of CruiseMaven.com, a solo traveler cruising the world on waves and wheels, collecting recipes along the way.  I hope my articles and photos entertain, advise and inspire you to travel the world without flying.  Take a breath…stop for a local meal and a glass of wine along the way.