From antioxidant-rich Mediterranean cuisine to ancient healing rituals of India, the experts at Canyon Ranch have teamed with Regent Seven Seas Cruises to develop wellness tips culled from ports around the world to help travelers maintain and enhance their health and well-being while cruising.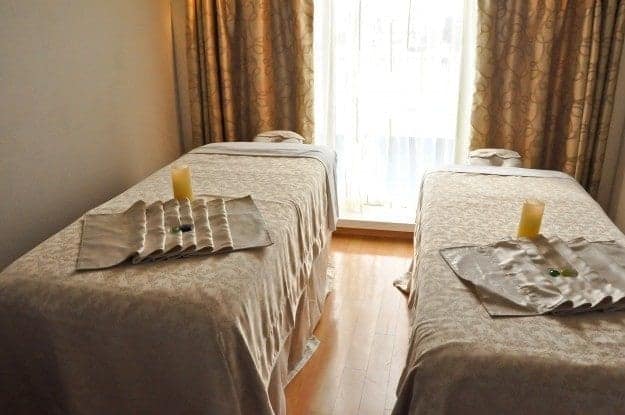 Celebrating 20 years of delivering the most coveted luxury cruise experiences to its guests, Regent Seven Seas Cruises is the world's most inclusive cruise line featuring gourmet dining, without any surcharges; fine wines and premium spirits; a selection of shore excursions in all ports; onboard gratuities; air transportation from more than 25 cities; and a luxury hotel stay prior to each voyage.
A pioneer in the evolution of wellness lifestyle, Canyon Ranch operates a state-of-the-art SpaClub facility onboard Regent Seven Seas Cruises' three awarding, all-suite vessels –Seven Seas Navigator, Seven Seas Mariner, and Seven Seas Voyager – offering a rich sampling of unique treatments and indulgent services.
"Regent Seven Seas Cruises visits more than 300 ports every year and with Canyon Ranch, we offer our guests a wealth of health, wellness and fitness opportunities on board and ashore," stated Mark Conroy, the line's president. "Travelers who wish to maintain a healthy regiment of diet and exercise while vacationing will find Regent Seven Seas Cruises provides ample opportunities to do so."
Abundant Healthful Dining Options
Whether cruising Europe this summer aboard the line's 700-guest, all-suite, all-balcony Seven Seas Voyager and Seven Seas Mariner or the 490-guest, all-suite Seven Seas Navigator, which sails in Alaskan waters, menus will reflect fresh, local and, wherever possible, sustainable ingredients, including Canyon Ranch Spa cuisine. Designed to delight the palette and nourish the body, the Canyon Ranch menu selections focus on healthy carb-rich vegetables, fruits, and moderate portions of whole grains, using fats that are beneficial to health – such as extra virgin olive oil, with a minimum of salt and no artificial sweeteners. Selections include steamed Shanghai dumplings, Latin spice crusted Alaskan halibut fillet and buttermilk panna cotta delight.
Greece is Home to Time-Honored Wellness Techniques
Cruising the Greek Isles while maximizing good health? It's possible on Regent Seven Seas Cruises' seven-night Venetian Dreams voyage from Athens to Venice (departing July 20) and 14-night Timeless Mediterranean from Athens to Istanbul (departing October 6). The Mediterranean diet is well documented and with more than 20 complimentary shore excursions available on each voyage, guests have the opportunity keep fit on a two mile walk through the ancient sites of Priene, Miletus and Didyma in Turkey, or go kayaking and swimming along the Dalmation Coast.
Seaweed Helps to Detox and Tone
In Northern Europe, guests can combine the healing power of the ocean with locally harvested ingredients. While on the 10-night Highlands & the Emerald Isle voyage, roundtrip from London (departing September 6) and seven-night Scandinavian Sojourn from Stockholm to Copenhagen (August 8), why not indulge in an Organic Liquid Seaweed Wrap? "We use hand-harvested seaweed from the remote northwest coast of Ireland," said Laura Hittleman, corporate director of beauty services for Canyon Ranch. "The seaweed promotes detoxification and increases skin toning."
Set Sail for India's Ancient Wellness Rituals
Voyages that include India, such as the 17-night Arabian Adventures voyage from Luxor (Safaga), Egypt to Mumbai (formerly Bombay) departing November 14, feature opportunities to delve into one of the world's most ancient cultures, exploring its unique wellness philosophies while traveling through storied regions including Petra in Jordan; Muscat and Salalah in Oman; and Doha, Qatar. In India, flavorful foods often include turmeric, which is useful in calming inflammation, and at the Canyon Ranch SpaClub guests can experience an Ayurvedic service based on the ancient Indian holistic approach to health. A featured treatment – such as the Abhyanga Massage – balances the body, mind and spirit through the application of herbs and oils.
Overall Tips for Healthy Traveling
The cruise line offers daily fitness and wellness classes – from indoor cycling to yoga or Pilates – which draw a number of first-timers along with seasoned practitioners. "A guest is relaxed and less distracted by the pressure of everyday life when on vacation, which can be an ideal time to try something new like yoga with trained instructors," Conroy added.
Canyon Ranch also recommends these additional tips for travelers:
Always use sunblock with an SPF from 15-50, anything less offers too little protection, anything higher invites skin irritation with no added protection
Stay well hydrated
Chew and sip slowly to enjoy the environment, company and experiences; by eating slowly a body signals fullness faster to avoid over-eating
Begin each day with a protein- and fiber-rich breakfast to keep feeling full longer
I'm the editor and creator of CruiseMaven.com, a solo traveler cruising the world on waves and wheels, collecting recipes along the way.  I hope my articles and photos entertain, advise and inspire you to travel the world without flying.  Take a breath…stop for a local meal and a glass of wine along the way.