Sea trials complete, Regal Princess returns to shipyard for finishing touches.
All ships must undergo a series maneuvers to do the obvious; check for seaworthiness. In the process, ships' propulsion, steering and navigational equipment are put through their paces, doing maneuvers that many never be required but necessary just in case.
This week, Regal Princess completed another major milestone in preparation for her debut in Venice, scheduled for May 20, 2014. The new cruise ship emerged from her construction dock at the Fincantieri shipyard in Monfalcone, Italy and spent five days of successful sea trials in the Adriatic and Mediterranean Seas before heading back to the shipyard for further exterior and interior finishing.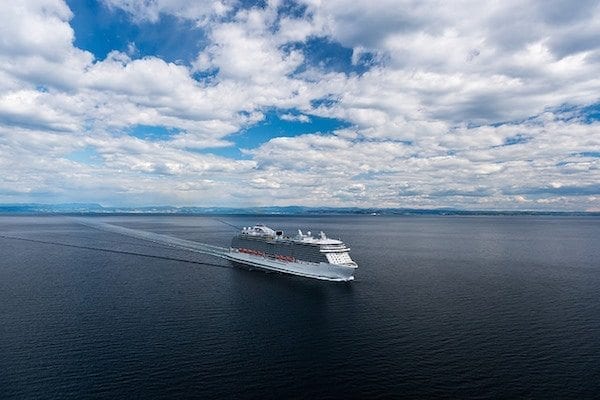 When Regal Princess sets out on her maiden voyage from Venice on May 20, the new ship will sail a special seven-day Mediterranean cruise to Athens including stops in Corfu, Mykonos and an overnight call in Istanbul, before returning back to Venice on May 27.
Where you'll find the Regal Princess this summer.
From mid-June through October, the Regal Princess will cruise the Mediterranean on a series 12 night itineraries that either begin or end in Venice or Barcelona. On October 17, the Regal Princess will begin a 17-night transatlantic crossing from Venice to Ft.Lauderdale, making six port calls along the voyage to Florida.
So nice they did it twice!
Regal Princess will offer guests many of the same features as her sister ship, the Royal Princess. Both sport a soaring atrium, the dramatic over-water SeaWalk (watch the video below), Princess Live! – a working television studio; and the special Chef's Table Lumiere, a private dining experience in which diners are surrounded by a curtain of light.
Take a walk above the sea.
Unique to the Royal Princess and now on the Regal Princess, take a walk 128′ above the ocean and 28′ out from the side of the ship, through the glass-enclosed SkyWalk.
Great news!
All outside staterooms have balconies. No more, "I wish I had bought a balcony instead of this big ol' porthole" musings. Only inside and balcony staterooms on the Regal Princess. This means there are accommodations for every budget, whether in Europe or the Caribbean.
I'm the editor and creator of CruiseMaven.com, a solo traveler cruising the world on waves and wheels, collecting recipes along the way.  I hope my articles and photos entertain, advise and inspire you to travel the world without flying.  Take a breath…stop for a local meal and a glass of wine along the way.